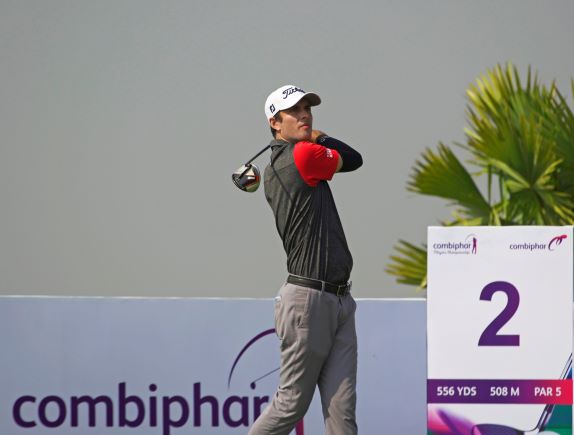 26th September 2019 | Asian Development Tour
Consistent Simsby continues to lead Combiphar Players Championship
Bandung, Indonesia, September 26: American Trevor Simsby increased his lead at the Combiphar Players Championship by two shots, after carding a two-under-par 70 at the penultimate stage on Thursday.
Simsby managed four birdies against two bogeys for a three-day total of eight-under-par 208 on a day where the gusty winds at the  Parahyangan Golf proved to be another real test for the field.
Japan's Ryuichi Oiwa tailed Simsby by two shots in second place while Thailand's Jakraphan Premsirigorn and Chinese Taipei's Wang Wei-lun are a further three shots back are in the tied-third, after the trioshot matching 71s.
Malaysia's promising youngster Shahrifuddin Ariffin (70) meanwhile shared fifth place with American Sam Gillis (71).
The 26-year-old Simsby, who led by one shot coming into Thursday's round, reckons patience is a key virtue as he aims for his first title in Asia.
"It's very tricky with the winds here, and you have to be really patient with your approach on this course. The aim is to get the ball as close to the par-fives as much as possible," said Simsby, who posted matching 69s in the opening two rounds.
"I was looking at birdies on the front nine, but it was a tough test on the back to finish."
Simsby has come close to a maiden victory on the Asian Development Tour (ADT) circuit, with two tied-fourth finishes at the PGM ADT Penang Championship and PGM Northport ADT Championship.
Englishman Steve Lewton, who posted 68 for the lowest score of the day, said the wind is a barrier as only 26 golfers made par in the US$100,000 ADT event on Thursday.
"It's a tough course with the winds. You have to hit it really close to the greens to have a chance. But I'm hoping for the wind tomorrow as it suits my game," said Lewton, who was tied for seventh with Malaysia's Amir Nazrin.
Lewton will be hoping for another low round as he aims to make it to the Asian Tour next year.
He is currently in seventh place on the Order of Merit (OOM), which is the last position to offer a spot on the Asian Tour.
Korea's Joohyung Kim, the highest ranked player in second place on the OOM, carded a 71 to sit tied-16.
Latest Asian Development Tour News