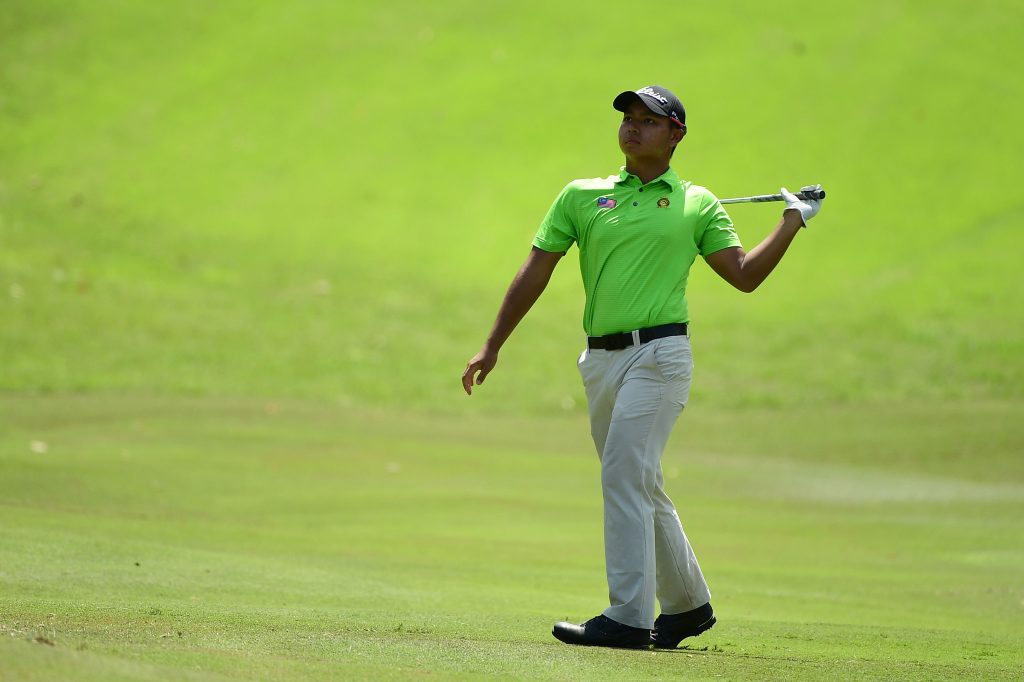 18th September 2019 | Asian Development Tour
Daeng takes charge at PGM MNRB ADT Championship
Kuching, Sarawak, Malaysia, September 18: Local star Daeng Abdul Rahman Abdul Aziz launched his relentless bid for a maiden Asian Development Tour (ADT) victory when he fired a seven-under-par 65 to grab the opening round lead at the PGM MNRB ADT Championship on Wednesday.
The 19-year-old, who came in tied-fourth at the PGM Johor ADT Championship in March for his career-best ADT result, marked his card with nine birdies against two bogeys to lead by four shots from Seung Park of Korea and countryman Leungkwang Kim at the Kelab Golf Sarawak.
Thai trio Panuwat Muenlek, Namchok Tantipokhakul and Suttijet Kooratanapisan were among those bunched in fourth place after carding matching 70s at the RM225,000 (approximately US$54,000) event.
Starting the day from the 10th hole, Daeng got off to a flying start when he notched five birdies, including a four-hole stretch from the 12th to offset two bogeys to turn in 33.
He resumed his fine form on his return journey, picking up for more shots including a hat-trick of birdies from the fifth, to open up a comfortable four-shot cushion.
Daeng, who registered top-20 finishes in his last two ADT starts, credited his low round to a brilliant iron play.
"I'm hitting the ball good, especially my approach shots as I managed to hit it really close to the pins, mostly about 10 feet.
"I putted quite well too. I managed to roll in a birdie from more than 20 feet on 12, which was massive because it made up for the bogey on the previous hole.
"I didn't think that was going in to be honest, so it kind of boosted my confidence and kickstart the day. I got four straight birdies after that, and although I bogeyed again on 17, it was still a very solid opening nine.
"Four more birdies and bogey-free after crossing over, I'm absolutely pleased," said Daeng.
Daeng, who has won three times in the domestic scene with the last being at the PGM Perlis Championship in January, hopes to build on the early advantage to help him stamp his mark on the secondary circuit, which is the gateway to the Asian Tour.
"I have won three PGM Tour titles to date but those are closed events.
"So it's certainly my ambition to win on ADT and I'm looking to make the most of this good start to get me there. I believe I have what it takes to win on ADT having finished fourth in Johor in April.
"But there are three more rounds to go, a lot of golf left to be played. I'm not going to get carried away with the opening round lead," said Daeng, who created history by becoming the youngest winner on the PGM Tour, at 15, in April 2015.
The PGM MNRB ADT Championship, jointly sanctioned with the Professional Golf of Malaysia (PGM) Tour, is the 14th leg of the 2019 ADT season and also the Tour's seventh stop in Malaysia.
The ADT will continue to reward the top-seven finishers on the Order of Merit at the end of this season with Asian Tour cards for 2020.
Like all other ADT events, the Official World Golf Ranking (OWGR) points are up for grabs this week, which will be key for players vying to qualify for the Olympic Games in Tokyo next year.
Ends.
Latest Asian Development Tour News