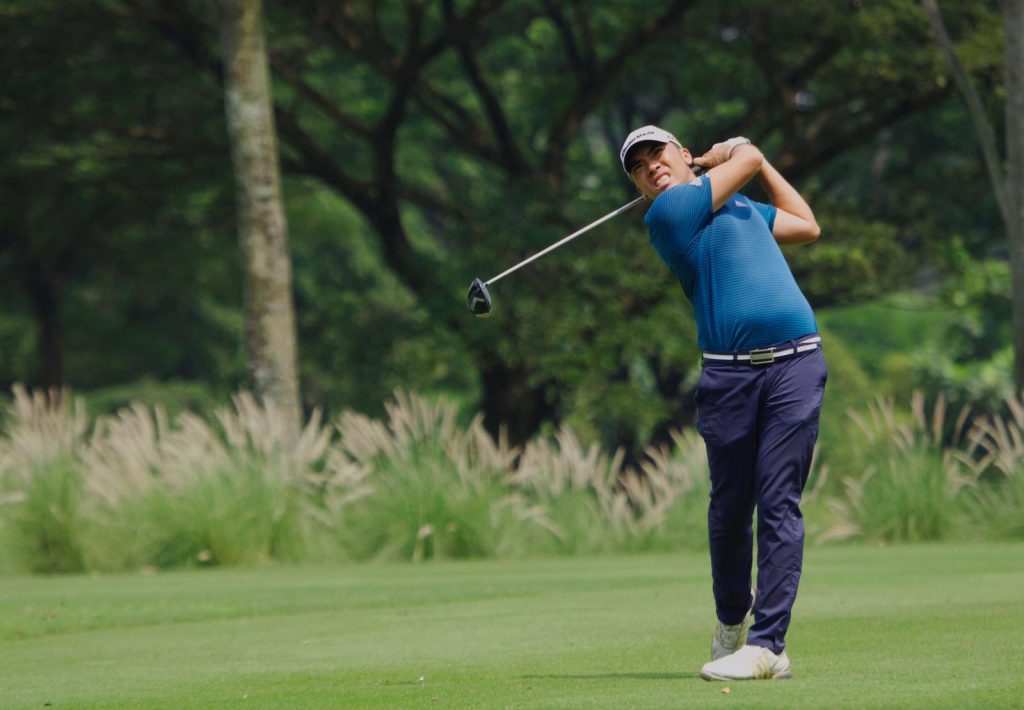 8th May 2019 | Asian Development Tour
Flawless Hie surges to the top with Wang at the OB Golf Invitational
Jakarta, Indonesia, May 8: Indonesia's Rory Hie brought the local cheers when he fired a superb six-under-par 66 to seize the halfway lead with Chinese Taipei's Wang Wei-lun at the weather-disrupted OB Golf Invitational on Wednesday.
The 30-year-old Hie returned with a flawless card highlighted by six birdies to sit atop the leaderboard with Wang (67) on a two-day total of 10-under-par 134 at the US$65,000 Asian Development Tour (ADT) event.
Danny Masrin, the highest-ranked Indonesian, also put up a strong charge as he matched the day's efforts of Hie to trail by one shot in third place with Malaysia's Amir Nazrin (67) at the Royale Jakarta Golf Club, which is a regular host venue of the Indonesian Masters on the Asian Tour.
The highlight of the day however belonged to American Troix Tonkham who produced an ace on hole four using his seven-iron from 156 yards. He signed for an eventual 69 to settle eight shots off the lead.
Play was first suspended at 1.59pm local time due to lightning threats before resuming at 4.30pm. It was later abandoned at 5.42pm due to the fading light. A total of 36 players resumed their rounds at 6.45am on Thursday with the third round scheduled to start at 9.15am.
Hie, who started the round two shots off the pace, took advantage of his sharp iron play as he only missed one green-in-regulation in his solid round of 66.
"I hit it really good today and made some key putts. I made a good birdie on hole five from the rough and rolled in a 14-foot putt.
"I was able to stay focused the entire round and keep my composure. When I made the turn, I saw I was only one shot behind so I told myself I needed to make a couple more birdies and I did," said the 30-year-old Indonesian.
Masrin, 26, was pleased to find some momentum with his friend Teddy on the bag. He nailed six birdies en route to his blemish-free round.
"It was a pretty easy-going round. I hit a lot of greens today and only missed one fairway. I was able to capitalize on the par-five holes and hit three of four of them in two shots.
"The key for my round today was the tempo of my swing. With Teddy on the bag today he really helped me get a good rhythm going. It was overall a pretty stress-free day and I managed to end the round with two birdies," said Masrin, who found 13 fairways and only missed one green.
The halfway cut was set at three-over-par 147 with 56 players advancing to the final two rounds.
The OB Golf Invitational is the Tour's first stop in Indonesia this season and is celebrating its second edition on the ADT schedule this year.
Leading second round scores:
134 – Rory Hie 68 66, Wang Wei-lun 67 67
135 – Amir Nazrin 68 67, Danny Masrin 69 66
137 – George Gandranata 68 69, Hayato Yoshida 68 69, Sorachut Hansapiban 68 69, Brian Jung 68 69
138 – Panuwat Muenlek 71 67, Naraajie Emeral Ramadhan Putra 70 68, Genki Okada 69 69, Choo Tze Huang 69 69, Seung Park 71 67, Jeremy Wendelken 67 71, Pannakorn Uthaipas 69 69, Suttijet Kooratanapisan 71 67
Ends.
Latest Asian Development Tour News