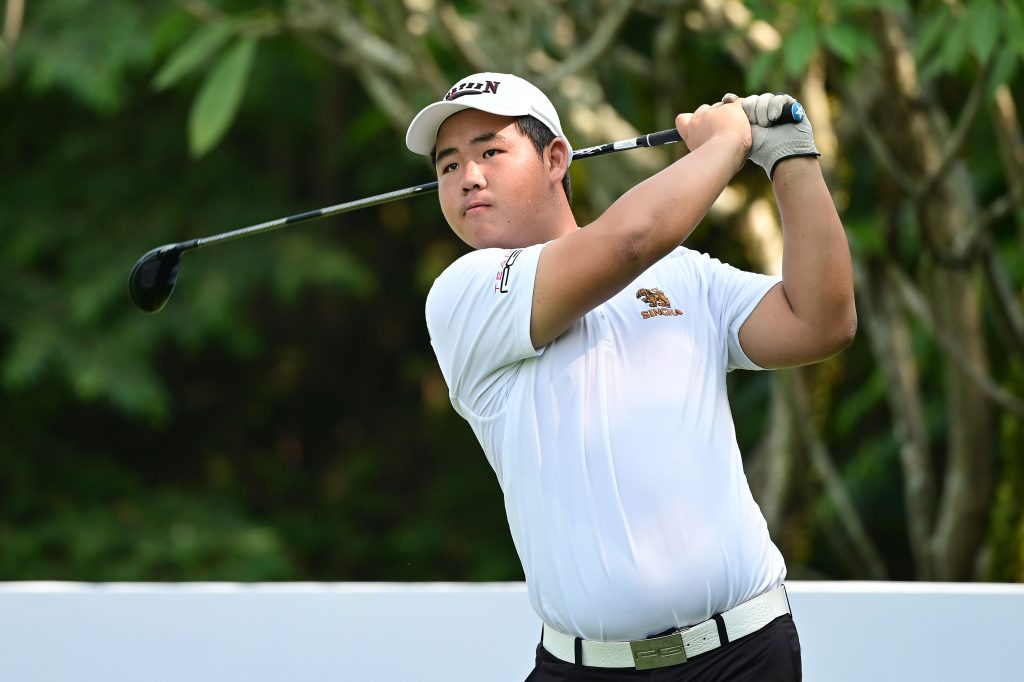 23rd September 2019 | Asian Development Tour
Kim hopes to scale ADT summit at Combiphar Players Championship
Bandung, Indonesia, September 23: Joohyung Kim of Korea will be on a mission to seize the number one spot on the Asian Development Tour (ADT) Order of Merit when he tees up at the Combiphar Players Championship which starts on Tuesday.
Kim trails current Merit leader Naoki Sekito of Japan in second place by slightly over US$3,700, but with the latter not in the field this week, he hopes to make the most of the opportunity at the US$100,000 ADT tournament.
Kim, who has won two ADT titles this season and finished runner-up once, will challenge against the likes of defending champion Varanyu Rattanaphiboonkij of Thailand, Malaysia's Leunkwang Kim, Sweden's Oscar Zetterwall and Singapore's Quincy Quek — the winners of the last three stops.
Thailand's Pannakorn Uthaipas, the 2017 ADT Order of Merit champion, and former winner Wolmer Murillo of Venezuela will also be part of the 116-man field at the Parahyangan Golf.
With the Merit title at stake, Kim needs to finish fifth or better result to dislodge Sekito from the top of the ADT Order of Merit.
"I'm definitely aiming for that number one spot because it secures you a better exemption status for the new 2020 Asian Tour season.
"It has been my main goal since the start of the season (to become Order of Merit champion). I was kind of a bit far from it at the start but I was very fortunate to catch up mid way.
"And now, I'm getting closer than ever, so I'm going to give it a shot at scaling the summit for the first time.
"While Sekito's absence does serve as an extra motivation, I must also try not think too much about it.
"What I need to do is just to play the best that I can! If I can do that, the result will take care of itself," said Kim.
Kim will be gunning for yet another memorable outing in Indonesia, after his previous two visits ended up well with him winning the Ciputra Golfpreneur Tournament and finishing a commendable third at the Asian Tour's Indonesia Open.
"I guess it helps a little just knowing that I've had good results this year in Indonesia. But this is another week, anything can happen. I'm just gonna stick to my game plan and try my best.
"I think my game is okay. The course here in Bandung is pretty windy and it's not the widest of fairways, so hopefully I can bring out my A game and hope for the best," he added.
The Combiphar Players Championship is 15th stop on the 2019 ADT Schedule and players are resuming their battle for top-seven positions on the Order of Merit to earn Asian Tour cards for 2020.
With approximately US$17,500 going to the winner this week, Seung Park, Chinnarat Phadungsil, Mardan Mamat, Trevor Simsby, who are ranked ninth, 10th, 12th and 13th on the money list, also have a great opportunity to sneak into the top-seven.
George Gandranata, the only Indonesian to have won on ADT to date, will spearhead a 39-strong local contingent challenge in their backyard.
The Indonesian golfers have been going great guns of late with Rory Hie and promising amateur Naraajie Ramadhan Putra were among those who impressed.
Rory created history by becoming the first-ever Indonesian to win on Asian Tour with his victory at the Classic Golf and Country Club International Championship in India.
Naarajie, on the other hand, came up short of a stunning victory at the Indonesia Open. He led after the penultimate round before settling for fourth.
Ends.
Latest Asian Development Tour News