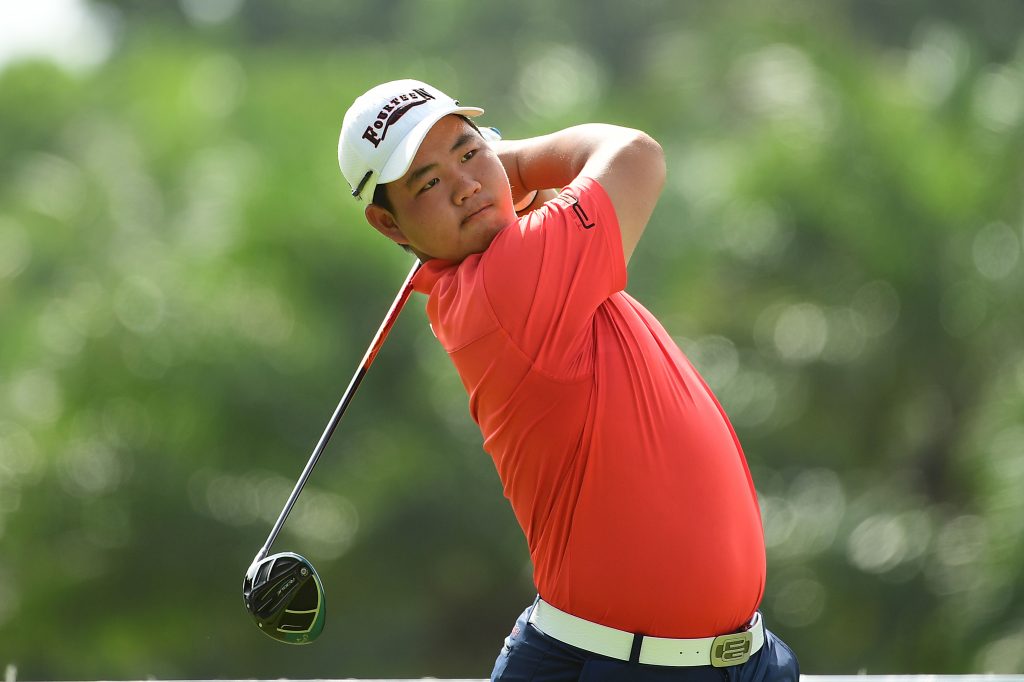 27th June 2019 | Asian Development Tour
Kim takes control with a 63 at the PGM ADT Championship @ Tiara Melaka
Melaka, Malaysia, June 27: Young Korean talent Joohyung Kim signed for his season's best nine-under-par 63 to take control at the halfway stage of the PGM ADT Championship @ Tiara Melaka on Thursday.
The 17-year-old Korean compiled a two-day total of 12-under-par 132 with his blemish-free round highlighted by nine birdies at the RM 225,000 (US$54,000) Asian Development Tour (ADT) event.
Play was abandoned for the day at 7.15 pm local time due to weather disruptions in the first round that had resulted in a delay of tee times. Kim holds the halfway lead by one shot over American Trevor Simsby (68) in second place while Japan's Naoki Sekito sits in third place following a 65.
A total of 66 players resumed their second rounds at 7.30am on Friday at the Tiara Melaka Golf and Country Club. The third and penultimate round is scheduled to start at 11am.
Returning this morning to complete the remaining 12 holes in his first round, Kim took advantage of a hot putter to make up for his mediocre long game.
"I wasn't hitting it very well this morning but I was making a lot of putts inside 12-feet that saved me. I sank a nice 10-footer for birdie on my first hole and ended the round with another great birdie putt on my last hole," said Kim.
The Korean has been in stellar form this season with four top-10 finishes in his past five ADT appearances. He refuses to get ahead of himself despite being in the lead as he is aware of the tougher challenge ahead.
"I have been in this position a couple of times already this season so it is nothing new to me. There is still so much golf left to play and it is a really tough golf course so anything can happen," added Kim, who turned professional last year.
Malaysia's Ben Leong, a one-time Asian Tour winner, traded four birdies against one bogey to take a share of the fifth spot.
"I had to play 29 holes today so I am just glad to be done with my round because today's conditions were extremely hot and humid. I made a bogey on hole 15 due to a wrong club choice but I recovered right after with a birdie on the approachable par-five hole," added Leong, who is also a two-time winner on the ADT.
The halfway cut was set at even-par 144 with 56 players advancing to the final two rounds.
Leading second round scores:
132 – Joohyung Kim 69 63
133 – Trevor Simsby 65 68
135 – Naoki Sekito 70 65
136 – Sukree Othman 70 66 , Mardan Mamat 69 67
137 – Nicholas Latimer 70 67, Ben Leong 68 69 , Shahriffuddin Ariffin 70 67
Latest Asian Development Tour News