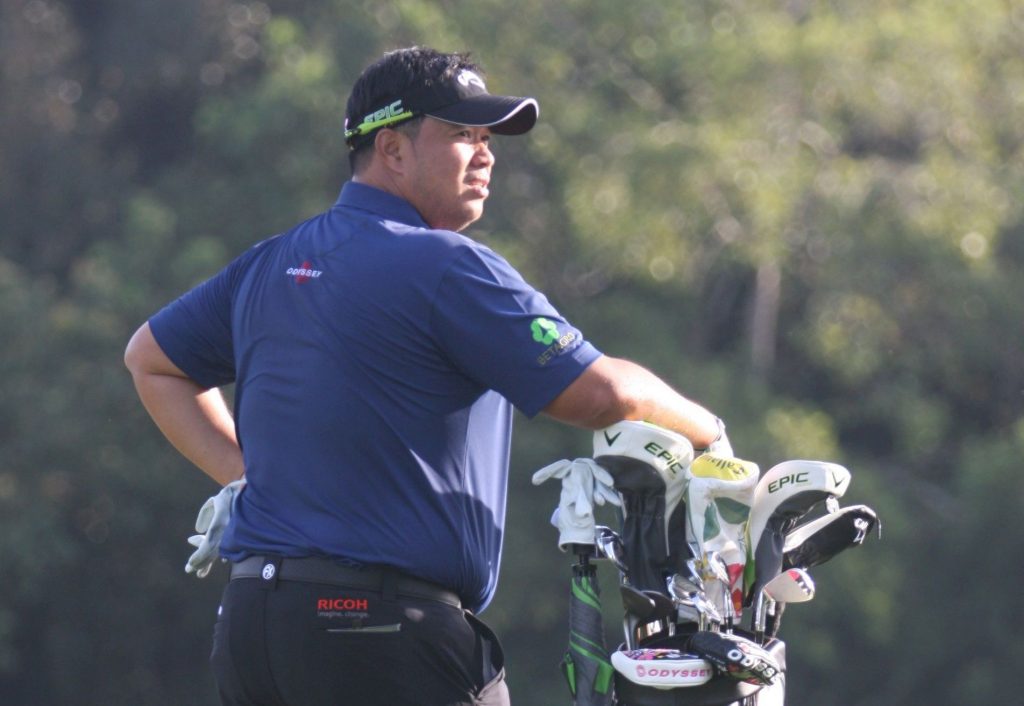 23rd April 2019 | Asian Development Tour
Kiradech hopes to shake off injury ahead of his title defence at the Butra Heidelberg Cement Brunei Championships
Bandar Seri Begawan, April 23: Thai star Kiradech Aphibarnrat will be looking to cast his injury woes aside when he defends his title at the US$75,000 Butra Heidelberg Cement Brunei Championships which starts on Wednesday.
The 29-year-old Kiradech, who won the event for his third Asian Development Tour (ADT) title last year, had unfortunately tore his Anterior Cruciate Ligament (ACL) when he made his third appearance at The Masters tournament two weeks ago.
The Thai star, however, is keeping up his spirits as he looks to put his injury troubles behind when he steps up to the tee at The Empire Hotel and Country Club, where he had dominated a talented field by going wire-to-wire to win by six shots last year.
"My injury isn't going well actually. I damaged one of the tendons in my knee and I couldn't bend down and read my line on the green. I will try and swing softly this week and ensure that I can make it through four rounds," said the 2013 Asian Tour Order of Merit Champion.
Despite having to play with an injured knee, Kiradech remains hopeful of a successful title defence in the popular event, which is returning for its second consecutive edition on the region's secondary circuit.
"It is always a great time for me in Brunei, being surrounded by great people and playing on an amazing golf course. I'm certainly grateful for the opportunity to be back.
"I played yesterday and I remembered the special memories from winning last year which set me up for a great season," said Kiradech, who would go on to earn playing rights on the PGA Tour for the 2018/19 season and become the first Thai player to achieve the feat.
Kiradech, who sits in 42nd place on the latest Official World Golf Ranking (OWGR), will headline a talented 144-men field which features fellow Thai star Prom Meesawat, as well as over 20 ADT champions including Miguel Carballo of Argentina, Japanese duo Kazuki Higa and Naoki Sekito and Thailand's Itthipat Buranatanyarat.
Prom, who represented his country alongside Kiradech at the World Cup of Golf in Melbourne last November, hailed the growth of the ADT which has been providing a strong platform for the region's aspiring talents to hone their skills.
"It's a pretty strong field this week with Kiradech and a couple of good players competing. I think it is really good for a tournament on the ADT to have top players playing and I know it will be strong challenge for the trophy this week," said the two-time Asian Tour winner.
"The ADT helps develop young talents and it's good to see all these young guys coming up. I have been there before and the more you play the more you are able to handle the stress of playing bigger events," added  Prom, who is returning to Brunei for the first time since 2005.
American Austen Truslow, who topped the class at the 2019 Asian Tour Qualifying School in December last year, hopes to stay cool in the heat as he takes aim at putting up a strong performance in his debut appearance at the Brunei Championships.
"I have struggled with the heat in Asia, especially playing in Penang last week. I didn't do too well taking care of myself and I wasn't able to perform at my best. I hope to manage that better this week," said Truslow, who is known for chipping with one hand.
Other notable players England's Stephen Lewton and Thailand's Pannakorn Uthaipas, ranked fifth and sixth on the current Merit standings.
The leading seven players on the final ADT Order of Merit will earn playing rights on the premier Asian Tour for the 2020 season.
All ADT events offer Official World Golf Ranking (OWGR) points. The winner will receive at least six OWGR points while the top six players and ties will also earn points based on a sliding scale.
Ends.
Latest Asian Development Tour News