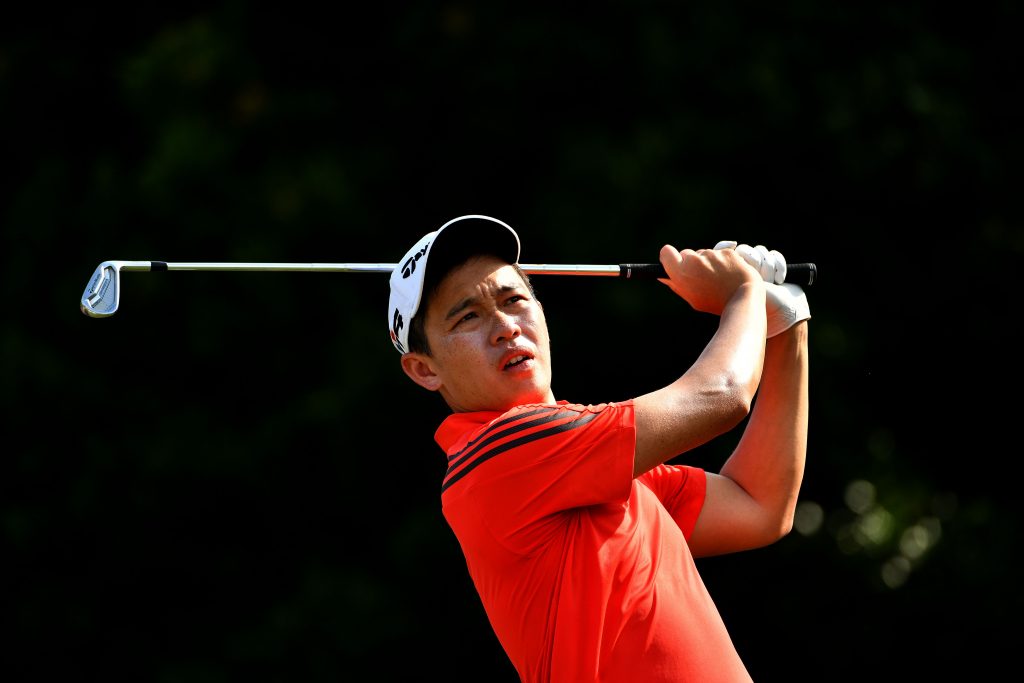 13th March 2019 | Asian Development Tour
Leong sets early pace
Johor, Malaysia, March 13: Malaysia's Ben Leong set the pace with an impressive seven-under-par 65 in the opening round of the PGM UMW ADT Championship on Wednesday.
The 33-year-old Sabahan, a one-time Asian Tour winner, carded a bogey-free round highlighted by five birdies and an eagle to lead by one shot at the RM225,000 (approximately US$54,000) Asian Development Tour (ADT) event.
Countryman Leunkwang Kim and Wang Wei-lun of Chinese Taipei share second place following matching 66s while four players trail a shot behind in fourth place including Gregory Foo of Singapore, Japan's Hayato Yoshida, Erwan Vieilledent of France and American Kerry Sweeney at the Palm Resort Golf and Country Club.
Leong, who completed a wire-to-wire victory on home soil for his second ADT title last August, was pleased to capitalize on the reachable par-five holes, thanks to his solid iron-play coupled with a hot putter.
"I did well on all the par-five holes today. They are all pretty reachable holes so I took advantage of those holes to go low today," said Leong, who navigated around the greens in 25 putts.
Starting from the back-nine 10, Leong nailed three birdies in his opening 11 holes before igniting his flawless round with an eagle on hole three.
"I did better on my back-nine and made an eagle on the par five-third hole after hitting the green in two shots with my six iron and then making a 20-foot putt. The greens here are pretty unpredictable so I was just happy to make the putt to give me an added boost," added Leong, who fired two more birdies on his way home.
Despite struggling with his swing towards the middle of the round, the 24-year-old Kim took pride in his strong finish where he made consecutive birdies in his closing three holes for a bogey-free opening round.
"I started out good and was three-under-par after six holes. Then I struggled a little with my irons in the middle of the round but I managed to pull it together towards the end," said Kim.
"I hit a nice pitch shot from 50 metres on the last hole to a foot from the flag which was a great way to end. I putted a lot better today compared to last week because I am getting a lot more comfortable with the speed of the greens," added the Malaysian, who took a tied-32nd result at the ADT event staged at the same venue last week.
The leading seven players on the final ADT Order of Merit will earn playing rights on the premier Asian Tour for the 2020 season.
All ADT events offer Official World Golf Ranking (OWGR) points. The winner will receive a minimum of six OWGR points while the top six players and ties will also earn points based on a sliding scale.
For more information, visit www.asiandevelopmenttour.com
Leading first round scores:
65 – Ben Leong
66 – Leunkwang Kim , Wang Wei-lun
67 – Gregory Foo , Erwan Vieilledent , Hayato Yoshida , Kerry Sweeney
68 – Ryuichi Oiwa , Reo Hiruta , Varanyu Rattanaphiboonkij , Poom Pattaropong , Kazuki Higa , Joohyung Kim , Oscar Zetterwall , Sorachut Hansapiban , Masaru Takahashi , Suttijet Kooratanapisan , Daeng Rahman
Latest Asian Development Tour News