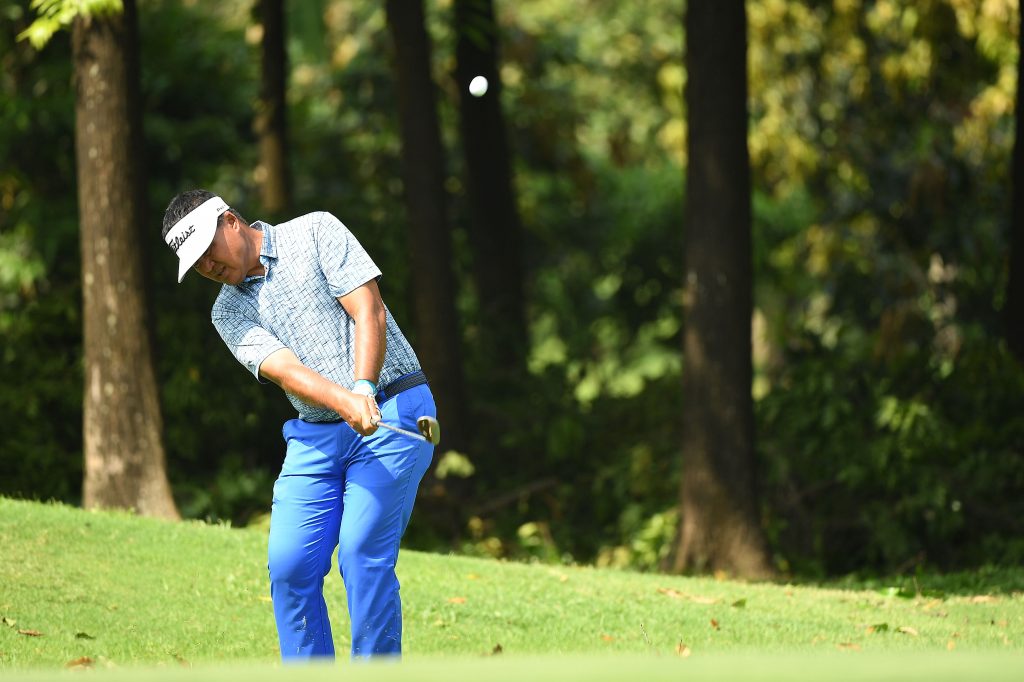 23rd August 2019 | Asian Development Tour
Mardan continues to take command at the Ciputra Golfpreneur Tournament
Jakarta, Indonesia, August 23: Singapore's Mardan Mamat stands on the brink of winning his second Asian Development Tour (ADT) title since 2012 after opening up a commanding five-shot lead at the Ciputra Golfpreneur Tournament presented by Panasonic on Friday.
The 51-year-old birdied five of his last six holes for a superb nine-under-par 63 to take command over second place Joohyung Kim of Korea with his three-day total of 18-under-par 198 at the Damai Indah Golf in Tangerang, Greater Jakarta.
England's Jack Harrison signed for a 63 to take third place while Australia's Daniel Fox together with Thailand's Peradol Panyathanasedh and American Micah Lauren Shin shared fourth place on matching 205 total.
Leading by one at the halfway stage, Mardan continued to ride on his fine momentum by marking his first six holes with four birdies, including a hat-trick of gains starting from the fourth hole.
Not even a bogey on the par-three seven could rattle him as he swiftly made up for that dropped shot with another birdie on the eighth hole.
Mardan himself was surprised to have signed for a 63, which is just one shot shy from the course record set by India's Gaganjeet Bhullar in 2009.
"Having played well in the first two days, I have got good feeling that I could go for another low round abut I certainly didn't expect to shoot a 63!
"I putted really well again and the best birdie of the day has to be on the 14th where I rolled in from about 20 feet.
"I really couldn't ask for more to be five shots up heading into the final day. It's been a while since I find myself in contention, I can't even even recall when was the last time I topped the leaderboard after three rounds," said Mardan.
Mardan, however, has refused to get carried away despite holding a comfortable lead.
"There's a lot of golf left to be played. Five-shot cushion is a good lead, but you can never take things for granted because this course has the potential to yield very low scores.
"I'll be very happy if I can wrap up the final round tomorrow with anything lower than a 70. It will be great I can win my first post-50 title!," he quipped.
Although being five shots behind, Kim will be eager to try put up a chase on Mardan.
With the winner of the Ciputra Golfpreneur Tournament set to take home a prize purse of US$19,250, Kim will also definitely do his utmost best to pile the pressure on Japan's Naoki Sekito in the race to become Order of Merit champion.
The Korean currently sits third in the money list with US$21,977.85, while Sekito leads on US$42,595.72.
Danny Masrin carded a 69 to finish as the best Indonesian in tied-14th on 208 total, putting himself in prime position to secure an Asian Tour start at the Panasonic Open Japan in 2020 by virtue of being the best local finisher.
Masrin had qualified for the event in 2017 and 2018 and he made the opportunities count by finishing creditable tied-19th and tied-fourth respectively.
Co-sanctioned by the ADT and the Professional Golf Tour of Indonesia, the Ciputra Golfpreneur Tournament 2019 presented by Panasonic will be the 11th leg of the 2019 ADT season and the third event to be played in Indonesia this year.
Ends.
Latest Asian Development Tour News