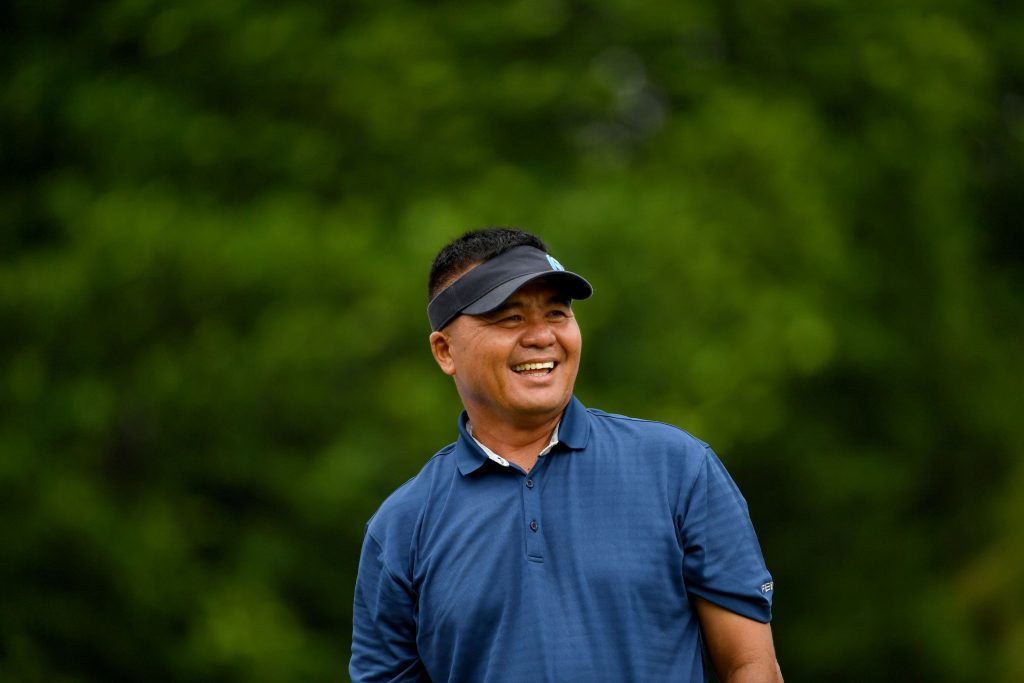 22nd August 2019 | Asian Development Tour
Mardan remains in control at the Ciputra Golfpreneur Tournament
Jakarta, Indonesia, August 22: Mardan Mamat of Singpore carded a three-under-par 69 to hold a one-shot lead over American Micah Lauren Shin at the halfway stage of the Ciputra Golfpreneur Tournament presented by Panasonic on Thursday.
The 51-year-old overnight leader responded superbly to a bogey on the second hole with four birdies to lead on nine-under-par 135 in the US$110,000 event jointly sanctioned by the Asian Development Tour (ADT) and Professional Golf Tour of Indonesia.
A host of players are breathing down the five-time Asian Tour winner's neck with Shin trailing closely after signing for an impressive eight-under 64 at the Damai Indah Golf in Tangerang, Greater Jakarta.
Current Order of Merit leader Naoki Sekito of Japan kept his hopes of securing a third ADT title alive by shooting a 69 to be tied for third on 137 with five others including Korea's Joohyung Kim (68), England's Steve Lewton (68), Thailand's Peradol Panyathanasedh (66), American Brett Munson (69) and Mitchell Slorach of Singapore (69).
Sekito, the winner of Gunung Geulis Golf Invitational supported by Nomura and PGM ADT Penang Championship, needs just one more victory to earn a swift promotion to the Asian Tour.
But the day again belonged to Mardan as he held steady to remain as the man to beat.
Despite an early setback, Mardan recovered well to birdie holes No. 6 and No. 9 before gaining two more shots with a succesive birdies on No. 13 and No. 14 for him to retain a slender advantage.
"I'm quite happy with how things have panned out, especially after struggling in the first three holes.
"I three-putted from 20 feet for the bogey on the second but managed to fight back with four birdies. I'm very pleased with that.
"It's going to be a very close contest this week. I have to try go for a red number over the next two days, I mean a very low red, if I'm to keep myself at the top," said Mardan, whose best result at Ciputra Golfpreneur Tournament was in 2017 when he finished outright second on the same course.
Mardan has not tasted success since he last captured the Bashundhara Bangladesh Open for his fifth Asian Tour victory, but he's eager to prove that he still has plenty of gas left in the tank.
"It's certainly a lot tougher to be playing after 50. But I still believe I have what it takes to take on younger guys out there and get back to winning ways.
"As long as I stay fit and maybe with a little bit of luck, I don't see why I can't win again," vowed Mardan.
A switch of putter has paid off for Shin as he fired eight birdies en route to a flawless 64 to make up for his opening 72.
"I have been hitting it pretty solid in the first round but I putted badly. I made 36 putts yesterday, so I decided to change a new putter.
"It turned out to be a good decision and I made many putts today, most of them from close range as I have been striking the ball really well ever since I changed my swing three weeks ago.
"I could have went one lower, but I missed a birdie putt from about four feet. Overall, I'm very happy to storm back into contention," said Shin, who finished third at the Sarawak Championship last week.
The halfway cut was set at even-par 144 with a total of 56 players qualifying for the final two rounds.
All ADT events are afforded Official World Golf Ranking (OWGR) status. The winner of each tournament receives a minimum of six OWGR points while the top-six players and ties earn points on a sliding scale.
The leading seven players on the ADT Order of Merit at the end of the season will earn playing rights on the premier Asian Tour for the 2020 season.
Ends.
Latest Asian Development Tour News