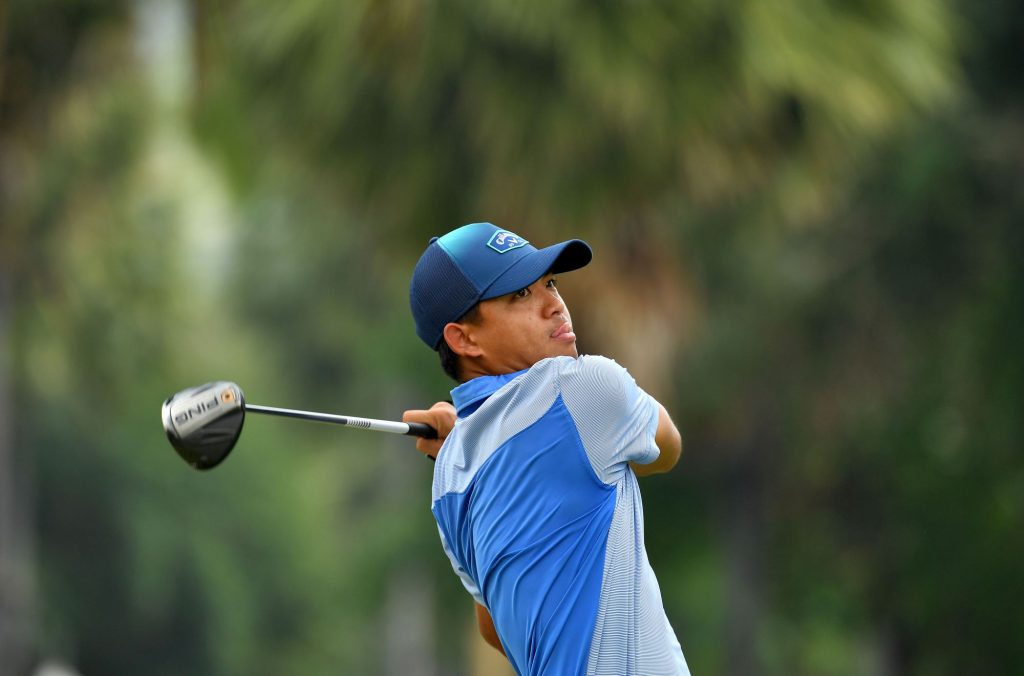 8th March 2019 | Asian Development Tour
Poom moves into the lead at PGM ADT Johor Championship
Johor, Malaysia, March 8: Poom Pattaropong of Thailand moved into the lead after carding a five-under-par 67 in the third round of the PGM ADT Johor Championship on Friday.
The 23-year-old Poom had an eventful day, as he shot an eagle, five birdies and two bogeys for an 18-under-par 198 total at the Palm Resort Golf and Country Club.
He has a four-shot lead going into the final round of the tournament, co-sanctioned by the Asian Development Tour (ADT) and the Professional Golf of Malaysia (PGM).
In second place is compatriot Pannakorn Uthaipas, who went slightly off the boil as he carded a 72.
Lloyd Jefferson Go of the Philippines (71), and Japan's Genki Okada (68) as well as Kazuki Higa (68) are in third, fourth and fifth place respectively.
Poom's eagle on the 16th gave him a mental boost for the final round.
"I hit a pretty good drive and used a nine-iron to get it onto the fringe, 10-feet from the hole. I managed to make an eagle from there. It was a huge confidence booster and it has set me up very nicely for tomorrow," said Poom, who earned an Asian Tour card via Qualifying School earlier this year.
He added: "I'll be playing with my good friend, Pannakorn (Uthaipas), and it'll be great fun. Whatever happens, happens. I'm very satisfied with the state of my game at the moment."
The leading seven players on the final ADT Order of Merit will earn playing rights on the premier Asian Tour for the 2020 season.
All ADT events offer Official World Golf Ranking (OWGR) points. The winner will receive a minimum of six OWGR points while the top six players and ties will also earn points based on a sliding scale.
For more information, visit www.asiandevelopmenttour.com
Leading third round scores:
198 – Poom Pattaropong 64 67 67
202 – Pannakorn Uthaipas 63 67 72
203 – Lloyd Jefferson Go 66 66 71
204 – Genki Okada 67 69 68
205 – Kazuki Higa 68 69 68
206 – Joohyung Kim 64 72 70, Trevor Simsby 68 67 71, Amir Nazrin 68 67 71
Latest Asian Development Tour News