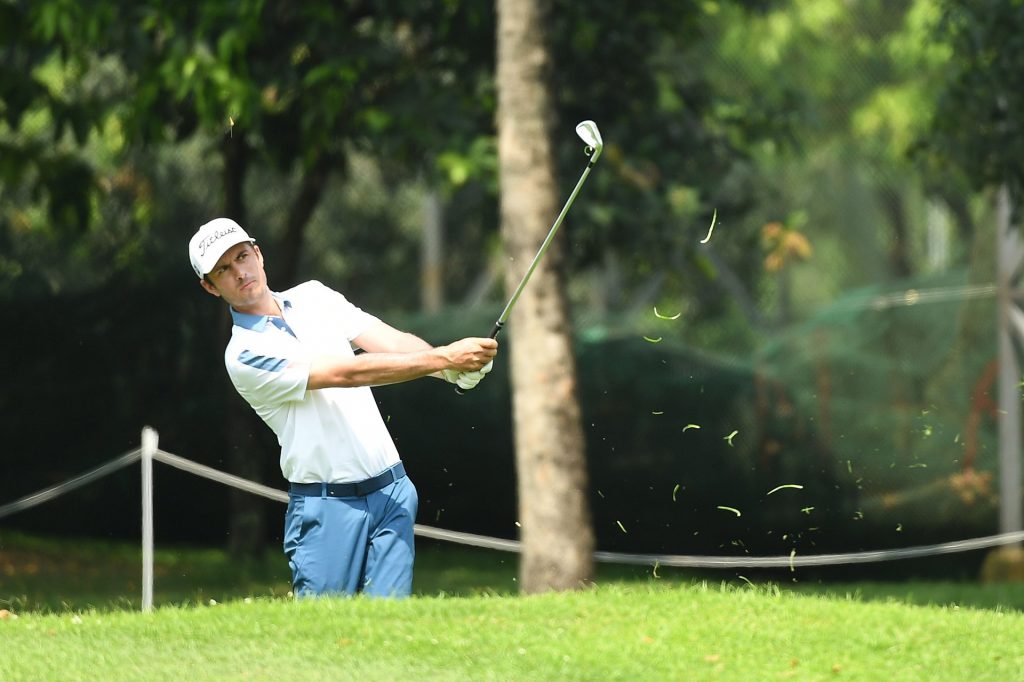 26th June 2019 | Asian Development Tour
Simsby takes the lead at the PGM ADT Championship @ Tiara Melaka
Melaka, Malaysia, June 26: American Trevor Simsby fired a flawless seven-under-par 65 to set the first-round target at the weather-hit PGM ADT Championship @ Tiara Melaka on Wednesday.
The 26-year-old Simsby, who is playing in his first year in Asia, holds a one-shot lead with his bogey-free round highlighted by seven birdies at the RM 225,000 (US$54,000) event.
Play was delayed due to heavy rain with the morning session commencing only at 12.30pm local time. It was later abandoned at 7.10pm due to fading light.
A total of 62 players returned to Tiara Melaka Golf and Country Club to complete their rounds on Thursday at 7.30am with the second round starting at 11.15am.
Simsby, who came through the Asian Tour Qualifying School this year with a tied-16th result, was thrilled to open his campaign on a good note after spending six weeks back home in Carlsbad, California.
"It's my first tournament since I played in Korea on the Asian Tour in May. I went home after that and played a couple of events to keep my momentum going and I'm happy to play well in my first round back in Asia," said Simsby, who has already enjoyed three top-10 finishes on the ADT in his rookie season.
"I putted really well today and had really good course management. I was surprised the course was still in playable condition despite how much it rained this morning," added Simsby.
"The highlight of my round would have to be hole nine. I hit my approach long and it went over the green and into a mud patch. I had to hit a punch shot onto the green from a terrible lie and then sank an eight-footer for birdie," added the American, who joined the play-for-pay ranks in 2014 and has been plying his trade on the Web.com Tour as well as the PGA LatinoAmerica Tour.
Thailand's Kosuke Hamamoto carded a blemish-free 66 to sit in second place while countryman Kasidit Lepkurte posted a 67 to take the third spot.
A group of four players lie a further shot back in fourth place following matching 68s. They include India's Yuvraj Sandhu, Malaysian duo Ben Leong and Irfan Yusoff as well as Thailand's Poom Pattaropong.
Kosuke, who is currently placed third on the ADT Order of Merit, relied on his stellar short game to mark his card with six birdies.
"It was a stress-free round with very little mistakes. I was hitting it good and made a couple of good saves. Like on hole 17 I made a good up-and-down from three feet and saved par from there. I ended my round with a 10-foot birdie right after," said Kosuke, who is born to a Japanese father and Thai mother.
Leading first round scores:
65 – Trevor Simsby
66 – Kosuke Hamamoto
67 – Kasidit Lepkurte
68 – Yuvraj Sandhu , Ben Leong, Irfan Yusoff, Poom Pattaropong
Ends.
Latest Asian Development Tour News