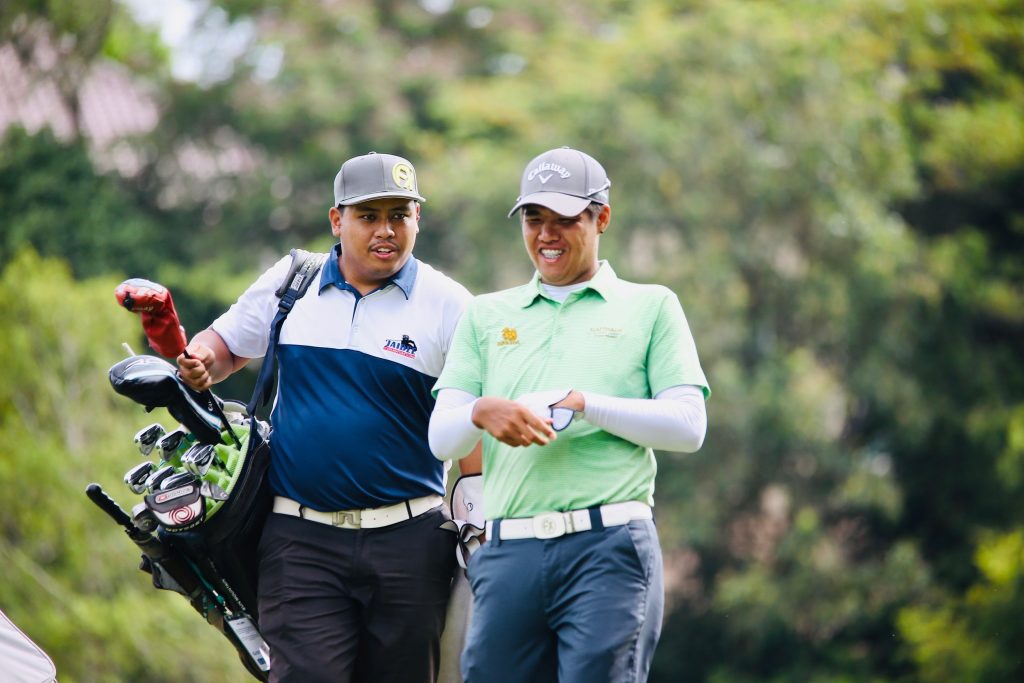 26th April 2019 | Asian Development Tour
Tawit on cusp of breakthrough at the Butra Heidelberg Cement Brunei Championships
Bandar Seri Begawan, April 26: Thailand's Tawit Polthai continued his fine form by firing a seven-under-par 63 to strengthen his position atop the leaderboard following the penultimate round of the Butra Heidelberg Cement Brunei Championships on Friday.
The 25-year-old Thai, who entered the round with a three-shot lead, extended his advantage to four with his three-day total of 18-under-par 192 at the US$75,000 event.
Thai star Prom Meesawat, who is playing on a sponsor's invitation, posted a sizzling 62 to share second place with American Austen Truslow (64) while Chinese Taipei's Wang Wei-lun (64) trails Tawit by six shots in fourth place at The Empire Hotel and Country Club.
Tawit, who traded eight birdies against one bogey, had a hot putter to thank for after navigating around the greens in 22 putts.
"My putting was really good today, I was making a lot of putts from 15-feet. I just stuck to my game plan even though I knew a lot of the guys were chasing me from behind," said Tawit.
The Thai relishes the opportunity to play with his idol Prom and will continue to adopt a relaxed approach in the final round as he stays on track for a maiden Asian Development Tour (ADT) win.
"I just want to have fun tomorrow, it will be the first time I am playing in the final group and I am excited to be playing with Prom tomorrow," added Tawit.
Prom made a fast start on moving day with five birdies in his opening nine holes to make the turn in 30. He notched birdies on holes 11,12, 14 and 15 before dropping a shot on hole 17 for an inward 32.
"I was hitting it well and was confident in my irons so I was able to give myself a lot of birdie opportunities today. I wouldn't count hole 17 as a mistake because I hit a good drive but if it was just one yard longer, it would have crossed the water hazard.
"This isn't a long course, so with my distance, I had to take risks like that. Tawit will be the man to catch and I am excited for the challenge tomorrow," added Prom, a two-time Asian Tour winner.
Qualifying School graduate Truslow, was pleased to have recovered from his dropped shot on hole 12 as he responded by firing four birdies in his closing six holes.
"I was consistent in the beginning of the round but then I made a silly mistake on hole 12 when I hit my tee shot into the trees and had to pitch it out to the fairway. I recovered really well after that and made a lot of great birdies like on hole 18 when I made a 31-foot birdie putt.
"The leader is playing really well and I am excited to be in this position. I am just looking forward to be playing this course again because it really suits my game," said Truslow.
The Organising Committee of the Butra Heidelberg Cement Brunei Championships has announced a charity drive through its "Birdies for Charity" program. Through the generous contributions of its donors, the program will receive B$10 for every birdie recorded during each round.
All pledges collected after four rounds will go directly to the Dana Pengiran Musa Mahkota Al-Muhtadee Billah for Orphans and the Pusat Ehsan Al-Ameerah Al-Hajjah Maryam.
Leading third round scores:
192 – Tawit Polthai (THA) 65-64-63.
196 – Prom Meesawat (THA) 66-68-62, Austen Truslow (USA) 65-67-64.
198 – Wang Wei-lun (TPE) 66-68-64.
199 – Naoki Sekito (JPN) 68-67-64, Casey O'Toole (USA) 65-69-65.
201 – Suttijet Kooratanapisan (THA) 69-66-66, Sarit Suwannarut (THA) 66-68-67.
Ends.
Latest Asian Development Tour News