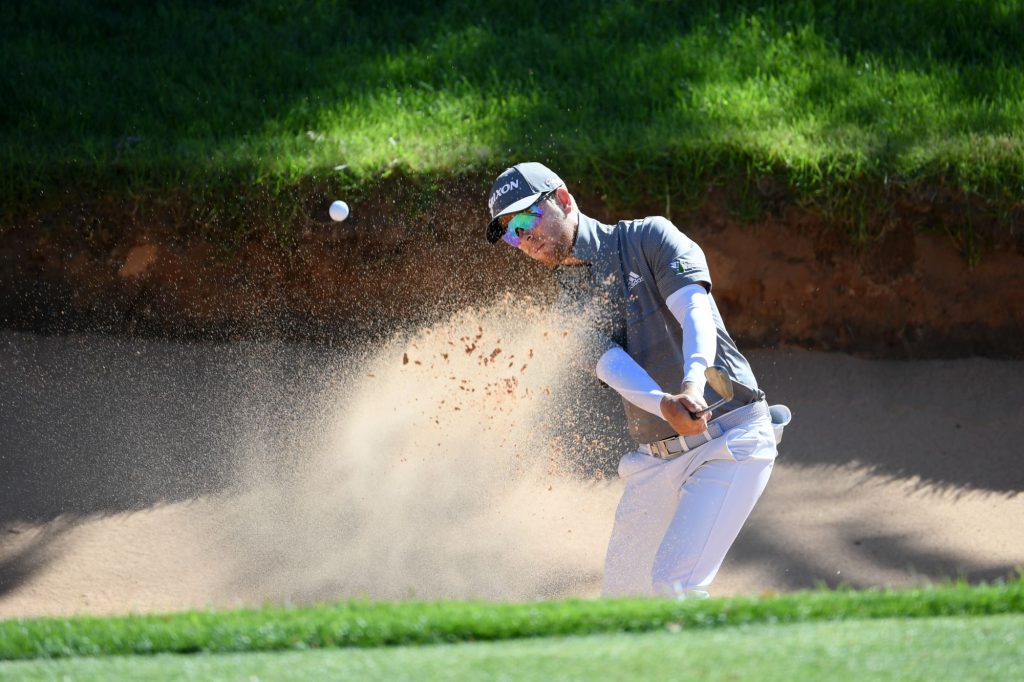 19th June 2019 | Asian Tour
OWGR Watch- Week of the Kolon Korea Open
Sentosa, Singapore, June 19: There was no Asian Tour event last week but some of our members are still creating an impact in other events around the world and improving their standings on the Official World Golf Ranking (OWGR).
The Asian Tour looks into their movement on the OWGR.
Scott Vincent of Zimbabwe claimed his first professional title on the AbemaTV Tour in Japan last week by winning the Landic Challenge 7 five shots clear of Japan's Tomoyasu Sugiyama. The victory moves the five-time Asian Tour runner-up to number 150 on this week's OWGR, a gain of 35 spots from last week's rank of 185.
Playing in his third U.S. Open, the 2013 Asian Tour Order of Merit champion Kiradech Aphibarnrat got off to a fast start at Pebble Beach Golf Links and was three-under-par after seven holes in the first round. However, two straight double-bogeys at holes eight and nine derailed his initial momentum and he would eventually miss the cut after rounds of 75-74 and seven-over-par.
A weekend off means Kiradech slides three spots on the OWGR to 49th position and he is now dangerously close to falling out of the top-50 for the first time since he won the ISPS Handa World Super 6 Perth in February last year.
Although he is already exempt for The Open Championship at Royal Portrush next month, the next major event on the calendar, the WGC-FedEx St. Jude Invitational, slated to take place from July 25-28 at TPC Southwind in Memphis, Tennessee, does require players to be inside the top-50 on the OWGR on either July 15th or July 22nd for an invitation.
South Africa's Justin Harding is in a similar situation as Kiradech as he also didn't make it to the weekend at the U.S. Open, rounds of 73-73 turned out to be two shots too many to make the cut.
Harding is exempt for The Open by virtue of being inside the top-50 on the OWGR as of end of week 21, however remaining in 47th place on this week's list leaves Harding perilously close to the cut-off position for the WGC-FedEx St. Jude Invitational.
The 2019 SMBC Singapore Open champion Jazz Janewattanond had a week off having just missed out on an OWGR exemption into the U.S. Open, and slips one spot to 62nd in the latest rankings. Having clinched his place in The Open with the win in Singapore early this year, Jazz's next target is now the top-50 on the OWGR and a place in the field at TPC Southwind in July.
A victory at this week's Kolon Korea Open could get the three-time Asian Tour winner very close to this goal.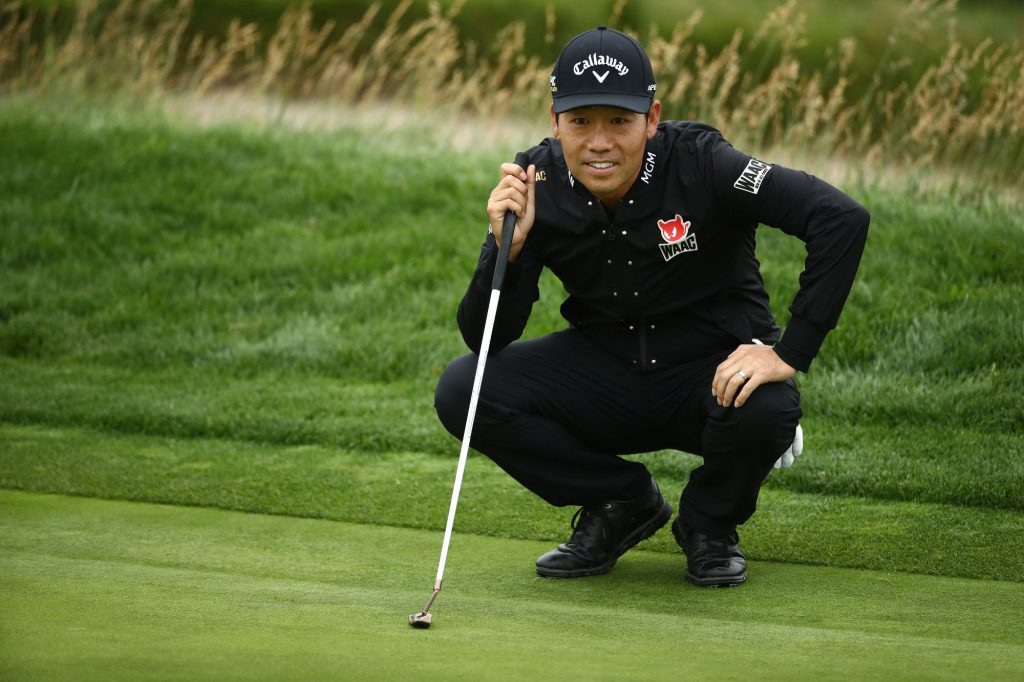 18th June 2019 | Asian Tour
Tour Insider: Week of the Kolon Korea Open
By Olle Nordberg, Former Asian Tour and European Tour professional
The Tournament
The 62nd edition of the Kolon Korea Open Golf Championship will once again be staged at Woo Jeong Hills Country Club in Cheonan and will like last year be co-sanctioned by the Asian Tour and Korea Golf Association (KGA).
The event will offer a purse of KRW 1,200 million, approximately US$ 1,067,000, and with a cheque of US$266,800 going to the winner, the champion this week is guaranteed to make a big move on the Asian Tour Order of Merit.
It's also part of The Open Qualifying Series and two spots to The Open at Royal Portrush in July are up for grabs. The top two players not otherwise exempt and inside the top-eight and ties can be booking their tickets to the last Major of the year on Sunday afternoon.
The Course
Woo Jeong Hills is a Dye Designs course that requires players to bring an accurate game off the tee, with many holes having water and Out-of-Bounds very much in play.
It also features fast and challenging greens with some very tricky pin-positions. Players will need to understand which side of the hole offer makeable putts, approach shots that end up on the wrong side of mounds or tiers on the greens will make for extremely difficult two-putts.
There are also three strong par-three holes that need to be negotiated safely in numbers eight, 13 and 16.
The course has been the home of the Kolon Korea Open since 2003 and past champions at Woo Jeong Hills include international stars such as John Daly (2003), Y.E. Yang (2006 & 2010), Vijay Singh (2007), and Rickie Fowler (2011).
Top Contenders
Defending champion Minchel Choi of Korea will be looking for a return to form on a course where he has a good record, having finished tied-sixth in 2017 in addition to the victory last year.
He will however face stiff competition to retain the title, perhaps most notably from the highest ranked player in the field Kevin Na. The Korean-born American beat Tony Finau by four shots to claim his third PGA TOUR victory at the Charles Schwab Challenge in late May. He is the highest-ranked player in the 144-man field, placed 32nd on the latest OWGR.
Na started his pro career on the Asian Tour back in 2002 and had a win at the Volvo Masters of Asia to go along with five other top-10 finishes in his rookie season.
Habitat for Humanity Standings leader Scott Hend of Australia will be making his first start in the Korea Open since 2007 and is a dangerous contender in any tournament where he tees it up. One of the longest drivers on tour, the 2019 Maybank Championship winner may have an advantage over shorter players if he can also keep the ball in the fairway off the tee.
Currently ahead by US$ 56,235 in the Order of Merit race, staying in front will surely be on his mind this week.
Thailand's Jazz Janewattananond has been in stellar form since winning the SMBC Singapore Open at the start of the season. Currently second on the Order of Merit behind Hend, Jazz coming into this event with two straight top-5's on the Japan Tour (JGTO) to go along with his four top-5's on the Asian Tour this year.
Having narrowly missed out on a U.S. Open exemption by the smallest of margins by being ranked 61st on the OWGR last week, Jazz will be looking to continue his march towards the world's top-50 this week in Korea.
A two-time winner on the Asian Tour last year, Korean star Sanghuyn Park has the best recent record in the tournament by anyone in the field this week. Park has finished inside the top-10 the last four years in a row, including a runner-up in 2018 two strokes behind Choi.
With multiple tournaments won in Korea and Japan, Park would dearly like to win his National Open. A title still lacking from his otherwise very solid resume.
Having just won his first professional tournament last week on the AbemaTV Tour in Japan, Scott Vincent of Zimbabwe could be primed for his first Asian Tour victory.
Vincent has an impressive record since arriving on the scene in Asia in 2016, with five runners-up, 11 other top-10's and a fifth place on the 2018 Order of Merit to his credit. His highest finish on this year's Asian Tour is a fourth place in the ISPS Handa World Super 6 Perth in February.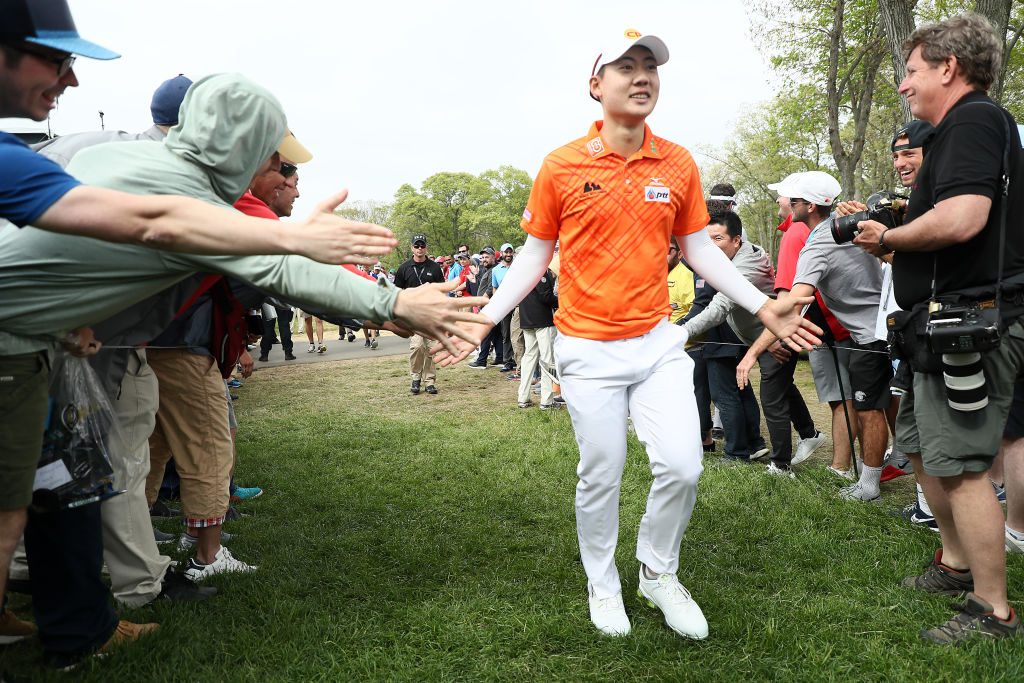 12th June 2019 | Asian Tour
OWGR Watch- U.S. Open Championship Week
Sentosa, Singapore, June 12: There was no Asian Tour event last week but some of our members are still creating an impact in other events around the world and improving their standings on the Official World Golf Ranking (OWGR).
The Asian Tour looks into their movement on the OWGR.
Japan's Mikumu Horikawa posted his first career victory on the Japan Golf Tour (JGTO) by claiming the JGT Championship Mori Building Cup Shishido Hills by four shots over compatriot Shugo Imahira.
This win was good for a boost up the rankings from 269th to 182nd position, a career high for the 26-year-old Horikawa who will be making his Major debut this week in the U.S. Open Championship at Pebble Beach.
The tournament also provided a nail-biting finish for Thailand's Jazz Janewattananond, who needed a tied-second with no more than two other players to reach top-60 on the OWGR and qualify for the U.S. Open.
After a two-over-par 73 in the first round, the three-time Asian Tour winner staged a dramatic comeback on the weekend firing scores of 64-67 for a ten-under-par total. However, a 15-foot birdie-putt slipped by the 72nd hole and this proved to be one shot too many as Jazz ended up in a tie for third with Chan Kim.
With the tied-third place finish Jazz picked up 5.60 points and continues his climb up the rankings, moving to 61st place and yet another career-high position on the OWGR.
Also playing in the same event was Gunn Charoenkul from Thailand who by finishing tied-eight posted his third consecutive top-10 on the Japan Tour and moves to a career-high rank of 265th.
Both Thailand's Kiradech Aphibarnrat and Justin Harding from South Africa were taking the week off to rest and prepare for this week's U.S. Open, and lose one spot each in the rankings to 46th and 47th respectively.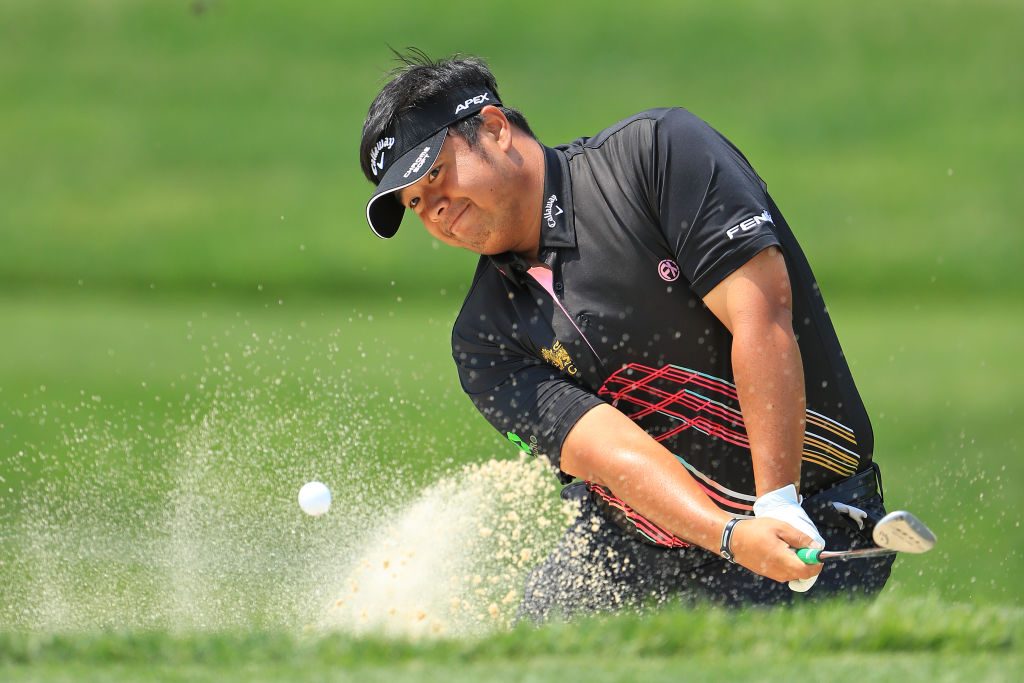 10th June 2019 | Asian Tour
Tour Insider: Week of the U.S. Open Championship
By Olle Nordberg, Former Asian Tour and European Tour professional
The Championship
Founded in 1895 the U.S. Open Championship is the second oldest Major after The Open Championship, and this year's edition will be the 119th staging of the event.
Prize money for 2019 will be $12.5 million, the biggest purse in any of the four Major Championships.
No Asian player has won the U.S. Open in the in the history of the event. The closest was T.C. Chen of Taiwan who finished tied-second in 1985 at Oakland Hills after leading by three shots going into the last round.
The last first-time player to win the championship was Francis Ouimet (as an amateur) at The Country Club in Brookline, Massachusetts back in 1913.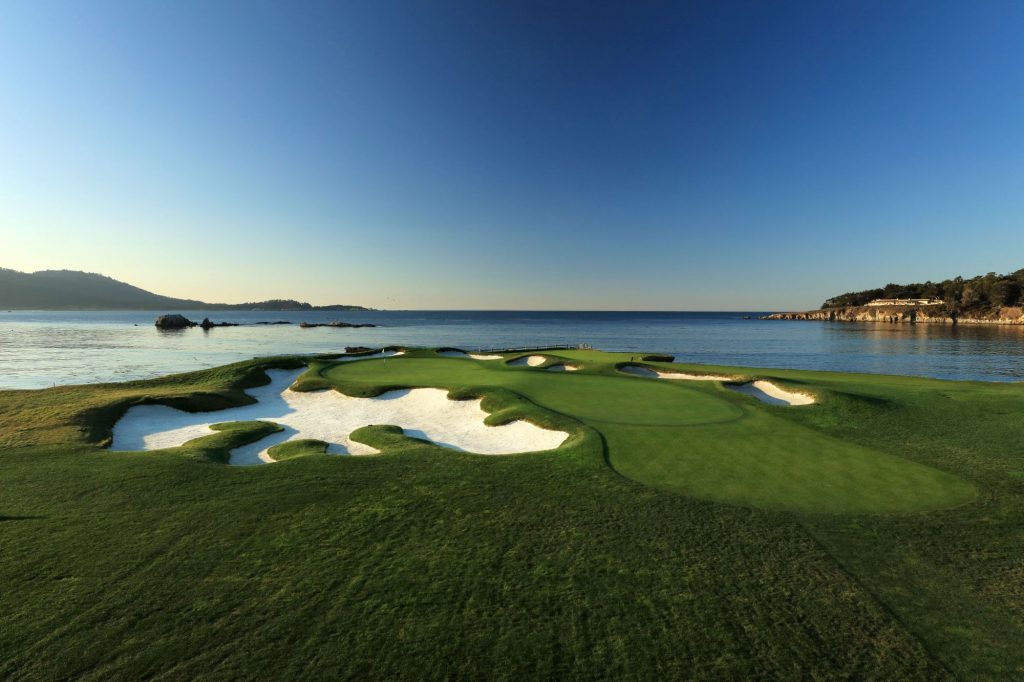 The Course
Pebble Beach Golf Links, Pebble Beach, California.  Par-71, 7,075 yards.
One of the most iconic golf courses in the world, and possibly the most scenic, Pebble Beach Golf Links has been the venue for scores of tour events and major championships since it opened in 1919.
In addition to playing host to five U.S Opens, it has most notably been the site of the U.S. Amateur Championship in 1929, 1947, 1961, 1999 and 2018, the PGA Championship in 1977, and the AT&T Pro-Am on the PGATOUR from 1947 to present day.
This will be the sixth time that The U.S. Open Championship is played at Pebble Beach, and past champions here include legendary players such as Jack Nicklaus (1972), Tom Watson (1982), Tom Kite (1992), and Tiger Woods (2000).
The last time the U.S. Open was held at Pebble Beach was in 2010 when Graeme McDowell held off Gregory Havret to win by one shot on a total score of even-par 284.
While Augusta has its famous Amen corner (11-13), Pebble as it's often referred to, has its own stretch of key holes known as the Cliffs of Doom (8-10) perched perilously overlooking the Pacific Ocean and beach below.
It also has what is probably the shortest hole in Major Championship golf, the quirky par-three seventh that played to only 92 yards in the final round of the 2010 U.S. Open.
U.S. Opens are well known for very difficult course set-ups and demand a thorough examination of players' skills, this year will surely prove no exception.
There is a famous quote from USGA's Sandy Tatum after "The Massacre at Winged Foot" in 1974: "we're not trying to humiliate the best players in the world, we're simply trying to identify who they are". This probably says it all about what they are looking for in their National Open.
Deep rough will penalize tee-shots that stray from the fairways by even a few yards, with Cost of Rough measured at just over half-a-shot over-par during the 2010 championship. Accuracy off the tee will be key this week.
As will of course hitting the greens in regulation. Missing greens by the smallest of margins will leave a tough task of saving par for the same reason as above, plus the fact that the greens will most likely be very firm and lightning fast.
The poa annua grass on the greens will also be a big factor. A notoriously difficult putting surface that players will most likely find nowhere near as smooth and true as at the first two Majors this year, especially in late afternoons.
The course will likely be a tale of two nines as it was in 2010. Players will be looking at the outward half as the side where they can make up shots and the back nine where they hang-on to any gains.
Holes one through nine played to an average score of +1.25, while on holes 10 through 18 that number was +2.73. A difference of almost 1.5 strokes.
The difference was even more noticeable if you looked at holes one through seven vs. eight through 18 where the difference was +.56 compared to +3.42.
The average score that year was 74.98 or almost four-over-par.
The Favorites
Brooks Koepka (USA)
The winner of the PGA Championship last month at Bethpage Black and tied-second at the Masters Tournament in April, Koepka totally fits the mold for a U.S. Open champion. A no-nonsense player that grinds and goes about his business when others may start to let the sometimes-brutal conditions wear them down.
He has won the Championship the last two years in a row and has a chance to be the first three-peat winner since Willie Anderson in 1903 to 1905, one of only four four-time winners of the U.S. Open (Bobby Jones, Ben Hogan, Jack Nicklaus).
Dustin Johnson (USA)
A two-time winner this year capturing the Saudi International and WGC-Mexico Championship, he also finished second at the PGA Championship and tied-second at the Masters Tournament. A Johnson victory would be a big story of redemption this week, not only for the two Major runners-up this year, but also for the last time the event was held at Pebble Beach.
Leading by three going into the final round in 2010, the winner of the 2016 U.S. Open let the tournament slip away from him by shooting 82 in the final round.
Starting round four par, triple, double, bogey he let a host of other players back into the tournament right from the start and eventually finished in a tie for eighth place.
Johnson does have a very good record at Pebble, having won the AT&T Pro-Am in 2009 and 2010 and finished tied-second in 2014 and 2018.
Tiger Woods (USA)
When Woods won the 2000 U.S. Open at Pebble Beach, he did so by the biggest winning margin in U.S. Open history. A total score of 12-under-par was good for a 15-stroke victory over Miguel Angel Jimenez and Ernie Els.
That U.S. Open was also the first leg of the "Tiger Slam", where he famously won the four Majors in a row although not in the same season. The closest anyone has come to winning the modern Grand Slam of the Masters Tournament, PGA Championship, U.S. Open Championship and The Open Championship in the same calendar year.
Already a three-time winner of the Championship in 2000, 2002 and 2008, this year's Masters champion has a chance to tie the record for U.S. Opens won (four) and to win his 16th major, two short of Jack Nicklaus all-time-record of 18.
The Asian Tour Players
Kiradech Aphibarnrat (THA)
This will be the 2013 Asian Tour Order of Merit champion's third start in the U.S. Open, and in the 2018 edition at Shinnecock Hills, he was within striking distance of the leading quartet of Brooks Koepka, Dustin Johnson, Tony Finau and Daniel Berger after three rounds.
Teeing off on Sunday afternoon in tied-seventh place and only three shots behind the joint-leaders, a final round of three-over-par 73 meant he finished in 15th place for his best performance in a Major to date.
In his first full season as a PGATOUR member Kiradech has recorded two top-five finishes so far: a tied-third in the WGC-Mexico Championship and a tied-fifth at the AT&T Byron Nelson.
Currently ranked 61st in the FedEx Cup standings, and with over $1.5 Million in prize money, he should have already secured his playing rights for the 2020 PGATOUR season.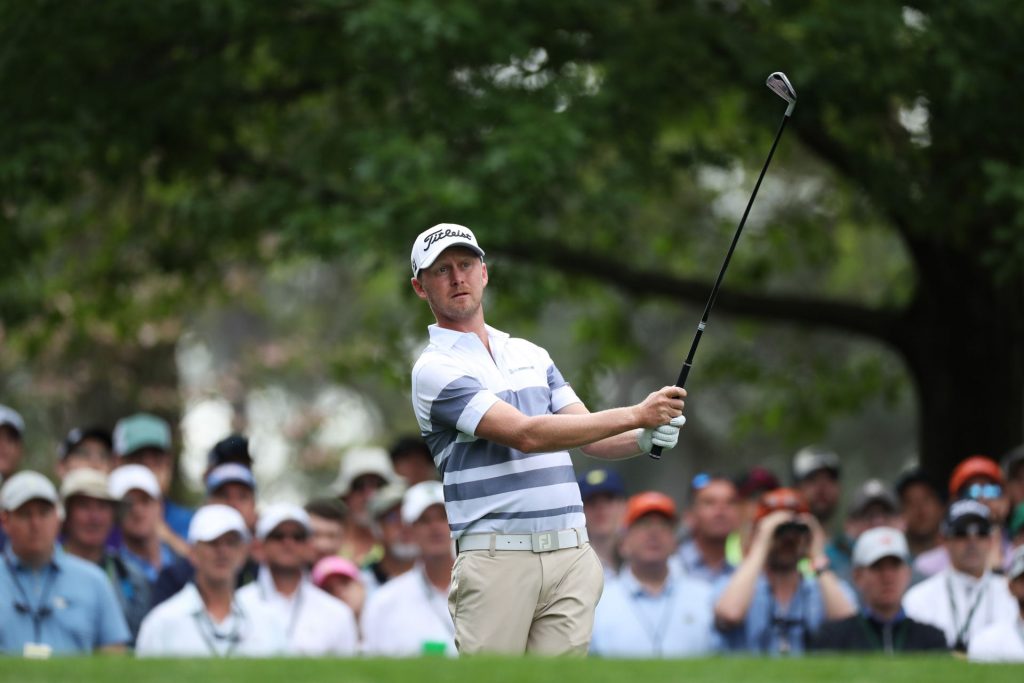 Justin Harding (RSA)
After a successful rookie season on the Asian tour in 2018 when he won the Bank BRI Indonesia Open and Royal Cup in consecutive events, Harding went on to win the Commercial Bank Qatar Masters on the European Tour early this season. His fifth world-wide win since the start of 2018.
Since then, he has spent most of his time on the PGA TOUR and notably finished tied-12th in his first Masters Tournament appearance to earn an invitation back to Augusta next year.
Harding will be playing in his first U.S. Open this week and should be ready and well rested after a few weeks away from tournament golf.
His performance statistics from the PGA TOUR also speak in his favor as Harding is currently ranked first in Strokes Gained: Putting and fifth in Driving Accuracy. Two categories that will be very important this week at Pebble Beach.
Anirban Lahiri (IND)
The 2015 Asian Tour Order of Merit winner qualified for the championship by finishing second in the sectional qualifier in Columbus, Ohio last week. This will be Lahiri's third U.S. Open and he will be hoping to redeem his previous two missed cuts in 2015 and 2016.
His best result on the 2019 PGATOUR schedule is a tied-10th in the Mayakoba Golf Classic late last year, but he has shown signs of a return to form with good first-round scores in his last two events.
Marcus Fraser (AUS)
Fraser had his best year on the Asian Tour in 2016 when he won the Maybank Championship and had three other top-10 results. A highlight of that year was also representing Australia in the Rio Olympics where he finished tied-fifth.
Qualifying for this week by finishing tied-third in the sectional qualifier at Walton Heath Golf Club in England, this will be Fraser's fourth start in a U.S. Open after playing the event in 2007, 2013 and 2015.
He will be hoping to improve on his previous best result which was a tied-45th back in 2007.
Kodai Ichihara (JPN)
A two-time champion in his home country in 2018, Ichihara won the Dunlop Phoenix Tournament and the JGT Championship Mori Building Cup Shishido Hills to finish fourth on the Japan Tour (JGTO) Money Rankings. His best season since turning pro in 2001.
Winning the Japan sectional qualifier earned the 37-year-old his first appearance in a U.S. Open and fourth Major over-all.
Mikumu Horikawa (JPN)
As with his compatriot above, Horikawa had the best season of his career last year when he finished 19th on the Japan Tour Money Rankings and was the runner up to Ichihara at the Dunlop Phoenix Tournament.
The U.S. Open will be marking his Major debut after securing a place in the field by grabbing the last spot available in a play-off at the Japan sectional qualifier.
Coming into this week in great form having just captured his first Japan Tour title by winning last week's JGT Championship Mori Building Cup Shishido Hills by four shots.
Ends.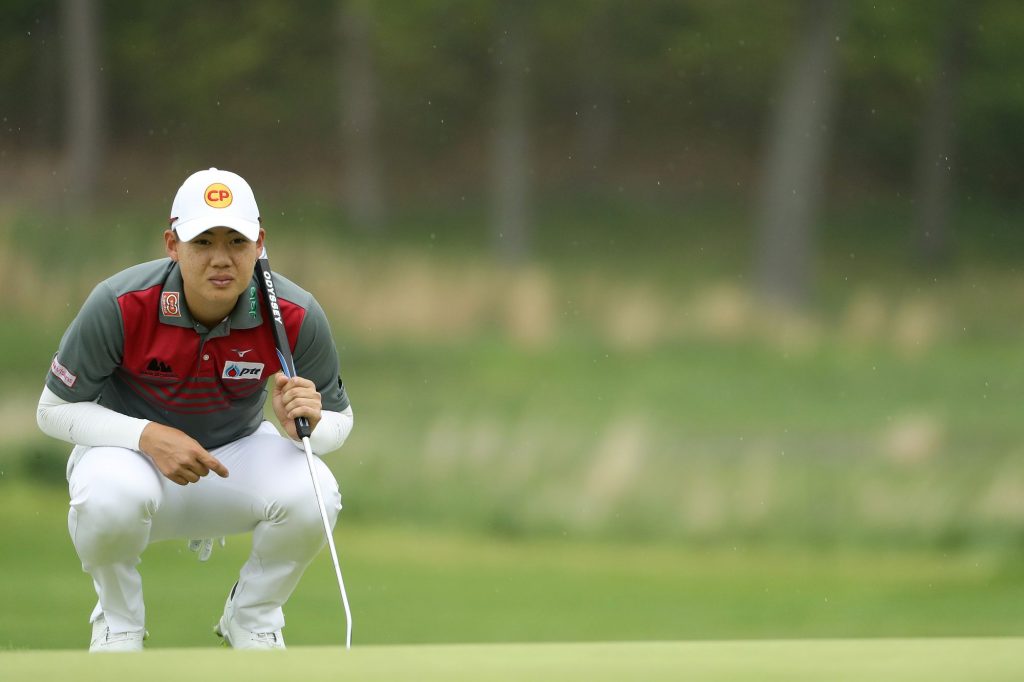 3rd June 2019 | Asian Tour
The season so far by the numbers
After nine events played and about a third of the way through the 2019 schedule, Olle Nordberg takes a look at some of the key statistics and see which players have been performing well throughout the first few months of the season.
By Olle Nordberg, Former Asian Tour and European Tour professional
*Note from the Author: In order to make the stats more valid we need a reasonable sample size, so for this exercise I have required eight rounds completed as a minimum for a player's data to count in the rankings.
In addition to the official Asian Tour stat categories, I have also added a combination-stat Total Driving (Driving Distance + Driving Accuracy) which is not listed on the website.
Driving Distance
That the old saying "drive for show and putt for dough" has lost at least some of its relevancy in the modern game is no secret, we can just look at the Official World Golf Rankings (OWGR) to see what kind of players are ranked at and near the top.
On the Asian Tour, the current Driving Distance leader is power player Kurt Kitayama who used his length off the tee to help him win last year's AfrAsia Bank Mauritius Open, which he followed up a few months later with a victory at the Oman Open on the European Tour in March.
There are also two more recent Asian Tour winners in the top-10 in this category: the current Habitat for Humanity Standings leader and 2016 Order of Merit champion Scott Hend, who by winning the Maybank Championship in March became the most successful international player on the Asian Tour with 10 victories, and Q-School graduate Zach Murray who won the 100th New Zealand Open in only his third start on the Asian Tour.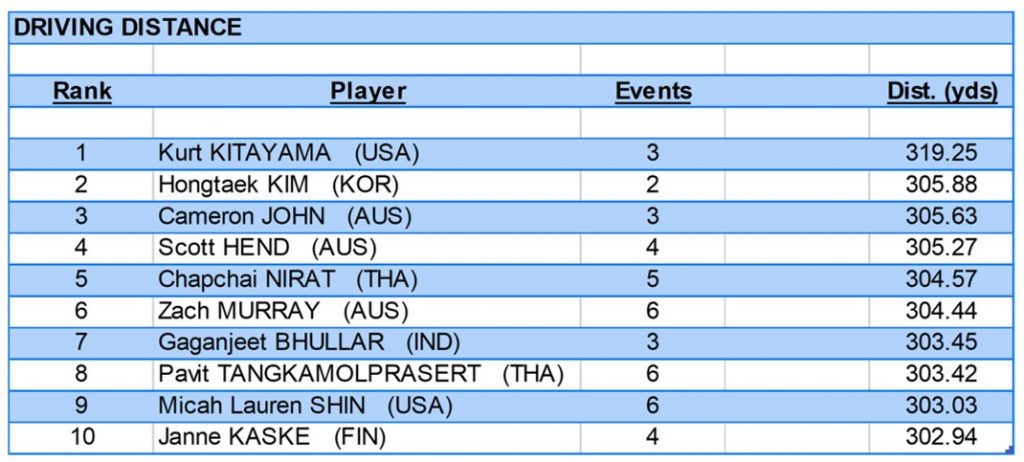 Driving Accuracy
Category leader Adilson Da Silva has not won yet in 2019, but he recorded his first ever Asian Tour victory last year in the Mercuries Taiwan Masters on a course that demands precision off the tee. His accuracy has been very impressive so far this season, only missing an average of roughly two fairways per round.
The closest anyone in the top-10 of this category has been to a win this season is Ajeetesh Sandhu finishing second in the Bangabandhu Cup Golf Open in Bangladesh, only one shot behind the winner Sadom Kaewkanjana.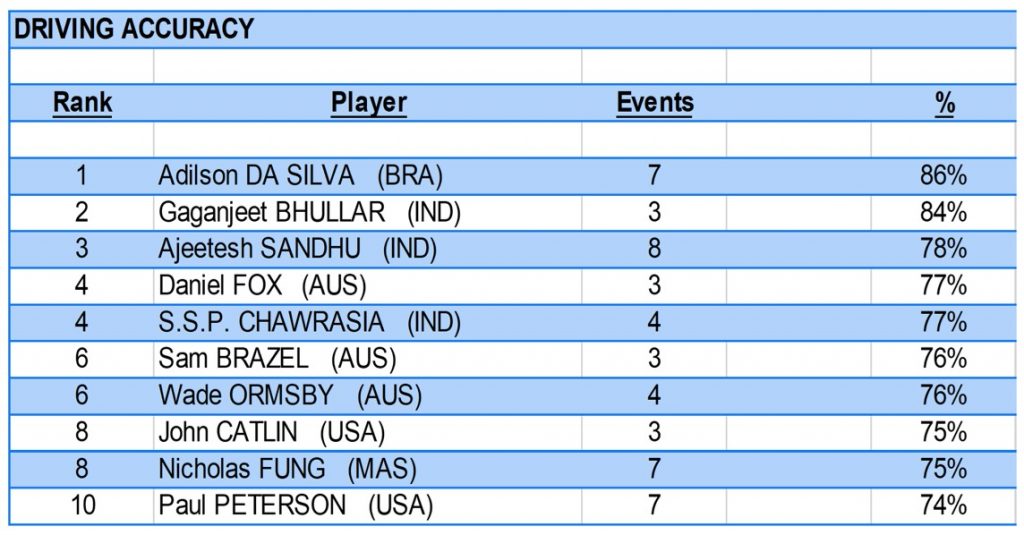 Total Driving
A combination-stat that is a very good measure of a player's over-all driving performance by combining Driving Distance and Accuracy.
The 2018 Fiji International champion Gaganjeet Bhullar has shown remarkable driving skills with both length and precision off the tee, ranking in the top-10 in both individual categories.
This list also includes Scott Hend, and a player who has been the most consistent high performer on the 2019 Asian Tour, Jazz Janewattananond.
Winning twice on the Asian Tour prior to this year, Jazz opened his season with a victory at the SMBC Singapore Open and followed it up with a fourth in the 100th New Zealand Open, third at the Maybank Championship, tied-fifth at Bangabandhu Cup and a tied-14th at the recent PGA Championship.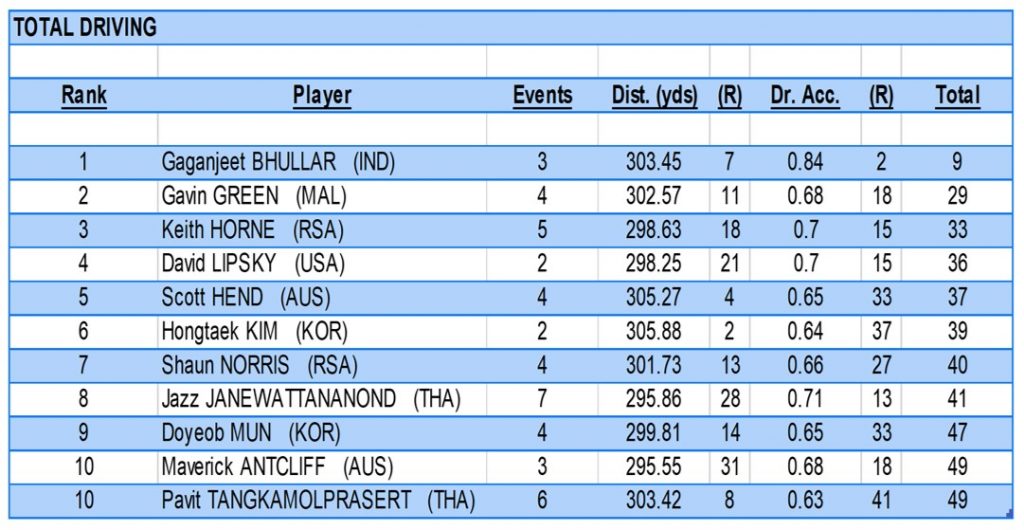 Greens in Regulation (GIR)
Hitting greens in regulation is of course very important for consistently shooting good scores, the more greens you hit the more putts for birdies you will have.
As mentioned above, category leader Jazz has had quite the start to the season and perhaps it's easy to see why when we consider his Total Driving stats in combination with his GIR percentage. Missing only four greens a round on average makes for a lot of birdie chances.
In addition to Jazz, five other players in these two categories overlap: Gaganjeet Bhullar, Scott Hend, Shaun Norris and Gavin Green. It should be safe to say that rankings in these two categories are closely related.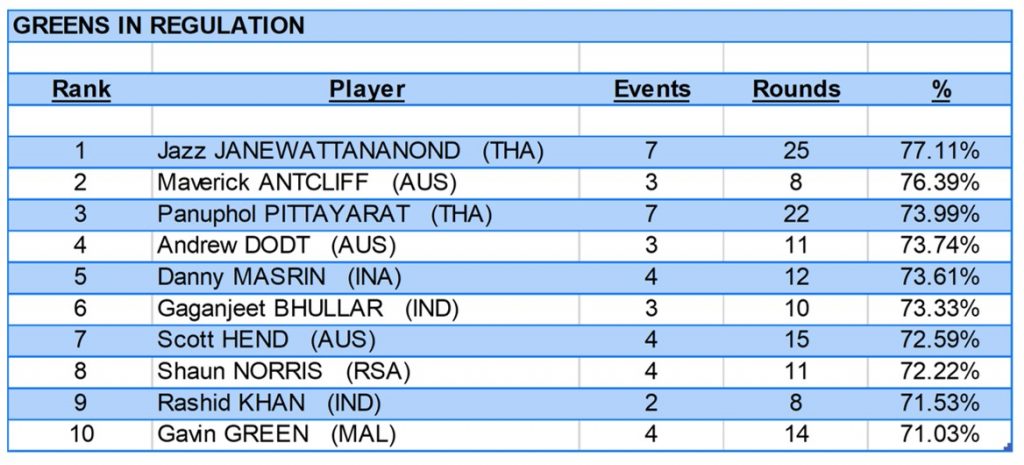 Scrambling
Getting it up-and-down when missing the green can be very important for maintaining momentum when playing well, or to minimize damage on a day when things are not going your way.
Current leader Rashid Khan has done this nearly three-quarters of the time this season, and it may be one of the reasons why he has recorded top-10 finishes in both his Asian Tour starts this season: a third-place finish in the Bangabandhu Cup Golf Open and a tied-10th in the Hero Indian Open.
Jazz is also ranked highly in this category, adding to his already solid over-all game this season.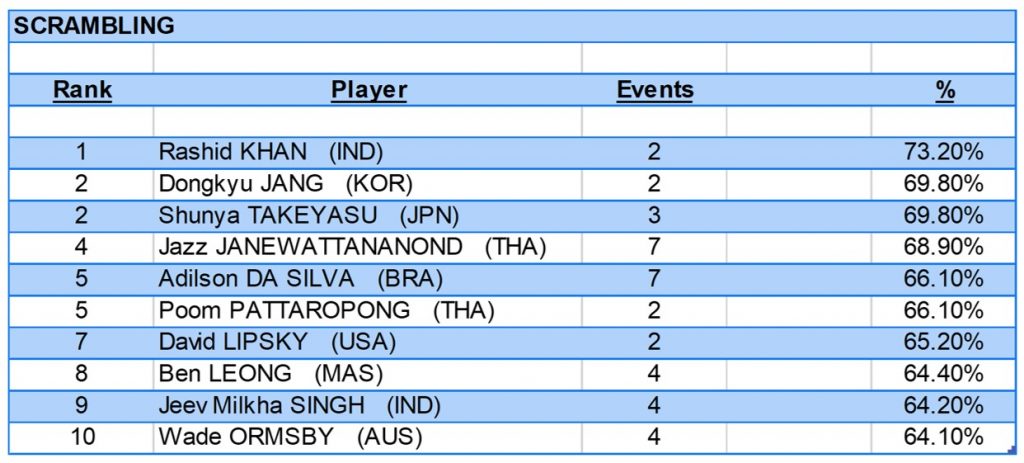 Putts per Green in Regulation
In my opinion a much better way of measuring putting performance than Putts per Round, since that number will likely look increasingly better the less greens a player hits in regulation.
The 2014 Order of Merit champion David Lipsky has posted some very solid putting stats in his two appearances this year, the Maybank Championship and the Volvo China Open, finishing tied-fifth in China and a tied-13th in Malaysia.
A close second is tour rookie Sadom Kaewkanjana who won the Bangabandhu Cup Golf Open in his first start after graduating from Q-School, a feat never accomplished before on the Asian Tour.
Fellow tournament winners Zach Murray and Scott Hend are also currently in the top-10, proving that they are not only powerful off the tee but have great touch on the greens as well.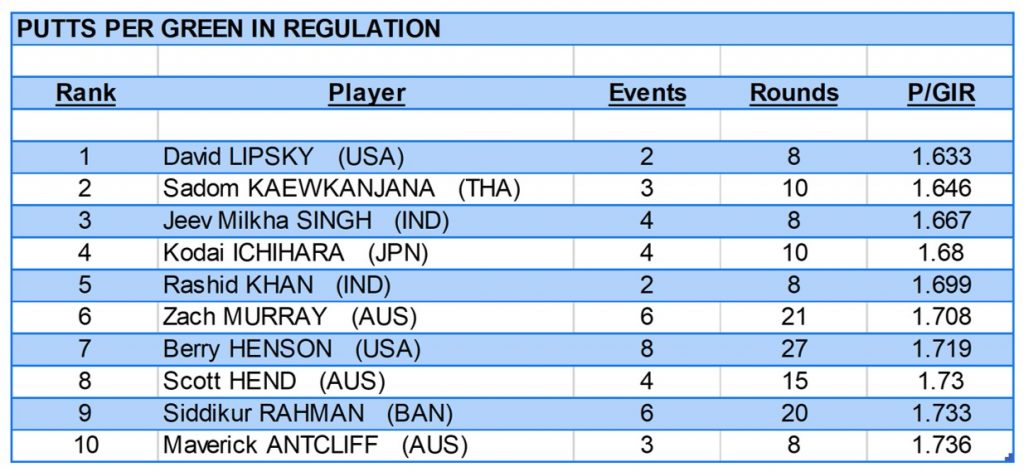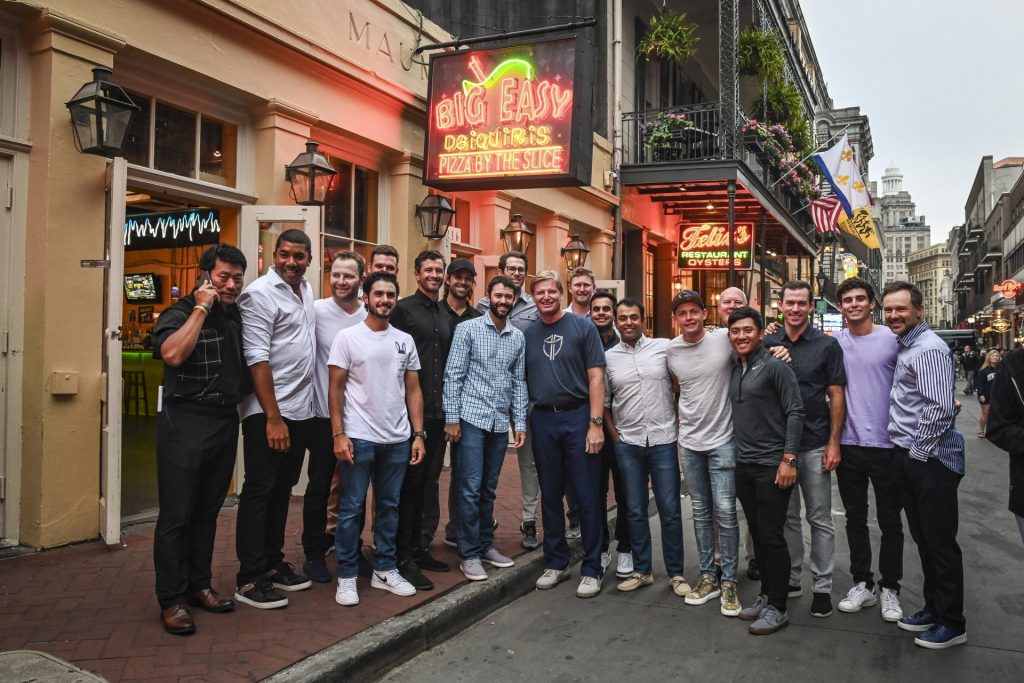 29th May 2019 | Asian Tour
Presidents Cup –  Captain's Blog
This article was first published on PresidentsCup.com.
Diversity can be our strength, says International Team captain Ernie Els
May 30: The past couple of months have been really exciting for the International Team, with many of our potential players producing some wonderful golf and enjoying success worldwide.
In a span of six weeks, we witnessed three PGA TOUR wins by Canadian Corey Conners (Valero Texas Open), C.T. Pan of Chinese Taipei (RBC Heritage) and Korea's Sung Kang (AT&T Byron Nelson) which have improved their chances of qualifying for the International Team to face the United States Team in the Presidents Cup at Royal Melbourne Golf Club, Australia from December 9-15.
Winning on the PGA TOUR is one of the ultimate dreams for every aspiring golfer and seeing how Corey, C.T and Sung Kang fought for their maiden wins in the U.S. was very impressive. More importantly, I was encouraged to hear all three players saying how determined they are in wanting to fight for their places in the Presidents Cup. Their enthusiasm will help generate a lot of positive buzz and energy in the team room, which is important.
I was pleased to see Sung Kang following up on his victory with a seventh-place finish at the PGA Championship while Adam Scott, who is one of our team's stalwarts, finished tied-eighth. Another international player who has caught my attention recently is Thailand's Jazz Janewattananond, whom I had the opportunity to play with in Malaysia recently. This kid has got talent and at Bethpage Black, he showed us what he can do with a solid tied-14th finish to move up to 12th in our team standings.
Though it may seem as if the world was introduced to Jazz last week, this 23-year-old has had his fair share of professional success after turning pro at age 15. He's won three times on the Asian Tour and defeated a strong field at the Singapore Open this year. With the PGA being just his fourth PGA TOUR start, it was quite encouraging to see him perform so well under an enormous amount of pressure.
I would be remiss if I didn't congratulate Brooks Koepka for his impressive victory at Bethpage Black. What he has accomplished in the past few years is nothing short of remarkable, and he is going to be a formidable opponent as part of the U.S. Team in December.
Currently, our top-eight players on the International Team points list consist of four established Presidents Cup team members in Marc Leishman, Louis Oosthuizen, Hideki Matsuyama and Jason Day while Cameron Smith, Haotong Li, Justin Harding and Abraham Ancer are in good position to book their maiden appearances, with qualifying concluding in mid-August. I'll then have four captain's picks to round up my 12-man team in early November following the PGA TOUR's Asia swing.
We've already seen on numerous occasions what Cameron can do on the golf course and I've been impressed by Haotong and Justin as well following some eye-catching performances. Haotong, whom I played with when he shot that amazing 63 in the final round of The Open Championship in 2017, is tenacious and fiery when he gets into the 'zone' and he showed a lot of heart in finishing second to Dustin Johnson in Saudi Arabia earlier this year. We all saw how he backed it up with another strong showing at the World Golf Championships-Dell Technologies Match Play where he reached the round of 16 following outstanding group wins over two top players in Alex Noren and Brooks Koepka.
I've followed Justin's progress very closely since he started playing on the Sunshine Tour and it's been amazing to see his rise over the past 18 months where he has won five times in Asia, South Africa and on the European Tour. He is quite a fighter with a wonderful short game and he showed all those qualities with wins over Luke List and Matthew Fitzpatrick in  the Match Play before being stopped by Rory McIlroy.
It's been really fun to see how his confidence and game have soared to new heights and Justin showed us at the  Masters Tournament that he can become a global player with an impressive tied-12th finish in his debut appearance. A career first PGA TOUR top-10 at the AT&T Byron Nelson has only cemented his growing reputation and I'd be the least surprised if he seals his ticket to Australia.
I was happy to see Marc Leishman, Louis Oosthuizen and Branden Grace reaching the round of 16 as well at the Match Play which will put our team in good stead when we face what will be a strong U.S. Team led by Tiger Woods.
Leading as team captain for the first time requires a lot of preparation and thoughts and I believe we had a fruitful week during the Zurich Classic of New Orleans. Being the only official two-man team FedExCup tournament on TOUR, it allowed our players to bond closer and also try out some partnerships in the fourball and foursomes format.
Many of our guys opted to pair up with the likes of Jason Day partnering with Adam Scott, Louis teaming up with Charl Schwartzel, Justin playing with Branden, Abraham Ancer getting together with Jhonattan Vegas and Anirban Lahiri combining with Shubhankar Sharma.
We also stayed in the same hotel in New Orleans and enjoyed some fun team building sessions where the aim was to get the new guys familiarising with the more established players. As you know, our team is made up of golfers from different nationalities and cultures and it's really important to gel as one team, hence the reason for our new International Team logo which incorporates the respective players' national flags.
I also liked what my friend, Trevor Immelman said during our press conference together at the Zurich Classic where we teamed up. He believes our team's diversity can be our strength which I fully agree. This is something we will continue to harness in the coming months as part of our plans to wrest the Presidents Cup from the U.S.
Speaking of Trevor, I'm delighted and honoured that he, along with Mike Weir and K.J. Choi,  have agreed to be my captain's assistants, joining Geoff Ogilvy who we announced in November at the World Cup of Golf. I have played alongside the three guys in numerous Presidents Cups and tournaments around the world and I know they have the same passion, drive and determination to create a winning formula for our team. All of them still compete regularly on the PGA TOUR and I believe their relationships with our International players will be an asset to our team.
On a personal note, I was over the moon to become the first golfer to register 300 career top-10s since the introduction of the Official World Golf Ranking in 1986 following my tied-seventh finish at the Maybank Championship. Admittedly, my last three or four years have been a struggle, so I was really happy I played some good golf in Malaysia.
Another player who also played some good golf recently was Tiger and I want to congratulate him for his sensational victory at the Masters Tournament. What he did at Augusta National was amazing and I could not be happier for him knowing what he has been through in recent years following his battles with back injuries. However when we meet at Royal Melbourne in December, I'll be doing my best to outwit him.
I hear that ticket sales for the Presidents Cup has been very good and if you are an international golf or sports fan living in Melbourne or anywhere close to Australia, do make sure you buy your tickets now on www.presidentscup.com and cheer us on at Royal Melbourne! Bye for now.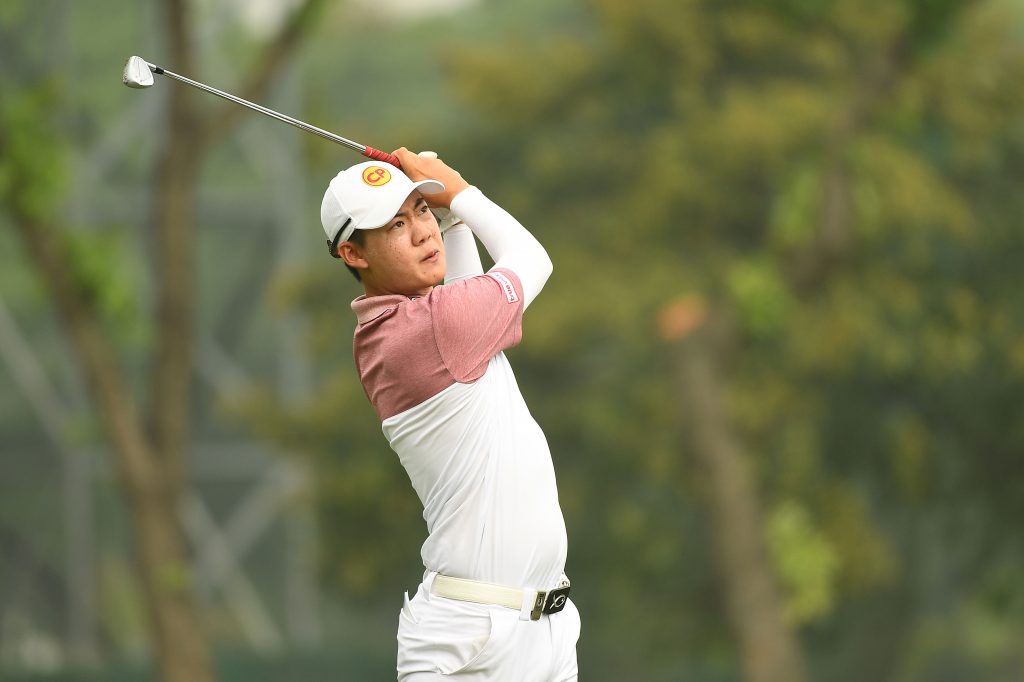 28th May 2019 | Asian Tour
A star is born: 10 things you need to know about Jazz Janewattananond
Very often in golf, a hero will emerge. He rises from near oblivion to become the next great hope in the sport with his name moving beyond just a byword to a feature in the headlines.
But before enjoying their sweet taste of success, it is always a crazy and insecure journey to finding where their unsure talent would eventually take them.
Thailand's Jazz Janewattananond is one of them. But after his exploits at the recent PGA Championship, the young Thai is now finding himself basking in the limelight.
Here are 10 things you should know about the three-time Asian Tour winner, who has been orchestrating all the right moves lately.
Jazz is currently in second place on the Habitat for Humanity Standings, his previous highest Order of Merit ranking was ninth position (2017, 2018).
He is coached by Pete Cowen who also works with Thailand's number one player, Kiradech Aphibarnrat.
His real name is Atiwit but he switched to his nickname Jazz which was given by his father, a judge, due to the latter's musical preference. His last name is pronounced "JANE-wat-tan-NA-non".
Jazz is one of two siblings. His younger sister, Jiratcha Janewattananond is currently in Medical School in Thailand.
Jazz first played his way into the history books of the Asian Tour in 2010 when he became the youngest ever player, at the age of 14 years and 71 days, to make the halfway cut at the 2010 Asian Tour International in Bangkok.
Jazz played for the Thai National Team for two years when he was just 12 years old.
He found inner peace after a two-week stint as a monk in Thailand in 2016. Jazz credited the time spent in the temple for playing a pivotal role in his Asian Tour breakthrough at the Bashundhara Bangladesh Open in 2017.
The Thai broke into the world's top-100 for the first time in his career after claiming his third Asian Tour title at the season-opening Singapore Open. That victory earned him a coveted spot in The Open, where he made his Major debut last year.
He made his second Major appearance at the PGA Championship where he enjoyed the best result by a Thai player at that Major with his tied-14th result. The record was previously held by countryman Prayad Marksaeng who took a tied-15th result in 2008.
Jazz is currently ranked first in Relation-To-Par statistics on Tour at 75-under after 25 counted rounds.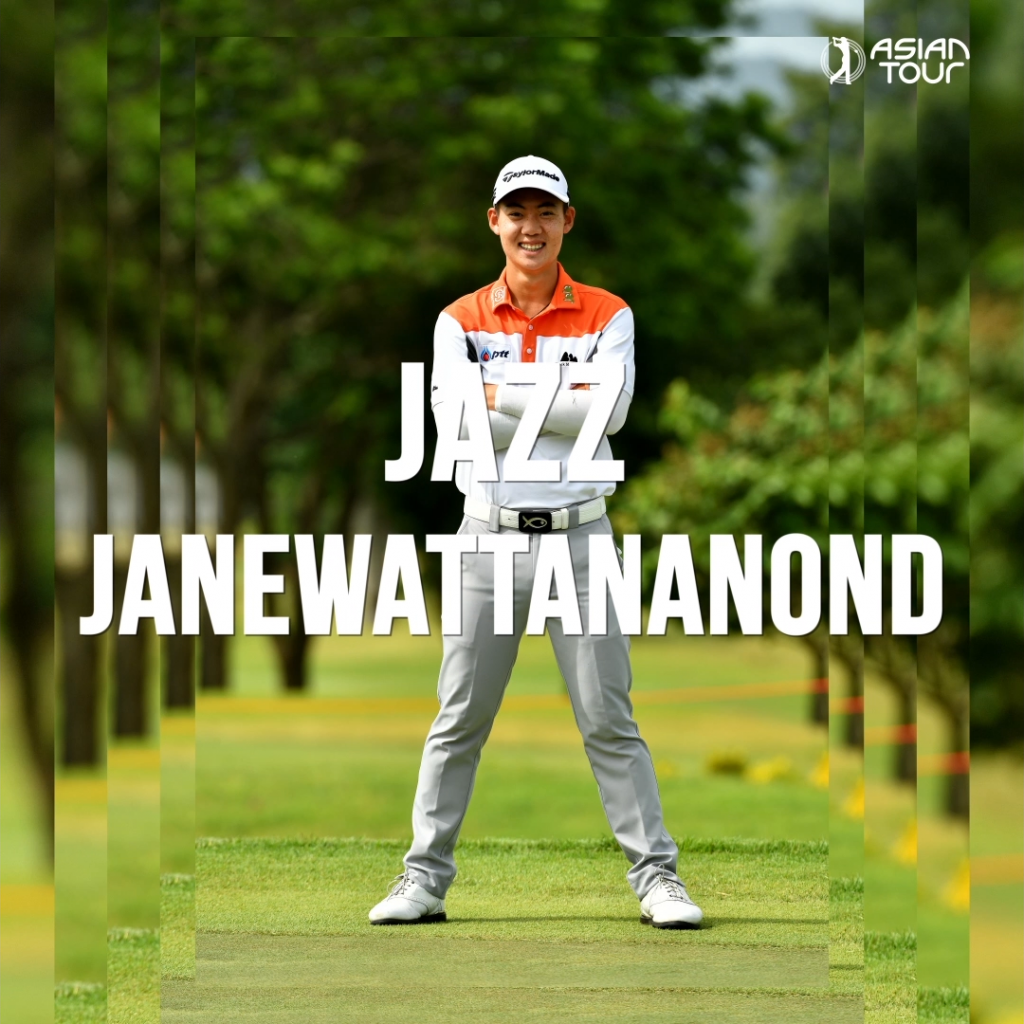 24th May 2019 | Asian Tour
Jazz Janewattananond – Rise on the world stage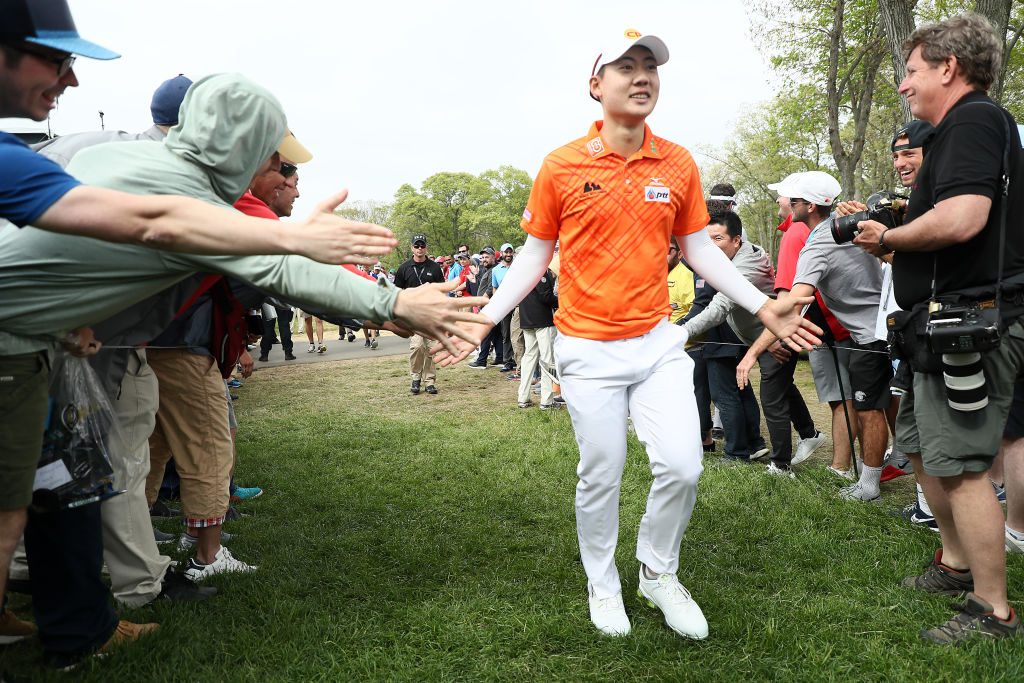 21st May 2019 | Asian Tour
OWGR Watch- Post PGA Championship Week
By Olle Nordberg, Former Asian Tour and European Tour professional
Last week's PGA Championship at Bethpage Black proved to be as demanding as expected, with only six players finishing the week in red figures.
Brooks Koepka dominated the field for three days before eventually running into trouble on the back-nine Sunday afternoon. The American escaped a late charge by Dustin Johnson to win by two shots on eight-under-par 272 for his fourth Major Championship win since the 2017 U.S. Open.
That victory returns Koepka to world number one on the Official World Golf Ranking (OWGR), a position he last held at the end of 2018.
Jazz Janewattananond, a three-time Asian Tour winner, enjoyed his best Major performance to date by finishing in a creditable tie for 14th position in his first Major on U.S. soil with a 282 total.
That finish, which was also the best result by a Thai at the PGA Championship, moved him to a career-high 69th place on the OWGR, up three spots from number 72 last week.
Playing in the second-to-last group in the final round after starting with rounds of 70-68-67 and with seven holes remaining in the championship, it was looking like it could have been even better for the young Thai.
Grinding out a score of even-par for the day through the first 11 holes and five-under-par total, Jazz was at that point in solo-third place behind Koepka and Johnson, a position that would have guaranteed him starts in the upcoming U.S. Open and next year's Masters Tournament.
The long demanding back-nine proved extremely difficult for all players on Sunday, especially those with late tee-times because of the strong and gusty afternoon wind.
Of all the players in the last 10 groups, not a single player broke par from holes 10 to 18, the best was Eric Van Rooyen's even-par 35 with the average score among the group being 38.10.
Jazz was one of the many players that struggled with the wind and thick rough on the homeward nine, and after a rough stretch from holes 12 to 17, he finished with a par on 18 to settle for a final round score of seven-over-par 77.
He now has three more weeks to break into the top-60 on the OWGR to earn himself an exemption to the U.S. Open without having to qualify and is scheduled to play at the Kansai Open Golf Championship on the Japan Golf Tour (JGTO) this week.
Former Asian Tour Order of Merit winner Kiradech Aphibarnrat finished tied-41st after shooting a final round 75 on a brutal day at Bethpage Black. Only 11 players managed to break par on a day where the average score was 73.44.
Kiradech remains at number 41 this week and is exempt for the final two Majors of the season, the U.S. Open at Pebble Beach Golf Links June 13-16 and The Open Championship at Royal Portrush July 18-21.
Playing in his second consecutive PGA Championship, Justin Harding finished the week in a tie for 54th place on 289 total after rounds of 74-70-73-72 and slides three spots down to number 45 on the OWGR.
By remaining inside the top-50 at the conclusion of PGA Championship week, he has secured exemptions to the U.S. Open and the Memorial Tournament in Dublin, Ohio May 30- June 2.
Kurt Kitayama made the cut in his first career Major by shooting a solid 68 in his second round after a slow start with 74 in the first round. However he fell back over the weekend after carding rounds of 77-72.
A four-day total of 291 for the week meant he finished in tied-64th place and remains at number 108 on the OWGR.
David Lipsky was playing in his first PGA Championship and finished in a tie for 71st place after carding rounds of 70-74-77-71 for a 292 total. The 2014 Asian Tour Order of Merit winner maintains his previous OWGR position at 118.
Playing in his first Major on U.S. soil, South African Shaun Norris missed the cut by three shots after posting scores of 73-74 and slides four places in the rankings from 99 last week to 102 on the updated list.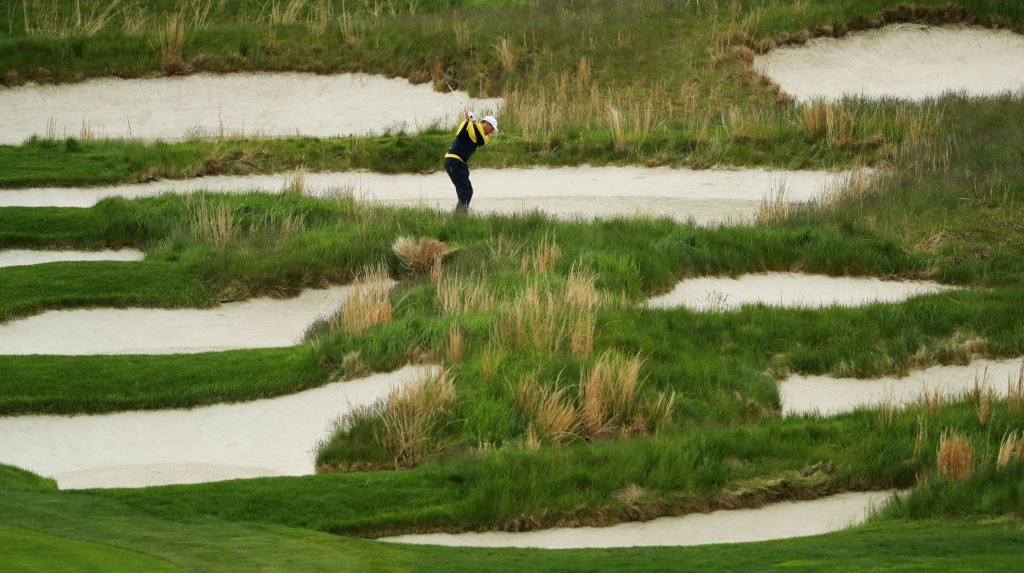 15th May 2019 | Asian Tour
Tour Insider: Week of the PGA Championship
By Olle Nordberg, Former Asian Tour and European Tour professional 
This week's PGA Championship will be held at the Bethpage Black Course on Long Island, New York, a publicly owned course which hosted the U.S. Open in 2002. It was the first public course to host the U.S. Open then.
At 7,459 yards and par-70, it is known to be one of the toughest tests in Major Championship golf and it famously has a disclaimer by the clubhouse stating: "Warning. The Black is an extremely difficult course which we recommend only for highly skilled golfers".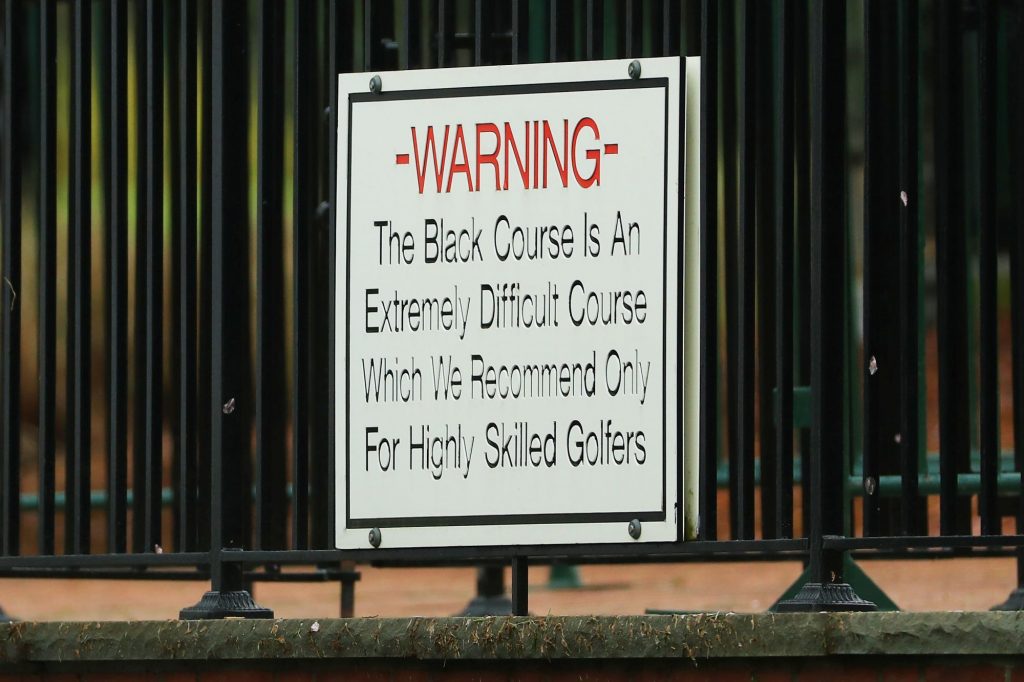 This week the Black will definitely see a field full of highly skilled golfers, and while the 3 ½ to 4 inch rough may not be as high and thick as during a U.S. Open, it will still be quite a challenge for the world's best golfers. The fairways are expected to be cut to similar widths as at the 2009 U.S. Open, and finding them will be very important.
So how difficult is the course going to play? It is a fact that in the two U.S. Open Championships played at Bethpage Black, in 2002 and 2009, it played as the most difficult course on the respective PGATOUR seasons in relation to par.
In the two FedEx Cup play-off events held at the Black in 2012 and 2016 it was the 16th and 12th hardest, much of the easier scoring thanks to the course being played as par-71 instead of par-70 as at the U.S. Opens.
The main challenge of this course is said to be tee-to-green, since the greens are relatively flat with gentle slopes. The players will also want to avoid the deep greenside bunkers that saw a below 50% sand-save percentage last time a FedEx Cup play-off event was held here in 2016.
The general opinion is that this course heavily favors the longest hitters, and this may be even more true this year with the event played quite early in the season for the U.S. northeast. If the conditions remain soft as expected, the course will play to its full length.
The weather forecast is for temperatures ranging between 10-20*C, with showers and gusty winds forecast for Thursday morning.
My two star-player picks and why:
There is no doubt that Tiger Woods will be one of the favorites to hoist the Wanamaker Trophy this Sunday following his epic comeback win at the Masters Tournament last month.
Having finished second to Brooks Koepka in the 2018 PGA Championship, Woods has been first, second and tied-sixth in his last three Majors played.
He won the U.S. Open here in 2002 when he was the only player under par at the end of the week, winning on a score of three-under-par 277 to beat Phil Mickelson by three shots.
In the 2009 edition of the event Woods finished in a tie for sixth-place, four shots behind the winner Lucas Glover.
Woods currently leads the PGATOUR in GIR percentage with 75.56%, which bodes well for a course that requires pin-point play tee-to-green. The only time in his career he has had a higher percentage than this was in 2000, a season in which he won nine events and three Majors.
The current world number six also has a chance to reclaim the OWGR number one ranking he has not held since early 2013. If he wins and Dustin Johnson finishes outside the top-10, and Justin Rose and Brooks Koepka do not finish second, Woods will again become number one in the world. A feat that seemed impossible not too long ago.
The defending champion Brooks Koepka has won three Majors since the 2017 U.S. Open and was tied-second to Woods at Augusta recently, reversing their positions from the PGA Championship at Bellerive Country Club in St. Louis, Missouri in August last year.
With his current form and recent Major record, he should perhaps be considered the number one man to beat this week.
Since the 2016 PGA Championship Koepka is a massively impressive 55-under-par in Majors, a full 15 shots better than the next player on the list. In that span of Majors, Koepka has won three times (two U.S. Open Championships and one PGA Championship) and no missed cuts.
The years he spent playing the European Tour, in what can be sometimes very trying weather conditions, means he should be ready for whatever weather the late Long Island spring will throw at him.
With a morning tee-time on Thursday, and the weather forecast as of today, coping with cool temperatures, rain and wind in the first round might prove to be extremely important.
Asian Tour Players in the field:
This week we have an impressive six Asian Tour players in the field, all making it into the event by their OWGR rankings.
Kiradech Aphibarnrat is mostly playing PGATOUR these days and the 2013 Asian Tour Order of Merit champion is coming off a tied-fifth finish in last week's AT&T Byron Nelson, his second top-five finish of the year following a tied-third at the WGC-Mexico Championship.
A very popular figure on the U.S. Tour, he might well have very good backing from the notoriously rowdy and harsh New York sports-fans. A factor not to be underestimated this week.
Kiradech should be long enough of the tee to contend this week, but his Strokes Gained: Tee-to-Green rank of 168th on the PGATOUR this season is perhaps a bit worrying.
However, his rank in Strokes Gained: Putting is near top of the class, and he currently sits at number three so far this season.
Justin Harding has since his win at the Commercial Bank Qatar Masters been playing almost exclusively in the U.S., and like Kiradech had a good finish in Dallas last week finishing tied-tenth.
With a tied 12th finish at the Masters Tournament last month he is a proven Major Championship contender, and his playing record since the start of 2018 until now is extremely impressive.
Already known among his South African peers as a great putter, he is currently ranked number one in Strokes Gained: Putting in the 2019 PGATOUR season. On a long demanding course with punishing rough, hitting the fairways will play a big part in who comes out on top this week. In addition to his impressive putting statistics above, Harding is ranked number five in Total Driving, and sixth in Driving Accuracy.
Jazz Janewattanond has perhaps been the breakout star of the 2019 Asian Tour season, although it must be said that his ascent to the top-ranks of the game started in 2018.
Since late May last year, Jazz has racked up an impressive 15 top-10's (11 of them top 5's) in his last 30 events played, including two wins at the 2019 SMBC Singapore Open and the 2018 Queen's Cup Presented by Bangchak.
This will be Jazz's second career Major Championship following his debut at last year's Open Championship and going by course reputation will be a totally different challenge compared to Carnoustie last year.
With a very solid all-round game, Jazz will be looking to make a big impact on the world stage at the year's second Major.
Shaun Norris had a great 2018 season with a total of 12 top-10's worldwide, including a win at the JGTO HEIWA PGM CHAMPIONSHIP in early November, a second at the Japan Open Championship and tied-second at the SMBC Singapore Open.
He finished second on the 2018 JGTO Money Rankings, having earned JPY103,942,450 or roughly US$950,000.
This will be Norris's third Major but first on U.S. soil, having previously made the cuts at The Open Championship in 2017 and 2018.
A naturally big and strong player, Norris may be able to handle the thick rough should he miss the fairways at Bethpage Black this week.
Kurt Kitayama has added a couple of victories to his resume since late last year, winning the AfrAsia Bank Mauritius Open last December, and the Oman Open this March.
Known as one of the longest drivers on the Asian and European Tours, the course might suit Kitayama's game just fine.
This will be Kitayama's first career Major Championship.
David Lipsky is enjoying a very solid stretch of tournaments since his win at the Alfred Dunhill Championship last December, coming off consecutive top-5's in his last two events to go along with a tied-10th at the WGC-Mexico Championship.
Playing in his third Major Championship and first in the U.S., Lipsky will be looking to improve on his current best Major performance of a tied-58th finish in The Open Championship in 2015.
Asian Tour members and notables' tee-times:
7:07 AM              Brandt Snedeker                             Kiradech Aphibarnrat                    Max Homa
7:18 AM              Henrik Stenson                                David Lipsky                                     Richard Sterne
7:29 AM              Mike Lorenzo-Vera                         Justin Harding                                  Sam Ryder
8:13 AM              Lee Westwood                                 Shaun Norris                                    Charles Howell III
8:24 AM              Brooks Koepka                                 Francesco Molinari                         Tiger Woods
1:38 PM               Rory McIlroy                                     Phil Mickelson                                          Jason Day
2:11 PM               Jazz Janewattananond                Tyler Hall                                            Michael Kim
2:22 PM               Dylan Frittelli                                    Andrew Filbert                                 Kurt Kitayama
Tournament Facts:
Prize money: TBA (US$11 million in 2018). Winner's share: TBA (US$1.98 million in 2018).
Defending champion: Brooks Koepka
Previous Majors at Bethpage Black:
Year                     Date                  Tournament                  Winner                           Score                  To par  
2002                     Jun 13–16           U.S. Open                           Tiger Woods                      277                        −3
2009                     Jun 18–22           U.S. Open                          Lucas Glover                     276                        −4