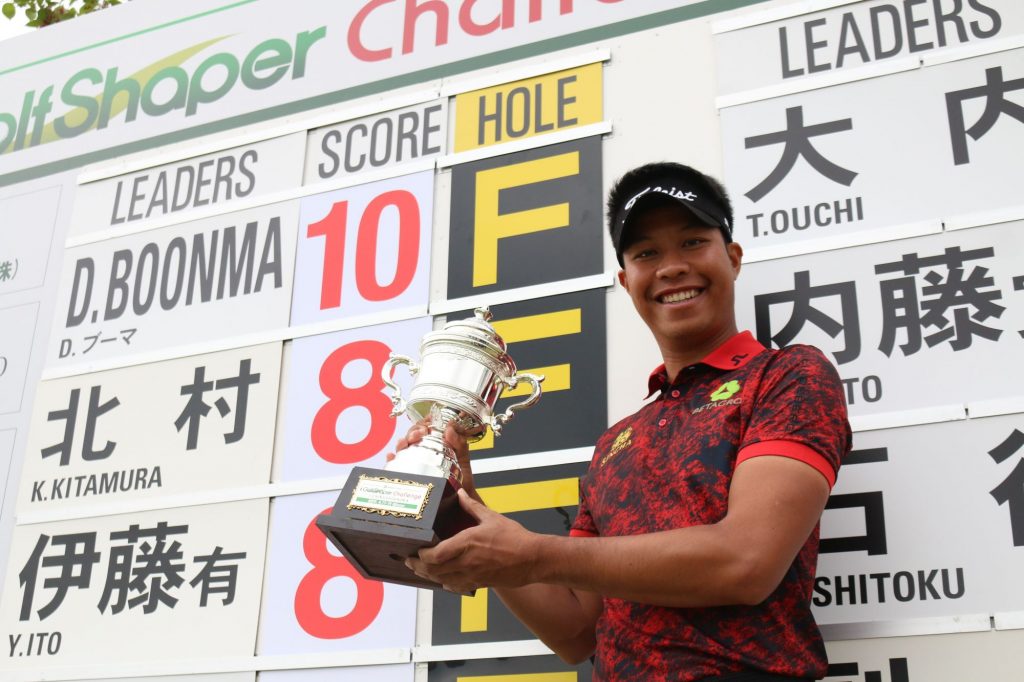 23rd April 2019 | Asian Tour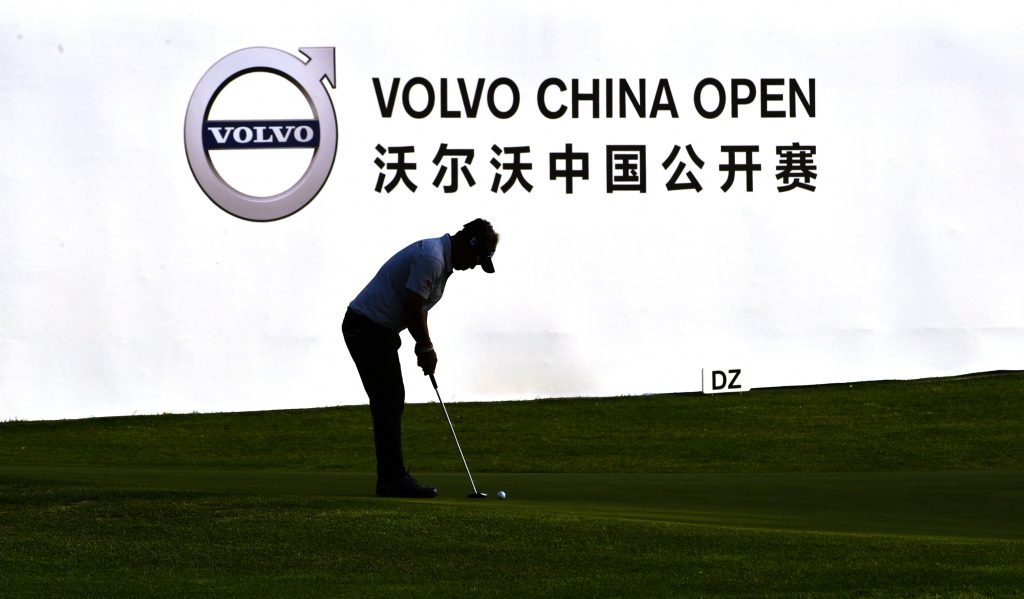 18th April 2019 | Asian Tour
Tour returns to the Middle Kingdom for the Volvo China Open
Shenzhen, China, April 18: The Asian Tour returns to the Middle Kingdom for its first event of the year with Volvo China Open set to tee off at the Genzon Golf Club in Shenzhen from May 2-5.
The Volvo China Open offers a lucrative prize purse of CN¥20,000,000 (approx. US$3,178,000) and will bring together more than 40 Tour champions from over 20 countries.
Australia's Scott Hend, who is currently leading the Asian Tour Habitat for Humanity standings, will head to the Volvo China Open as one of the genuine contenders having won his 10th Tour title in Malaysia last month.
All of Hend's victories have come in Asia. While the Australian is highly regarded as the most successful international golfer on the Asian Tour, he believes he still has much to do to take his game up another notch.
"I am starting to get to where I want to be, I am not there yet but it is a slow progression. I'm a grinder and a fighter. It doesn't matter how old I'm. I work hard at what I do.
"I love playing golf and it's what I live for. I play to win and that's what I set out to do all the time when I tee up for a tournament," said Hend.
Hend will have his title ambitions put to test again by a stellar field led by China's number one, Li Haotong, who is also the highest ranked player for the event, Japan's Yuta Ikeda, Thai star Thongchai Jaidee and defending champion Alexander Bjork, who became the first Swede to lift the Volvo China Open trophy last year
Li is expected to have passionate home crowd behind him as he chases his second Volvo China Open win, which is celebrating its 25th edition this year.
The Chinese has served notice of his talent with his many other eye-catching top performances including a win in Dubai on the European Tour last year and a runner-up finish in Saudi Arabia earlier this year.
"I'm more assured of myself now. I feel like the things I thought I might not be able to do can actually be achieved. I also have a sense that I am getting closer and closer to the best fields in the world," said Li.
The Volvo China Open is the longest running professional golf tournament in China and is tri-sanctioned by the Asian Tour, European Tour and the China Golf Association.
Ends.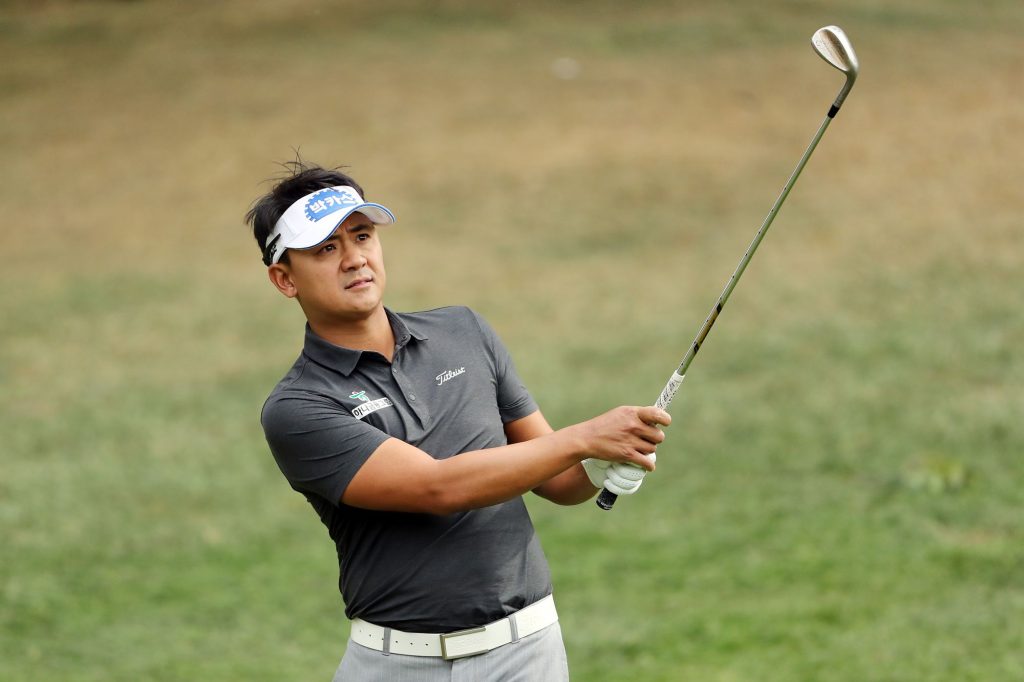 17th April 2019 | Asian Tour
Park eyes unprecedented hat-trick at the 38th GS Caltex Maekyung Open
Seongnam, Korea, April 17: Korea's Sanghyun Park will be aiming to complete an unprecedented treble when he returns to defend his title at The 38th GS Caltex Maekyung Open Golf Championship, which will take place at the Namseoul Country Club from May 2 to 5.
Park, who turns 36 next week, shone brightly in his rookie season on the Asian Tour in 2018, capping two victories and three top-10 results to finish second on the Habitat for Humanity Standings with over half a million (US$) in earnings.
He prevailed in a thrilling four-man play-off last year to lift the trophy for the second time since the storied event was inaugurated in 1982. It was his maiden win on the region's premier Tour as the event had returned to the Asian Tour schedule for the first time since 2009 last year.
Park, who was eventually crowned the 2018 Asian Tour Rookie of the Year, first won the Maekyung Open in 2016, also in a play-off where he defeated compatriot Soomin Lee on the second extra hole. Prior to that win, he enjoyed a runner-up finish in the 2014 edition.
Park will be part of the talented field that includes Thailand's Prayad Marksaeng, Prom Meesawat and Poom Saksansin, as well as countryman Minchel Choi at the event, which will offer an increased prize purse of KR₩1,200,000,000 (approx. US$1,067,000) this year.
"It's the second time I am defending my title at the Maekyung Open so I am really looking forward. I like the layout at the Namseoul Country Club and I know the course pretty well. The fairways are narrow so good tee shots are key. Greens are fast and tricky too.
"It was a pretty difficult win last year, considering the fact that I had to go to the third play-off hole.  In a way, I was pretty lucky too as Junggon Hwang made a double bogey at the 18th hole, which resulted in four-way play off," said Park, also a one-time winner on the Japan Golf Tour in 2016.
Park's victory at the Namseoul Country Club sparked a solid run for the talent Korean as he went on to win on his local circuit the following month. He came in second a week later at the Kolon Korea Open to earn his Major debut at The Open before securing a wire-to-wire victory at the Shinhan Donghae Open in September.
"Winning the Maekyung Open last year changed my plans for the rest of the season. As it came early in the season, it gave me a lot of confidence and I guess that was what led me to three wins last season.
"I secured my Asian Tour membership early in the season and then secured my playing rights on the European Tour at the end of the season, after finishing second on the Order of Merit. It has been an amazing run," Park added.
The 38th GS Caltex Maekyung Open Golf Championship is the first of the three Asian Tour events to be played in Korea this year. The Namseoul Country Club was opened in 1971 and has been the host venue of the event since 1985 except for three occasions in 1998, 2004 and 2006.
Other players who have won the Maekyung Open more than once include Korea's K.T. Kim (2007 and 2011), Sangho Choi (1991 and 2005) and Namsin Park (1993 and 1996).
Filipino legend Frankie Minoza and Chen Tze-chung, first player from Chinese Taipei to earn a PGA Tour card, are among the impressive list of past winners, having won the event in 1988 and 1985 respectively.
Ends.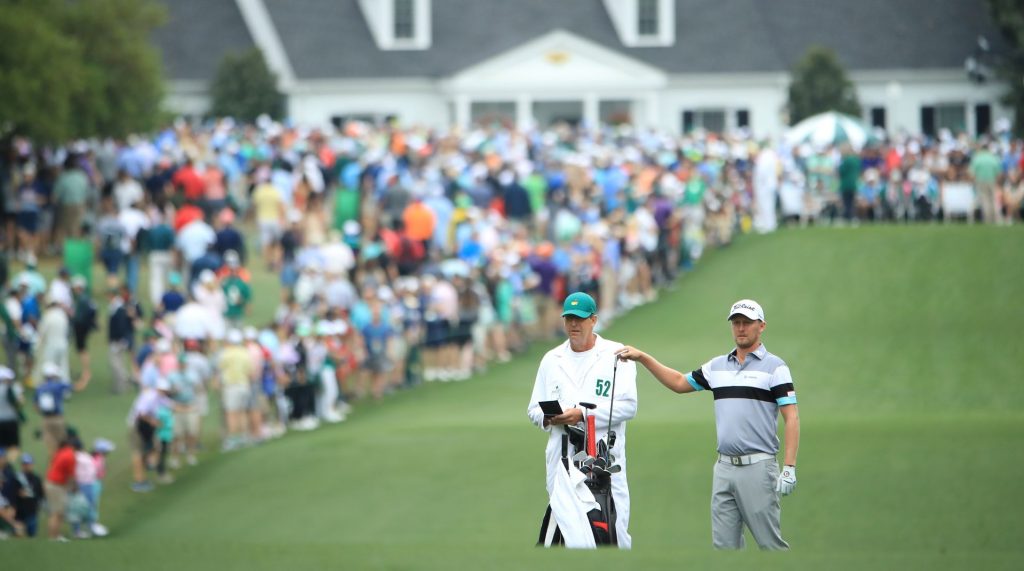 15th April 2019 | Asian Tour
Harding finishes tied-12th to book a return ticket to Masters 2020
By V. Krishnaswamy
Swamy is one of India's leading sports writers, who has covered over 20 Majors and 250 international golf tournaments.
Augusta, April 15: Justin Harding needed a birdie on the 18th like none before. This final birdie was to get a recall to the Masters 2020. Harding had bogeyed the 18th the first two days and was happy to have parred it on the third. But now on the final day, he needed something more from it. Faced with a 22-foot putt on the undulating final green, Harding, who putted like a dream all week did just that. He holed it for an even par 72 and his eight-under-par 280 comprising 69-69-70-72 placed him tied-12th and ensuring an early ticket to The Masters in 2020. The 72 also ensured that he was par or better all week.
It will also boost his chances for the Presidents Cup, where he is already seventh in the standings. The only player eligible for Presidents Cup's International Team finishing ahead of him was Jason Day in tied-fifth.
While Harding was securing his return ticket to Augusta, Tiger Woods re-affirmed his status as one of the all-time greats with a comeback that would be talked about for generations.
Fourteen years after fourth Green Jacket, he added a fifth one, and 11 years after his 14th Major, he added a 15th. In both cases he came closer to Jack Nicklaus' Everest-like records of six Green Jackets and 18 Majors. It was also his 81st PGA Tour win, which now leaves him just one behind Sam Snead's mark of 82.
Coming back to Harding, he said, "It was a relief to finally get a birdie on 18th and it is nice to book a return to the Masters. I have learnt a lot, but on this course it is never easy."
Harding was the best of the 17 debutants at this year's edition and was also among the top putters in the event.
Harding birdied the first, but bogeyed the second and fourth. He birdied the sixth, only to bogey the seventh and turned in one-over. He bogeyed the tenth at which point a finish in Top-12 looked unlikely. But birdies 12th and 13th raised hopes only to see them fall with a bogey on 15th. A final birdie on the 18th saw him sneak into tied-12th alongside Bubba Watson, Justin Thomas, Matt Kuchar and Ian Poulter.
The whole of 2018 and thus far in 2019, Harding took an arduous route and made it to the Masters in the nick of time by making the World's Top-50 with barely two weeks left. Regardless of where he is in rankings next year at this time, he will earn a recall to the Augusta National.
This year his Carol, mother, and Stafford, father, were both there as were some friends.
Coming in as an unknown player Harding held a lot of attention. He even held a share of the lead one time and he was tied-sixth at the end of the first and second day and then tied-seventh at the end of 54 holes. On the final day, he five birdies and five bogeys. One more shot better and he would have been inside Top-10 on his debut at the Masters.
Kiradech Aphinbarnrat, making his third trip to the Masters started the week with a superb 69, the same as Harding, but thereafter struggled at times with 72-75-73 on the next three days. On Sunday, starting from the back nine he was four-under with birdies on 14th, 15th, 16th and 18th, but on the second nine he bogeyed the third and had a nightmarish finish with bogey-double bogey-bogey stretch between sixth and eighth holes to end up with 73.
He finished at one-over-par 289 in tied-49th place and will need to stay in Top-50 of the world to get a start again next year.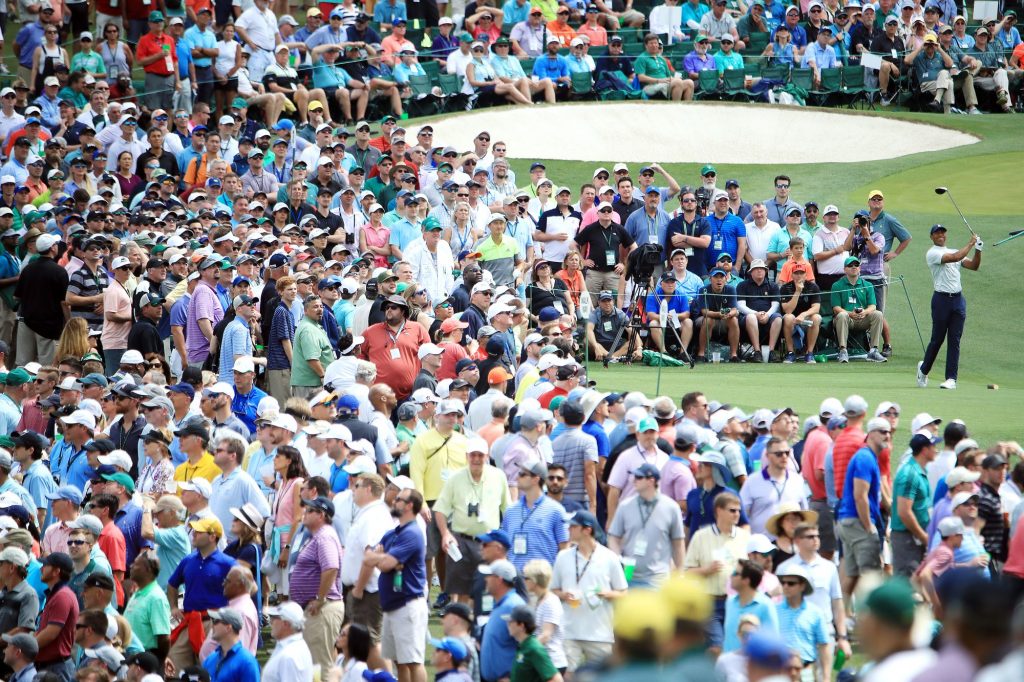 13th April 2019 | Asian Tour
Masters Diary: Snippets and interesting bits
By. V. Krishnaswamy in Augusta National.
Swamy is one of India's leading sports writers, who has covered over 20 Majors and 250 international golf tournaments. 
Augusta, April 13: There may be no Indians in the field, but the winner of the Par-3 contest, Matt Wallace, and one of the six amateurs in the field, Devon Bling, have an Indian connection.
Masters debutant Matt Wallace of England, the winner of Par-3 contest, began his rise from a distant 151st on World Rankings to his current 36th with a win in the Hero Indian Open 13 months ago.
Wallace, who won India's National Open went on to, made it to the Masters as he entered the Top-50 of the world comfortably.
His rise in rankings also meant he qualified for the World Golf Championships Matchplay and could not defend his title in India.
He did tweet a message wishing the tournament luck.
Wallace's win at Par-3 came on the third play-off hole against 1988 Masters champion, Sandy Lyle, who also won the Par-3 in 1997 and 1998. Wallace's effort included an ace which was the 100th in Par-3 contests since its inception in 1960.
It is said the winner of Par-3 is jinxed and no one has won Par-3 and the Green Jacket in the same year, though 11 players have won the two but in separate years.
Wallace with his girlfriend, Chelsea on the bag, totaled 23-under, as did Lyle, while three players carded 22-under each and one of them was Devon Bling.
Wallace did have a great start, shooting 75.
Amateur Devon, an Indian American, who holds big promise
Devon's father Nick, an Indian by birth moved to the US in 1978 and met Sara Bling, a London-born physical therapist. Nick and Sara married in 1990.
Devon, 19, grew up in Ridgecrest, California and took to golf early. His love for the sport was nurtured by his mother, Sara, who took him around, while father travelled for his job.
Devon finished runner-up in US Amateurs in 2018 and earned an invite to the Masters, playing where was both his and his mother's dream.
Devon's mother Sara was instrumental in the development of his golf. But tragedy struck the family, when Sara died suddenly of a stroke in 2013. Devon has since played and dedicated his golf to his mother. Devon has taken on Sara's second name.
Devon, who also had an ace on seventh holes, was Tied-third alongside two two-time Major winner, Bubba Watson and Martin Kaymer. Bubba won both his Majors at Augusta.
A delighted Devon said, "I wouldn't have wanted it any other way. First Masters, first Par 3, hit a great shot, it went in, and, yeah, that's the best thing that's ever happened in the world." Devon missed the last par putt to stay at 5-under and a share of the lead, and ended in a tie for third.
In the main event, Devon began with a 74.
Four of the seven Asians at Masters are Japanese
The field of 87 has six amateurs and 17 first-timers. It has seven Asians, of which four are Japanese including amateur Takumi Kanaya, who won the Asia-Pacific Amateurs last September to earn an invite to the Masters. The Japanese pros in the field are Hideki Matsuyama, Satoshi Kodaira and Shugo Imahira.
Other than the Americans, who make up for most of the field, there are nine Englishmen, six South Africans, four each from Spain, Japan and Australia. Argentina, Canada, Germany and Sweden have two each, while 11 other countries have one player each.
Golden Bear congratulates, wishes Conners on win and Masters
No one could have got a better man to wish him as he went for the tee off on Thursday. Corey Conners, who was the last man into the field by winning the Valera Texas Open, for which he Monday-qualified.
Corey was in the first group in the morning session on Thursday, who went off soon after the ceremonial tee-off by the legendary Jack Nicklaus and Gary Player. Corey got to meet Nicklaus.
Conners revealed, "He just congratulated me on the win, that felt pretty special. Never thought in a million years that Jack Nicklaus would know who I am and it just felt pretty cool. And I watched him and Mr. Player tee off, so it was pretty cool."
Stenson back with his old caddie, but probably only for Masters
Henrik Stenson is back to his former caddie, fellow Swede, Fanny Sunesson, at least for this week. They were together at Arnold Palmer Invitational, too, though Stenson had another caddie for WGC-Matchplay.
Stenson split up with his former caddie Gareth Lord last November and Lord teamed with Justin Rose for a few events while his regular caddie Mark 'Fooch' Fulcher recovered from heart surgery.
Stenson and Fanny worked together from 2007 to 2011 before Sunesson retired. She had formerly caddied for Nick Faldo including during two of his three Masters titles.
Though Stenson does not seem to have any regular caddie right now, it is unlikely Sunesson will continue as she has retired from full time work.
Ernie's nephew catches the eye
The six-strong contingent from South Africa has no less than Major winners – Louis Oosthuizen, Charl Schawartzel and Trevor Immelman, but of the other three, young Jovan Rebula, has been talked about a lot. Rebula is the nephew of four-time Major winner, Ernie Els, and won the 2018 British Amateur, which is how he made it to the Masters.
The other two South Africans are Branden Grace and Justin Harding.
Rebula shot 73 on the first day.
Fragile Jason Day hangs in
Jason Day reportedly injured his back while picking up his daughter before the first round. After an initial scare he managed to hang in and play. He shot 70, but needed on-course treatment and is continuing to play and moving up.
Ends.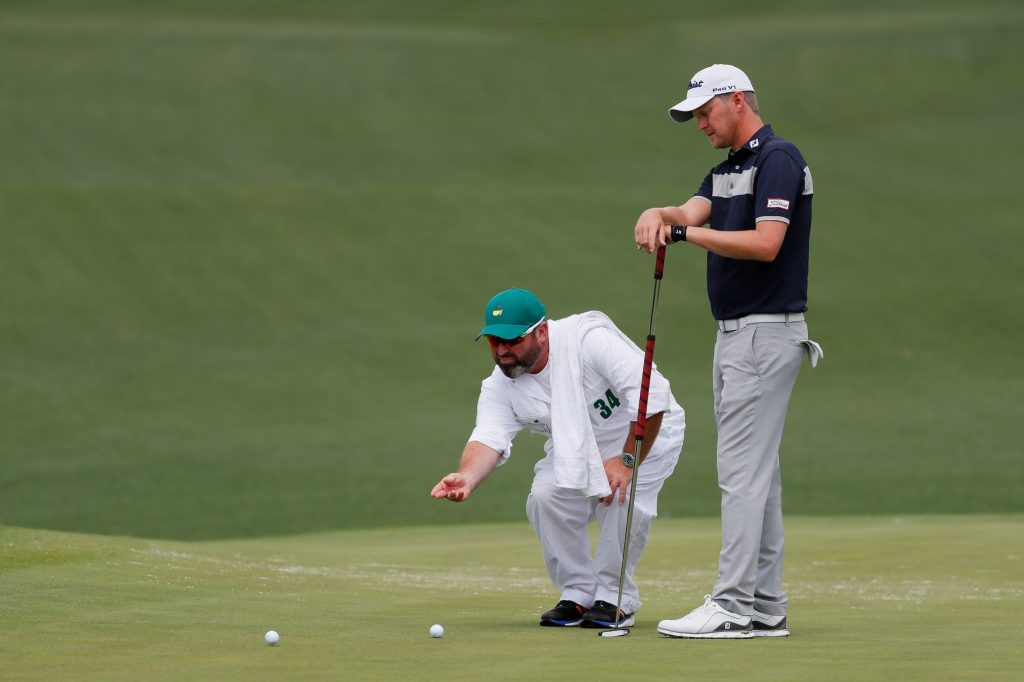 12th April 2019 | Asian Tour
Harding's journey from Zambia to Augusta has been hard work
By. V. Krishnaswamy
Swamy is one of India's leading sports writers, who has covered over 20 Majors and 250 international golf tournaments. And if he were to answer the divine call, he will be the first to jump on the plane to Augusta National, which is where he is this week.
Augusta, April 12: It has literally been a journey from Z (Zambia) to A (Augusta) for Justin Harding over the past year. This week last year, the 31-year-old Harding was at home and getting ready to play the Zanaco Masters, an event on the Sunshine Tour in Zambia. He missed the cut.
Twelve months and 52 weeks on, he is playing at Augusta National. He was the clubhouse leader when he finished his round, but was later overtaken by Brooks Koepka and Bryson DeChambeau, who each shot 66.
In the period since the start of 2018 he has played 38 tournaments spread over 22 countries and made his way through into World's Top-50 with five wins, two on Sunshine Tour in South Africa, two on Asian Tour and one on European Tour besides a whole lot of other Top-10s. In the process he climbed more 650 places on World Rankings  from 712 to his current 49th. "Most of the tournaments I have play on have been new to me," said Harding.
For Harding oldest of the 17 debutants this year, playing the Masters was the furthest from his mind as he watched it on TV last year.
A win in Qatar Masters and a second place in Kenya Open, both on the European Tour, moved him inside Top-50 to 48th place just in time before the cut-off for Masters. He was in.
When asked what was the reason for his success over the last 15 months, Harding said, "Consistency.  Becoming a little better mentally.  No longer really going through the highs and lows and emotional roller coaster, so to speak.  But that also comes in not really playing the aggressive mindset game that I was in the past.  I'm hitting three‑woods off tees a little more often now, laying back on drivable par‑fours, just trying to get a little bit smarter on the golf course, making less mistakes and hoping a couple birdies come."
About his practice here at Augusta, Harding said, "I did nine, nine and nine.  We, I had a terrible front nine on Tuesday and I decided to try it again on Wednesday morning and it was a bit better and I actually negotiated it quite nicely this morning.  But I didn't really, I didn't want to overdo it.  Everyone sometimes kinds of comes to Augusta and tries to play as many rounds as they can.  I kind of wanted to stick to the same sort of game plan and setup that I normally have every other week.
On his closing bogey, Harding admitted, "So I would love to have got into the clubhouse at four‑under par, but I was actually trying to give myself another birdie chance, sometimes it doesn't quite happen.  It's all right. We got a lot of golf left to play, I'll be all right."
Asked if some of the South African stars of the past had given any advice, Harding said, "I haven't spoken to Gary (Player) yet.  I spoke to Ernie (Els) and chatted to him a little bit about the back nine when I played with him in San Antonio last week. And then obviously I had practice rounds with (Branden) Grace and (Charl) Schwartzel and (Louis) Oosthuizen and Jovan Rebula. Both him (Rebula) and I were just trying to pick each other, pick the big boys' brains and it's just helpful.
His mother, Carol and father, Stafford, are both here in Augusta. His father got his visa in the nick of time and was glad to be here to see Harding playing.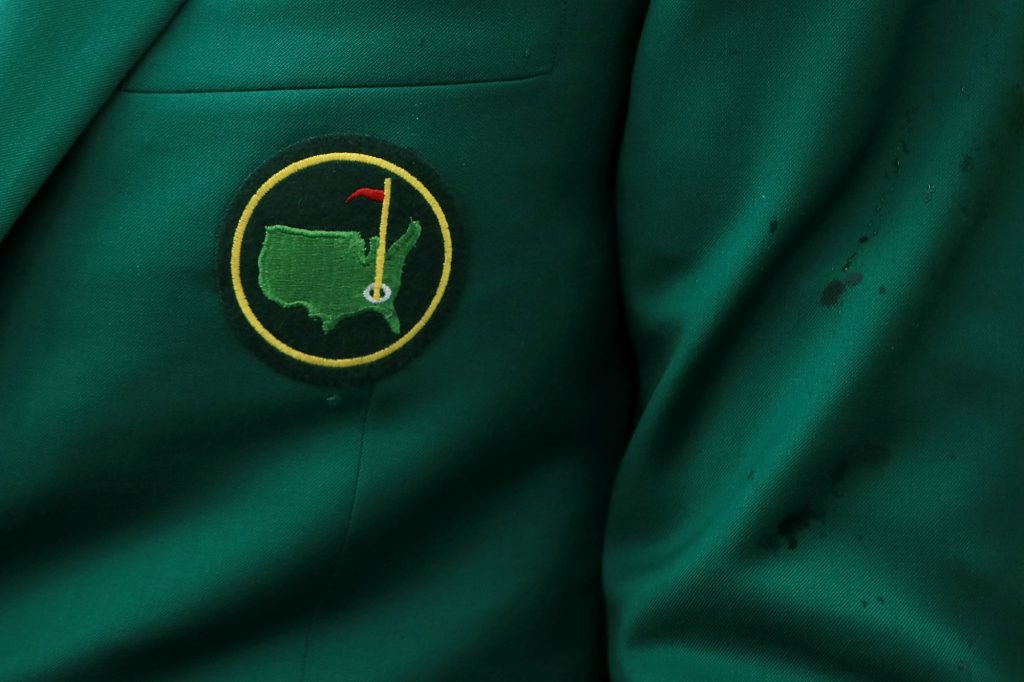 10th April 2019 | Asian Tour
Memories, experiences and traditions galore from the Masters
By. V. Krishnaswamy
Swamy is one of India's leading sports writers, who has covered over 20 Majors and 250 international golf tournaments. And if he were to answer the divine call, he will be the first to jump on the plane to Augusta National, which is where he is this week.
"If God were now to decide that I could go to only one golf tournament a year – I would choose the Masters."
Attending a Masters tournament was never really on my bucket list when I turned down a Management programme to become a sports journalist back in 1982.
Golf was a sport that hardly got a mention in Indian newspaper sports pages and it was only the final day report/ scores that made prominent headlines (meaning double columns or more) and that, too, only occasionally.
Golf names that evoked occasional conversations were still Jack Nicklaus, Arnold Palmer, Gary Player and Greg Norman.
The first time Masters really came into a conversation in a newsroom in my presence was in 1983 and that was my first full year as a sports journalist.
One of my senior colleagues in the Sports Department of the Times of India, while appreciating Seve Ballesteros' 1983 win at Augusta, remarked, "He (Seve) started out as a caddie in golf and look where he is now."
In India, pro golf was still a sport played predominantly by players with caddie backgrounds.
Those days, as now, cricket ruled India, but I was obsessed by athletics and passionate about chess – PT Usha was the emerging athletics star and the future World chess champion Vishy Anand was yet to turn up on the horizon.
Covering an Olympic Games and/ or World Chess Championship was my ultimate dream. I managed both.
Over the years, Usha became a friend and so did Anand and their success, which I covered many times in different parts of the world gave me great joy.
Golf didn't become an all-consuming passion and a full-time profession till around the turn of the century when I quit my job as a Sports Editor at one of India's leading dailies to 'do my own thing'.
The Masters of 1983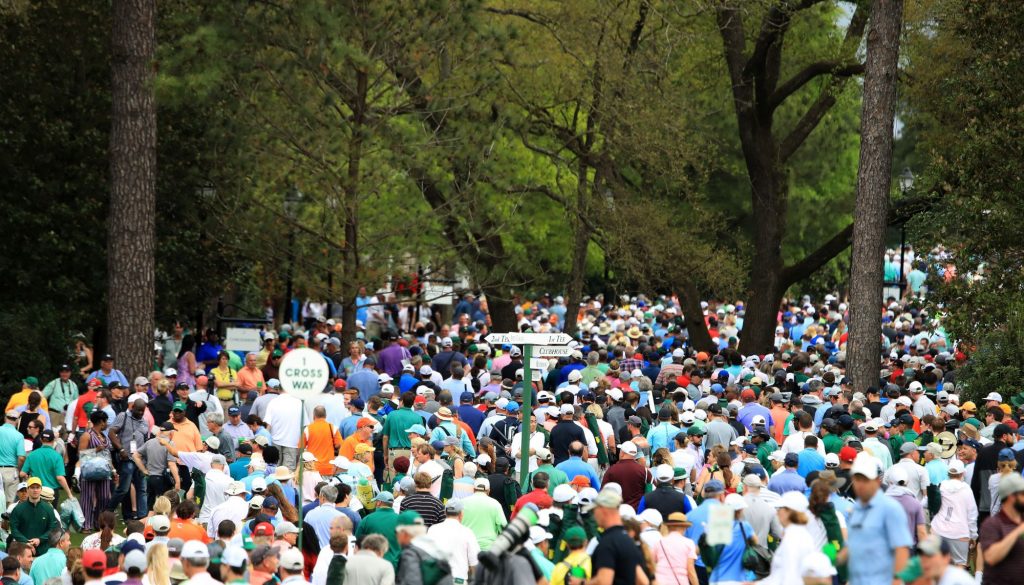 Coming back to the Masters of 1983, it wasn't till recently, more specifically after the passing away of the legendary Dan Jenkins, that I learnt more about the 1983 Masters. I came across one of Jenkins' fine pieces in the April 18, 1983 issue of the Sports Illustrated.
It was indeed a historic Masters – the 1983 Masters had its first Monday finish since 1973; it was the last time Arnold Palmer made the cut at the Masters; it was also the first Masters from which Jack Nicklaus pulled out after the first round (because of back spasms) and it was the last time Sam Snead played the Masters or for that matter any Major.
I discovered more: It was also the first time the Augusta National had allowed players the use of their own caddies and it was also the first time a female caddie was used by a player (the 1969 Masters champion George Archer) and he had his daughter, Elizabeth on the bag.
None of that was mentioned in the reports that I got to see back in 1983, but it was the year I first heard of the Masters as a 20-year-old rookie sports journalist. Yet, it did not become a part of my life till more than two decades later.
The first 'sighting' of Masters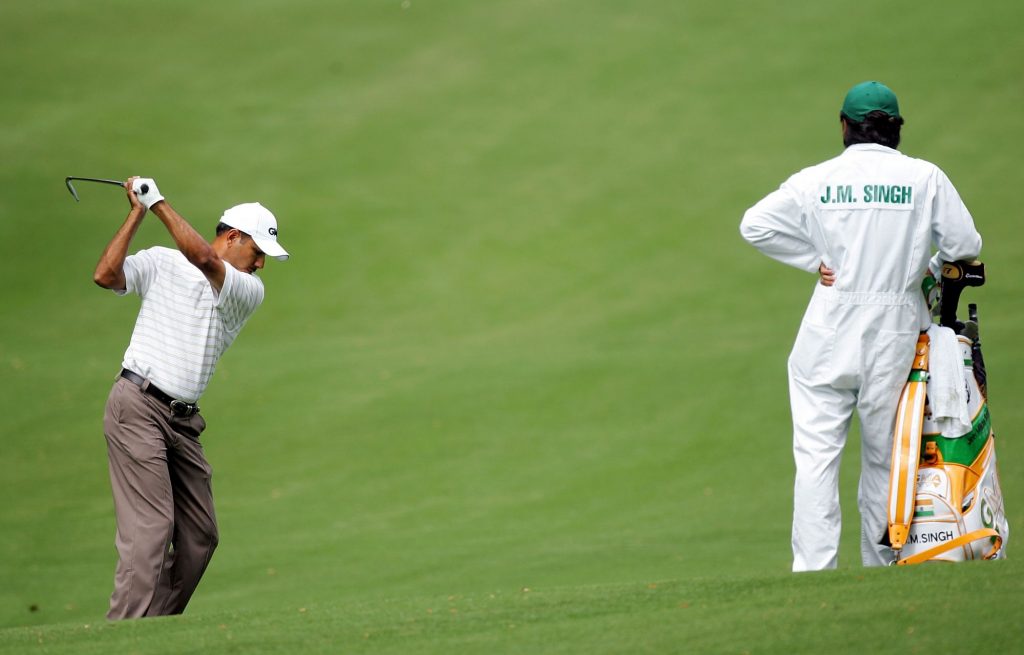 Life has come a long way since. If God were now to decide that I could go to only one golf tournament a year – I would choose the Masters.
I first set foot at the Augusta National in 2007. I was lucky to get credentials despite applying 'after the closing' date for applications. My appeal to the committee that I should be allowed because it was the first time an Indian would be teeing off at the Masters, found sympathetic ears.
Jeev Milkha Singh, who from being 377th in the world at the end of 2005 and winless since 1999, had a stellar 2006 winning three events and topping the Asian Tour Order of Merit and rising to 37th in the world to earn an invite to the Augusta National Golf Club for the 2007 Masters.
Jeev, gracious as ever, invited me for the tournament – he would put up me and two other Indian journalists up in a house, barely a stone's throw from the Augusta National.
What a week it was! Every Indian in Augusta seemed to be on the course or over at the house. Jeev decided to shift to a hotel to stay focused. After the first three days of an exceptionally cold Masters week, Jeev with 72-75-76 was Tied-16th and in sight of a Top-15 finish which would earn a recall in 2008.
Then he made a quadruple bogey on the slick greens of the first hole on the final day and slid to T-37. Jeev did return in 2008 with a special invite and he finished T-25th, still the best by any Indian at the Masters.
Jeev played his third and last Masters in 2009. The only other Indians to have played the Masters have been Arjun Atwal (2011), Anirban Lahiri (2015 and 2016) and Shubhankar Sharma (2018).
Why is Masters so unique?
Much has been written about the history of the course and the tournament. It is easy to find it all over the internet and the countless books, that I have collected since getting 'smitten' by golf. But I learnt way more than that by "being at the Masters".
It was not until I got to the Masters in 2007 that I realised a mobile phone had become an extension of my being. As part of the conditions that I had to agree to get accredited was that I was not allowed to carry the phone onto the 'grounds', as the course is called. It was torture for the first few hours and then I forgot about the phone for the rest of the week!
My vocabulary, too, changed. 'Fans' became 'Patrons'; mobile phones were referred to as 'illegal instruments'; 'Pimento cheese sandwiches' entered my list of much-loved food items and I drank beer without knowing the brand – all I knew was whether it 'light', 'medium' or 'imported' for there was no mention of the brands.
Stories of Amen Corner (11th, 12th and 13th) abounded and they were all fascinating; the tradition of 'skipping' the ball over the lake at the 16th on the practice days is something you start loving; the Par-3 contest on Wednesday is a tradition former champions and others love, but no Green jacket hopeful wants to win, because of a jinx that no one who wins the Par-3 contest has won the main event.
There is lots more like mobile phones are never allowed and a camera is allowed only from Monday to Wednesday.
The 'must see' landmarks include the most famous Magnolia Drive, essentially he driveway to the club, which was unpaved for the first 15 years from 1934 to 1947. It leads to The Founders Circle where countless patrons line up to get photographed by the official lensmen, who then give you a link from where you download your picture.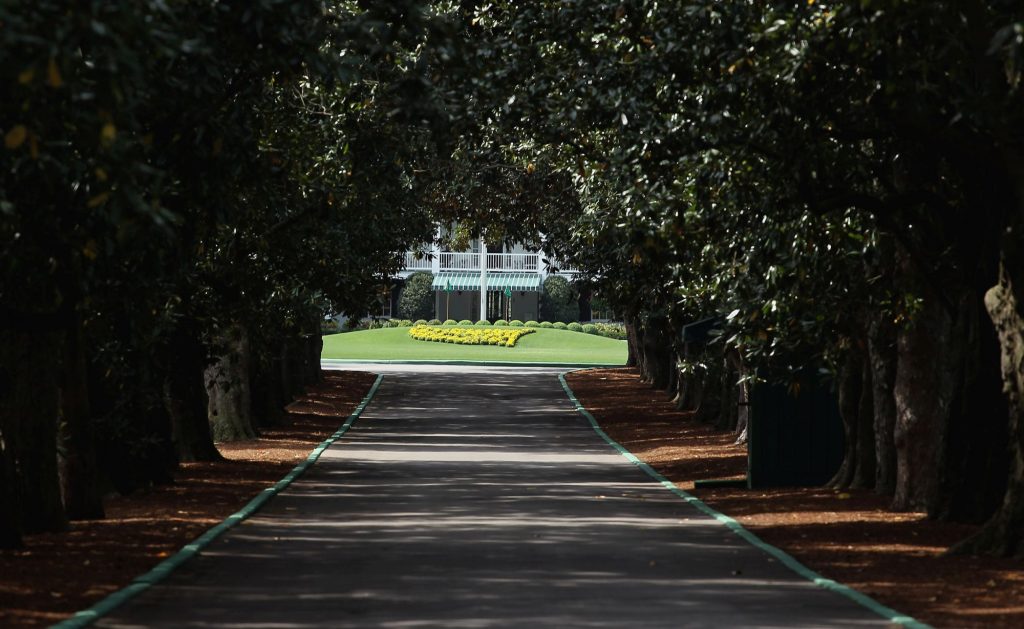 Other landmarks include the three bridges named after Sarazen, Hogan and Nelson; the two water fountains with plaques named after Palmer (behind the 16th) and the Nicklaus (between 16th and 17th). A third fountain called 'Record Fountain' is near the 17th.
The Rae's Creek is the water body in front of the Par-3 12th green, while The 'Crow's Nest' is the house for amateurs; the 'Ike's Pond' touches the 8th and 9th of the par-3 contest in the Eastern part of Augusta; and the 'Eisenhower Tree' used to be to the left of the 17th fairway – the past tense being because an ice storm in 2014 caused so much damage to the tree that it had to be removed. So, memories are all we have now.
For me, the most fascinating landmark is the 'Big Oak Tree', the most famous meeting point at a venue, where no phones are allowed. So, a 'meet-me-at-the-'Big Oak'-at-6-pm' means exactly that – meet at 6 pm for changes cannot be communicated till you actually meet.
The other amazing feature is the etiquette of 'leaving your 'golf chair'. Choose your point, place your chair and take a stroll. When you return, the chair is exactly where it was and no one is sitting on it. You can leave your wallet with credit cards and it would still be there hours later.
At Augusta, it is all about tradition and I learn a few more each time I go. I have already been there nine times!
I know what I will do each day; where I will watch the action from; from where I am going to get my beer and Pimento cheese or Egg Salad sandwich.
I also know that this week, like every one before this, I will unfailingly buy Pin Flags, hats, a T-shirt and a Masters jacket, and my wife will never raise an eyebrow or ask, "Not another one."
Instead she asks, "Where's mine?" Then I pull one out one for her. Tradition rules. Hopefully I will be here next year and every year after that. Amen. Well, make that 'Amen Corner'.
Ends.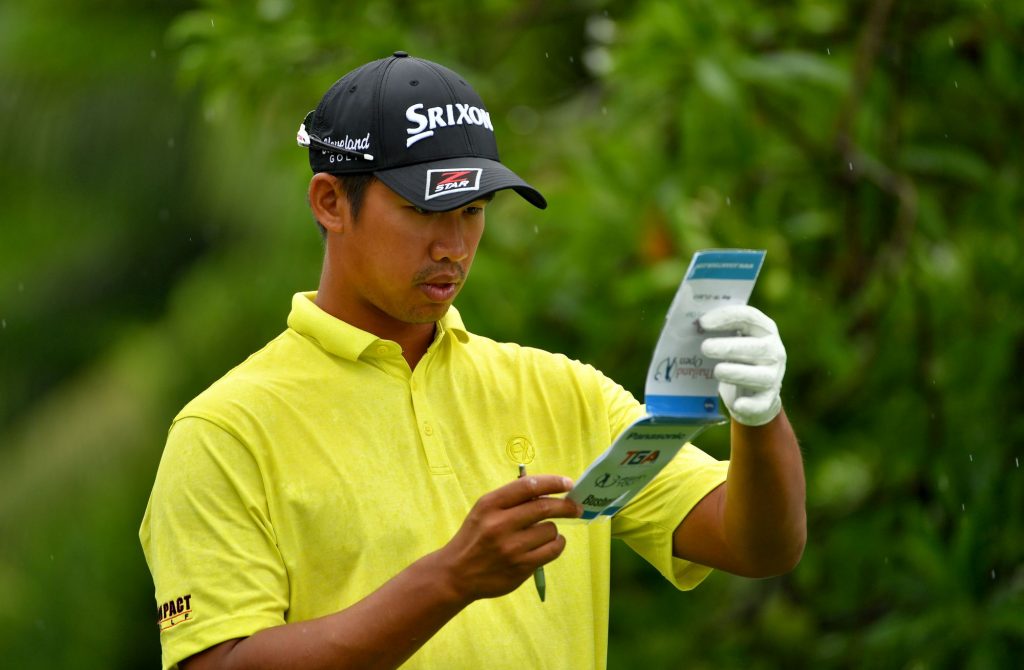 | Asian Tour
Remembering Arie Irawan – one of Malaysia's most well-loved golfers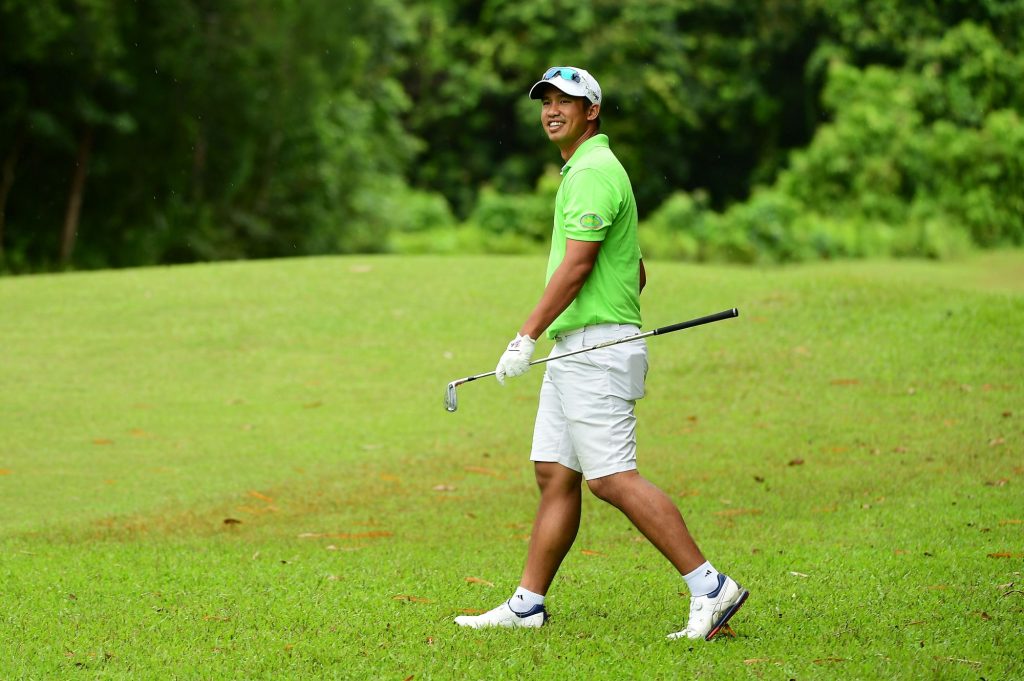 | Asian Tour
Tributes pour in for Arie Irawan from fellow players
今天一早發生了一件另人遺憾的事情,一位年輕的馬來西亞🇲🇾選手也是我的好兄弟Arie lrawan在今天上午不幸在睡夢中離開了 ,直到現在我還不敢相信,一路好走兄弟!RIP my friend Arie Irawan 😔 You'll always be in our HEART. You're the best🏆

Posted by James Chan on Saturday, April 6, 2019
This is heartbreaking really. I played with Arie Irawan last year in Sarawak and was very impressed by the young man's attitude and skills. I pray for the departed and want to pass on my condolences to the family. #GoneTooSoon https://t.co/Nfn3SFihIC

— Jeev Milkha Singh (@JeevMilkhaSingh) April 8, 2019
Sometimes life is just cruel…. RIP Mr Arie Irawan…… @Fenix_XCell brand ambassador and all round good guy. Taken way to early. You will be missed. May you make everything wherever you go.🙏🙏🙏😥😥😥 pic.twitter.com/uAWjUYzD6w

— Scott Hend (@hendygolf) April 7, 2019
Arie Irawan was a guy whom I met playing golf in Asia…. Always had a smile after a rd regardless of result. Loved golf, people and his wife. Going to miss him dearly…

— Sam Chien (@s_chien51) April 7, 2019
"He always had a smile"
Obituary: Arie Irawan
August 21, 1990 – April 7, 2019https://t.co/lsy00n96K5 pic.twitter.com/XgLyeRIqln

— PGA TOUR Series-China (@PGATOURChina) April 9, 2019
"That's the thing with Arie [Irawan]. There weren't a lot of guys who he didn't get along with. Everybody was touched by the guy in some way, and everybody has Arie stories to tell." – Kevin Techakanokboon wrote this piece in memory of his friend. https://t.co/rJITIpuuIg pic.twitter.com/kYWBQV0vEH

— PGA TOUR Series-China (@PGATOURChina) April 9, 2019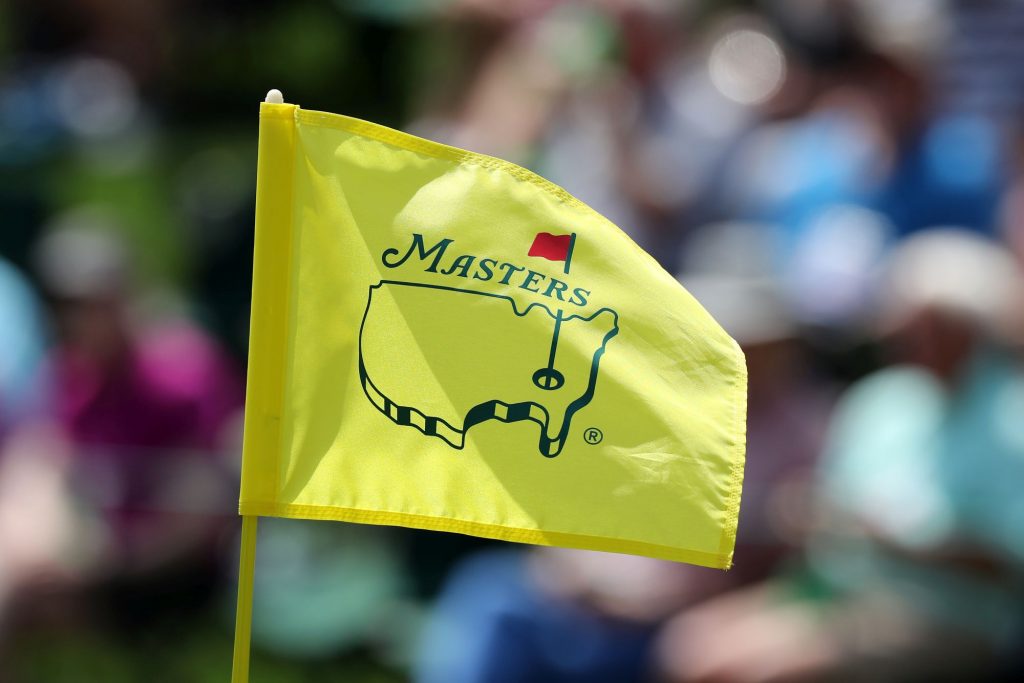 9th April 2019 | Asian Tour