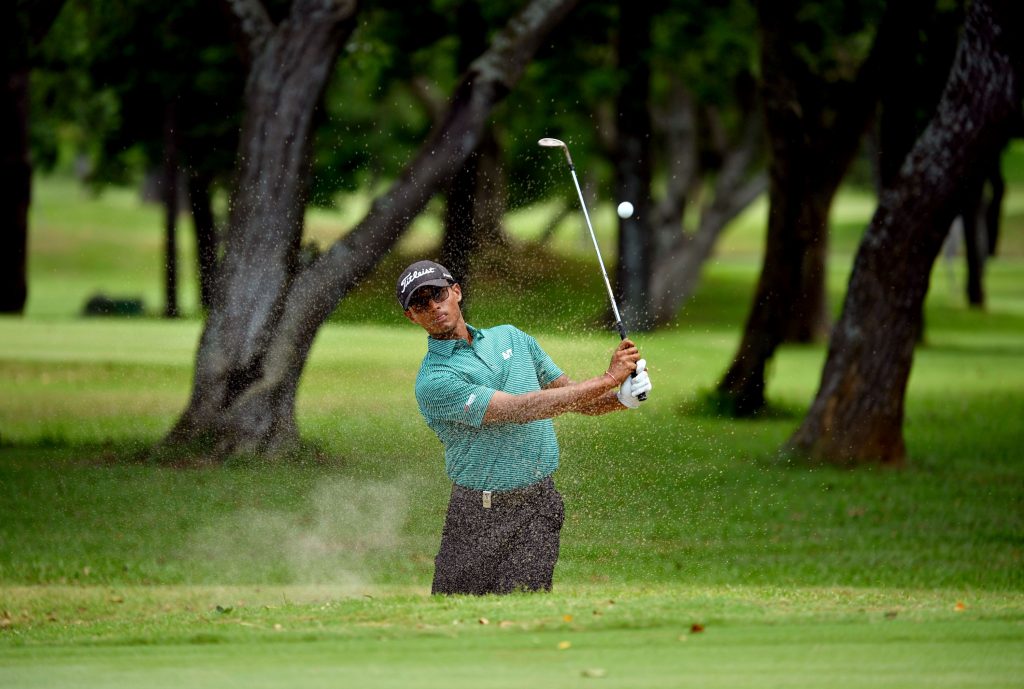 11th September 2019 | Asian Tour
Classic Golf and Country Club Int'l C'ship Preview: What they said
New Delhi, India, September 11: Read what players have to say ahead of the inaugural Classic Golf and Country Club International Championship which starts on Thursday.
Viraj Madappa (Ind)
It feels good to be back playing in India. I think playing anywhere in India is kind of an advantage for us. Feels very comfortable, a lot of people over here will probably be rooting for us, not just me. So it's nice to be back playing on courses that we have played on a lot growing up.
We have had a few junior and amateur events here, growing up I've played a few events over here, so I do know this place a little bit. Not as much as some of the courses I normally play in Bangalore and Calcutta, but I have played it before and I think enough to know a little about it.
I feel really good with my game. I've had two really positive weeks coming into this week, so I'm excited about being here and playing in front of a home crowd.
My goal is just to do as good as I can, and I know I'm playing well enough to win. I think I'm going to be banking on a lot of home supporters which pushed me through the line like when I won in Bangalore last year, so I'm excited for that.
I think last year was just a learning experience, getting to play a lot of the bigger events after I won. Also getting used to seeing a lot of the big guys in the co-sanctioned events. I think I was like kind of fan-boying and star-struck.
I think I've gotten over that and it feels, I think, more natural now, feels like my work-place playing anywhere I normally go and most of the courses we're going to be playing now are places that I've been, so more familiar I guess.
Kosuke Hamamoto (Tha)
Obviously, I'm quite relieved that I have secured my playing rights for next year. Now that I have my playing rights secured, my goal is to finish as high as possible on the Order of Merit so that I get into all the co-sanctioned events.
To be honest, I didn't really expect anything because it's my rookie year. I didn't want to expect too much out of myself, I just wanted to learn as fast as I can, and learn as much as possible every single week.
It was nice to drop only shot throughout the week in Chinese Taipei. But I wasn't thinking about keeping the bogeys off the cards because in golf, the harder you try to do something, the harder it is for you to do it. If you try not to make a bogey, it's easier to make a bogey. So I will just go out and focus on my processes. Whatever meant to happen, will happen.
It's not going to be easy to get a win this week, but I'll definitely give my 100% effort, and like I said just try to focus on my process and whatever happens, happens.
Chikkarangappa S (Ind)
Playing at home is always special and to be honest, I got some really good memories out here. I got my podium finish in my second professional event in PGTI here at the Classic Golf and Country Club so a lot of good memories out here.
I've been very comfortable playing back home in India. I had a top 10 finish at the Indian Open and also I played two events on the domestic circuit this year and I won both. Playing at home is always a little bit of a good feeling and you know obviously having the knowledge of the golf course is an advantage.
Form has been really good, it's just that my putter has been a little cold. I think I just need to kiss my putter this week and it should start working. And I should be back up there on the weekends.
To be honest, I've been out free-wheeling, you know after I finished that top 10 and played well in Maybank and everything, made sure my card was done in the first half itself. I've been working on a couple of things with my coach, and then those things are getting in place, and I can see myself.
My ball-striking has improved a lot, my fairway hitting has improved a lot, my greens-in-regulation has improved, it's just like I said my putter has been a little cold, but once it gets hot, the way I'm striking the ball I think I should be able to go a lot deeper.
I'm going to go out there and make sure I'm in the 65s every day. That's what the goal is, and just try and get those numbers up there, and probably more than 20 under is going to be the winning score for sure, so looking forward to that.
Janne Kaske (Fin)
I've never been there (Classic Golf and Country Club) before but I have heard it's a very scorable golf course. The Indian boys have been telling me it's in good shape and the scores will really depend on how the rough is. If the rough is not up, then we can expect low scores. It's nice to go there, I'm looking forward to it and I feel like my game is good. I'm putting quite well so I feel like I'm able to go low if that what it takes over there. My short game has been a little bit better in the last month or so now. My ball striking hasn't been there, since that tournament (Maekyung Open) I haven't hit it really well but like the final round of last week, I pretty good with my ball striking so I feel like actually everything starting to click. I like Indian food so I'm going to enjoy that part of it this week.
Taehee Lee (Kor)
This will be my third trip to India and I'm really looking forward to the week. I've been playing well this year and I'm so happy that I won my first Asian Tour title at home in May. It's nice to know that I'm probably one of the pre-tournament favourites and hopefully, I can live up to it and play well this week. My form has been good so far and I'm hoping to carry that form over this week at this beautiful golf course.
Jack Harrison (Eng)
I'm looking forward to the week here as I've been playing well and got a good track record in India. I had a pretty good tournament last time in India at the Panasonic Open India. I love that course. While it's a pity we'll not going back there this year but I've heard a lot of good things about the Classic Golf and Country Club. It will be a good experience, I'm sure. I do love Indian food and some of the best Indian food outside of India can be found in England. I'm looking forward to it. It's going to be good, on and off the golf course.