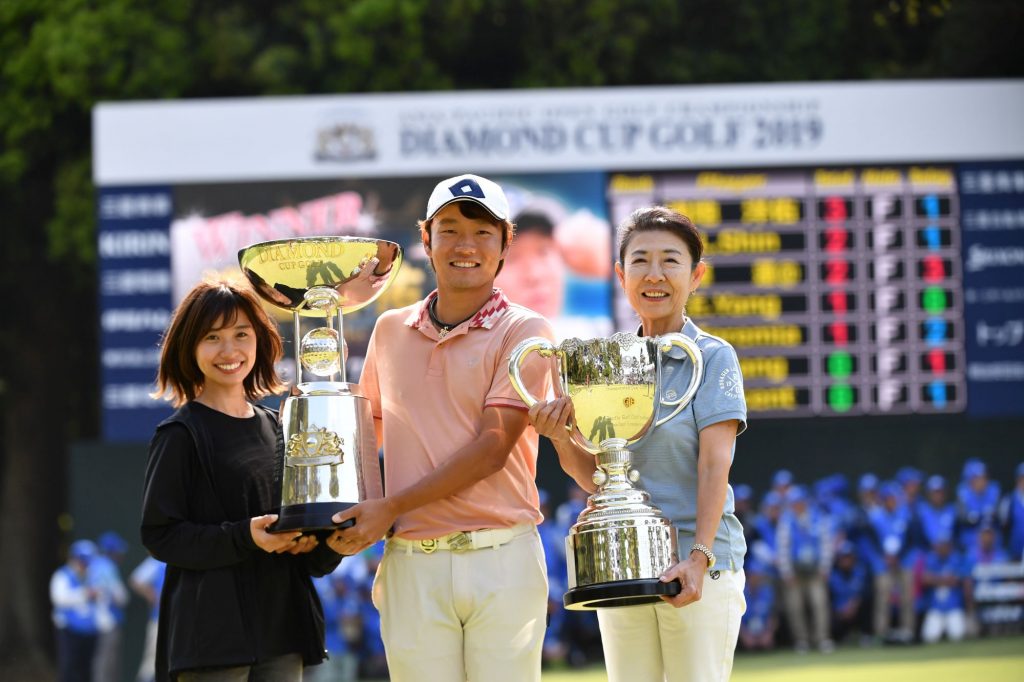 12th May 2019 | Asian Tour
#DiamondCup Rd 4: What they said
Yosuke Asaji (Jpn) Fourth round 72 (+1), Total 281 (-3)
I'm really happy as this is my first professional victory and it was such a tough battle out there today. I was up against so many quality players and I had to play my best golf. I was also lucky some of them did not manage to catch me. But I got a lot of support from everyone this week especially my wife and my mother who are here with me this week. It's mother's day today and I'm happy I'm able to deliver the best gift to my mother on this special day. It's unbelievable I'm also going to The Open now with this victory. This is truly a very special week for me, starting from getting through the Monday qualifiers, to winning the tournament and now playing in my first Major.
Micah Lauren Shin (Usa) Fourth round 72 (+1), Total 282 (-2)
Of course it's disappointing as I really tried my best to catch him (Asaji). But I wasn't driving it so well today and it was tough. When I stepped up to the tee this morning, I just told myself I got to get the ball on the fairway because if I can do it, I'll have a good chance for at least a par or birdie. I haven't been playing well lately and I needed a result like this to boost my confidence. So if I can look on the bright side, I know I have the game to do well and hopefully, this is the start of better things to come.
Scott Vincent (Zim) Fourth round 72 (+1), Total 284 (Ev)
It's a great week obviously I have been struggling for a bit of form recently and it's nice to come out here and feel the pressure and the nerves of being in contention, so I'm really happy with how it went. I got a little bit to work on but it's moving in the right direction. Yes, the second round I played great I just had a really bad finish, I don't know why I made a couple of poor choices but what was really encouraging was just being able to play well on the third day and get yourself right back in it and then you know, anything can happen today. We got another four weeks in Japan after this so I'm looking forward to being in one place for a change.
Lu Wei-chih (Tpe) Fourth round 72 (+1), Total 285 (+1)
I'm really happy with my performance this year. It was a tough course but I showed that I can still play well despite the challenging conditions. I had a disappointing start at the beginning of the year but I feel my game is slowly coming back together especially after a week like this. It's wonderful to have my wife and daughter here with me in Japan this week. Their presence has given me lots of motivation to play even better and it feels like I'm playing at home with them here by my side.