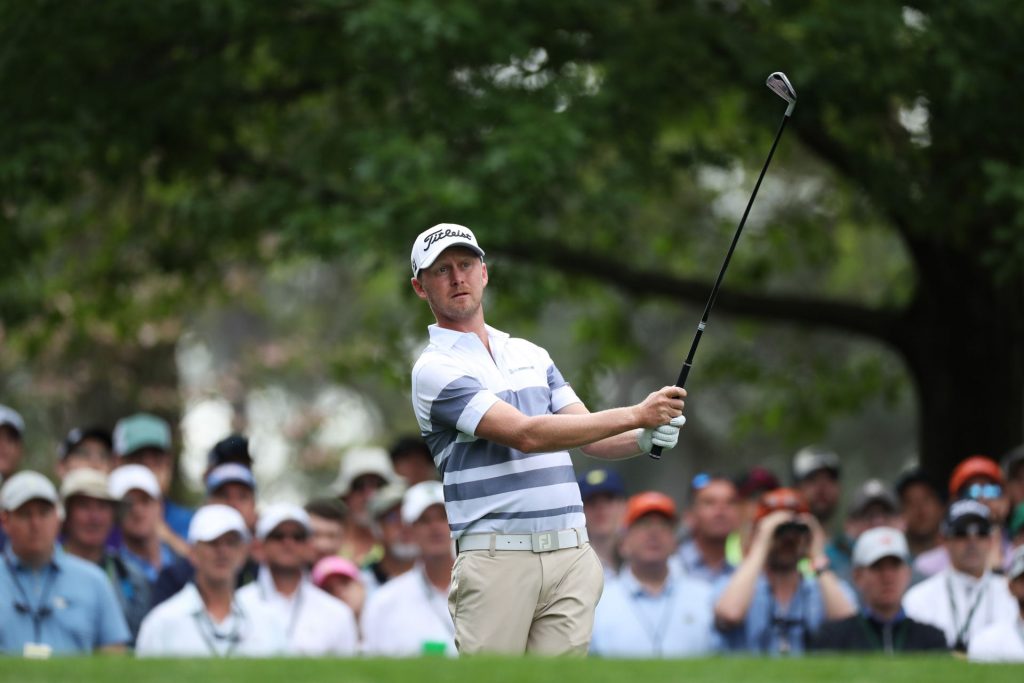 13th April 2019 | Asian Tour
Harding 6th and Kiradech 16th as Woods is one behind five co-leaders at the Masters
By V. Krishnaswamy
Swamy is one of India's leading sports writers, who has covered over 20 Majors and 250 international golf tournaments.
Augusta, April 13: Justin Harding and Kiradech Aphibarnarat held their own on a dramatic day when five players shared the 36-hole Masters lead but more than them it was a lurking Tiger Woods who made the news on Friday at the Augusta National. Harding at six-under was T-6th and Kiradech at three-under was T-16th.
The five who shared the lead were overnight co-leader Brooks Koepka (71), Open winner Francesco Molinari (67), 2015 PGA winner Jason Day (67), 2013 Masters champion Adam Scott (68) and the 2010 Open winner Louis Oosthuizen (66). They were all at seven-under with Woods and three others at six-under.
Amidst this drama of an overcrowded leaderboard, was Harding, the field's oldest Masters debutant, who was sharing the sixth place with World No. 1 Dustin Johnson, Xander Schauffele (65) and Woods at six-under. But for Harding's bogey on the 18th for the second day running, he may well have been in shared lead.
Each of the five players in the lead has at least one Major against their name, but in the group tied sixth is Woods, who has 14 Majors, while Johnson has one and Schauffele and Harding have none.
There may be just two players here from the Asian Tour, but they have played well enough to make everyone sit up and take notice. Harding, 33, and the oldest rookie in this year's Masters field, who earned his maiden Masters call-up barely two weeks before the door was shut, and the burly Kiradech, 29, who is hoping to make his third Masters appearance count, are lying Tied-6th and T-16th respectively.
Harding, who for a while shared the lead with three others Molinari (67), Day (67) and Koepka (71) at seven-under had a chance to stay there despite missing the green in regulation. His third shot came within five feet but he missed the putt and bogeyed for the second day in succession.
Virtually unnoticed for the first 11 holes, which had one bogey, no birdies and 10 pars, Harding had slipped to two-under. Then he went on a rampage from 12th to 15th with four birdies in a row and added a fifth on 17th to rocket up to shared lead at seven-under and then came the bogey on 18th.
Harding said, "Look, it still gives me the giggles just being here. I'm trying to enjoy it the best I can. I obviously want to be able to execute my shots, regardless.  But I've got a couple of friends out here, family is out watching, as well.  We're just having a nice time and enjoying the birdies.  Yeah, hope for sunshine and a good weekend."
On what would he have said if someone had told him that he would be one off the lead after 36 holes, he said, "No, I probably wouldn't have believed you, no.  I've played nicely, I really have.  Yesterday I thought I had a better control of my golf game.  I thought today I was a bit loose, especially with the driver. I have made mistakes, but I have put them in the right places. So I'm at least giving myself a chance."
Kiradech, who admits being hurt by the first round 79 last year, has ensured he does not get hurt played a par round with three birdies and three bogeys. He said, "I'm happy with the result and even par on this golf course is not easy at all.
"I hit my irons quite well, quite sharp today.  But a lot of chance I missed the putts on the greens.  I missed the speed. I mean, it's really difficult to change my mindset.  I always think these greens are like fast and quick, but after the rain picked up a couple days it slowed the greens down a little bit. So I had to adjust to the speed."
A couple of days earlier Kiradech had talked about seeing himself in a Green Jacket, he laughed when reminded of it. "I hit more greens, my iron play was perfect, tee to green was lovely. I just I have to sink more putts and then hopefully that will happen, and they will have one (Green Jacket) my size.  We'll see."
Woods looking for first Major since 2008
Woods, who has not won a Major for 11 years, last won a Green Jacket in 2005 and his last Major came in 2008. The intervening years have seen personal problems, four surgeries, injuries, loss of form and confidence, but now he is on the threshold of an epic win at a stage, which he seems to own.
A happy Woods said, "I feel like I played my own way back into the tournament.  I was just very patient today, felt very good to be out there doing what I was doing.  This is now three straight majors that I've been in the mix and so it's good stuff. "
Woods' biggest worry was when he seemed to collide with an official on 14th and could have hurt his ankle.
Woods said, "I'm fine.  It's all good.  Accidents happen and move on."
On the play he added, "Yeah, I missed a few putts out there but I'm not too bummed out about it because I hit them on my lines.  So I can live with that.  I can live with days when I'm hitting putts on my line and they just don't go in, that's the way it goes. But I also made some distance putts there at 9, 14, 15, those were, they were nice to make and if I keep hitting the putts on my line, they will start dropping."
Day and Molinari had superb rounds of 67 each, while overnight co-leader Koepka overcame a nightmarish stretch between second and sixth where he dropped a double bogey and two bogeys. Koepka grinded it out well in the remainder of the round and finished with a birdie for 71 and still kept a share of the lead.
Day had a scare even before he hit his first shot on Thursday as he seemed to have injured his back as he picked up his daughter before going for his first round. He hung in; needed mid-round attention for his back but shot two-under 70. To that he added a brilliant 67 with six birdies and one bogey to get to seven-under.
Day summed up a simple strategy saying, "The goal is to try and take advantage of the par 5s here this week. You know, the par 3s can be difficult at times and then some of the par 4s, you need to get through.
"Over the last two days, I've played the par 5s nicely.  I think I've played them 7‑under, which is good."
The Augusta National has never really brought out the best in Molinari, who first saw it while caddying for his brother, Edoardo in 2006. A T-19 in 2012 has been the best and has broken 70 only once in 24 previous rounds and his 67 on Friday was his career best at Augusta.
Bogey free for the day, the 2018 Open winner, Molinari, birdied third, eighth, ninth, 12th and 15th and then saved himself from a possible dropped shot on the 18th.
The key for Molinari may well have been his short game. "The margins are so small that you can be as good as you want, but you still know there's not a lot of room to miss. But definitely, yes, it's been a part of my game that has improved a lot in the last 12 months, and this is a course that puts a lot of stress on the short game and the putting in general. I'm happy that so far I've done better than in the past, and hopefully I can keep doing the same."
Right behind the trio at seven-under was World No. 1 Dustin Johnson, whose amazing play at the 13th was probably the moment of the day. Johnson, who opened with a bogey, parred next eight and missed a few birdie enroute, but also saved some. On the back nine, had three birdies, of which the one on 13th was a spectacular display of positivity and luck. His second shot got caught in the wind and dropped and dribbled into Rae's Creek, forcing him to take his fourth shot. He hit it so perfect that he holed it for a birdie.