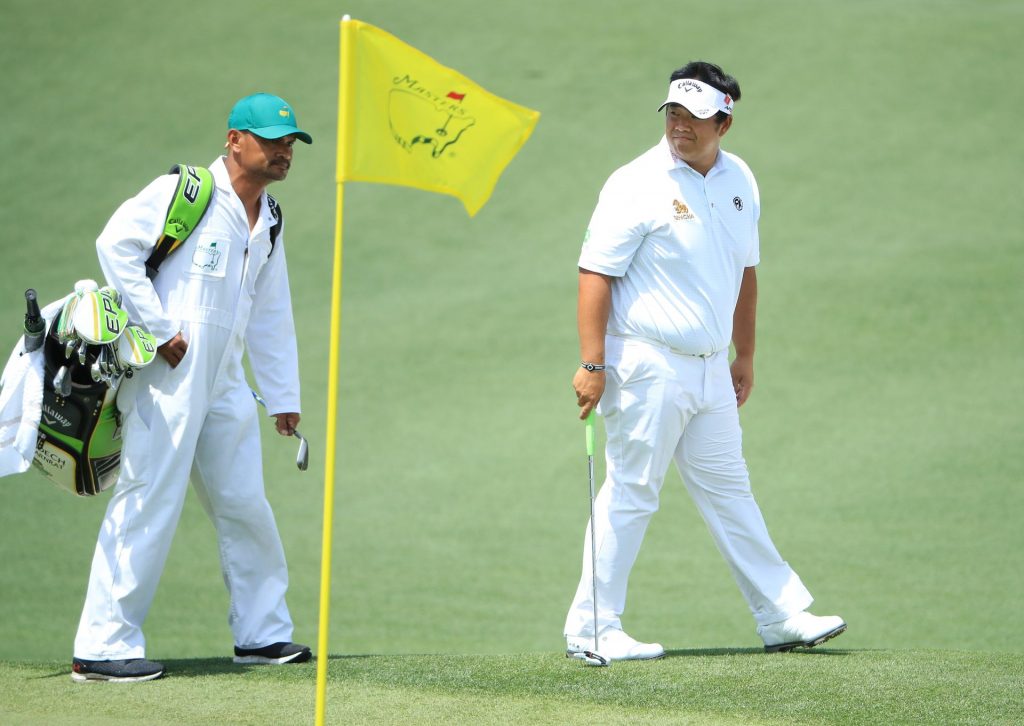 12th April 2019 | Asian Tour
Harding, Kiradech start strong; Koepka, Dechambeau co-lead Masters  
By. V. Krishnaswamy
Swamy is one of India's leading sports writers, who has covered over 20 Majors and 250 international golf tournaments. And if he were to answer the divine call, he will be the first to jump on the plane to Augusta National, which is where he is this week.
Augusta, April 12: It was a solid start for the Asian Tour duo as Justin Harding and Kiradech Aphibarnrat playing on the opposite sides of the draw, shot three-under-par 69 each to lie tied-sixth. They were three behind co-leaders, Brooks Koepka and Bryson DeChambeau, who shot contrasting 66s.
Koepka, who has made it a habit to pack his 'A' game with his golf clubs while coming to the Majors, was bogey free. In contrast, the detail-seeking, DeChambeau, seen as a scientist and a golfer rolled into one, could afford three bogeys and yet card 66 with help from the day's best haul of nine birdies.
Harding, making his 11th start in 15 weeks, was one of the last ones to make the field for the 2019 Masters but when he submitted the card following his first competitive round at the Augusta National, he was in sole lead at 69 despite a bogey on 18th.
However, by the time the day ended Harding found himself three shots behind Koepka and DeChambeau.
In the morning, Harding was also the only player to get to four-under at any point. He did it with a birdie on 17th, a gain he gave away on the final hole. He termed that as a 'bit annoying', but when prodded if he was happy with 69. Ever ready with a witty line, he said, "I'll take it and run if I can ‑‑ we're not allowed to run here at Augusta ‑‑ but I'm pleased."
Phil Mickelson, who has three Green Jackets, turned in two-under and the gave away those gains on 10th and 11th, before picking five birdies in last seven holes in his 67 which put him at sole third and one ahead of World No. 1 Dustin Johnson and Ian Poulter, who shot 68 each.
In the morning Harding's 69 was matched by Jon Rahm and the 2013 Masters champion Adam Scott, while in the afternoon, they were joined by Kiradech and Kevin Kisner, whose consistency makes him a dangerous customer each week.
As 10 players brought in cards in the 60s, another ten turned up with identical 70 each giving the leaderboard a look similar to that of a traffic jam.
The huge group of 10 included the 43-year-old Tiger Woods, who has four Greens Jackets and 14 Majors. But his last Masters win came in 2005 and the last Major in 2008. Woods missed a par putt from inside 10 feet and the bogey thwarted his attempt to get a score in the 60s.
Despite a closing  bogey Harding was satisfied with the start, as he said, "I was happy with it, I handled my emotions pretty well, a bit annoying on the last making bogey. But at the end of the day I'll take it."
Asked about the course, he first said, "I think the course is definitely playing better, the greens are obviously going to quicken up and become a little bit tricky.  You got to keep it below the hole and sometimes it's easier to chip it to 10 feet than chipping it to four."
And quickly added, "Look, I'm not experienced enough to be talking to you too much about the golf course, but I'm happy with the day and we'll tee it up tomorrow and go."
"I mean, as I said, you, we played the golf course in our brains a few times, having watched it on it TV, you know where to hit it, it's just a matter of handling the nerves and executing the golf shots."
World Number 42, Kiradech who went as high as No. 29 in the middle of last year, shot 79 in the first round last year, before sneaking into the weekend with a 70. So, he was happy with his round on Thursday as he said, "I am really happy with the way I started.  Three‑under here is not easy at all.  I know it's a few shots behind, but it is one of the best rounds for me here." It was his first round in the 60s in three visits to the Masters.
He added, "On the front nine, I didn't want to get myself in trouble.  The front nine here is really important.  If you get hurt a lot, it just brings your confidence down. Everyone knows Augusta is really tough. I'm just keeping myself in play. I had a lot of opportunities to putt, many birdie chances.  On sixth, (it was) about six feet, but I just came away with par," said Kiradech.
Speaking about his eagle, he added, "I had been waiting for my first birdie for quite a while. After 12 holes, one bogey and 11 par.  After the drive on 13, I ended up in the right rough but it was quite a good number for my three‑iron.  The greens are quite soft today so I landed it in the middle of the green, onto the slope and it brought the ball down close to the flag.  I got about 16 feet and holed the putt, which was one of the best putts (today)."