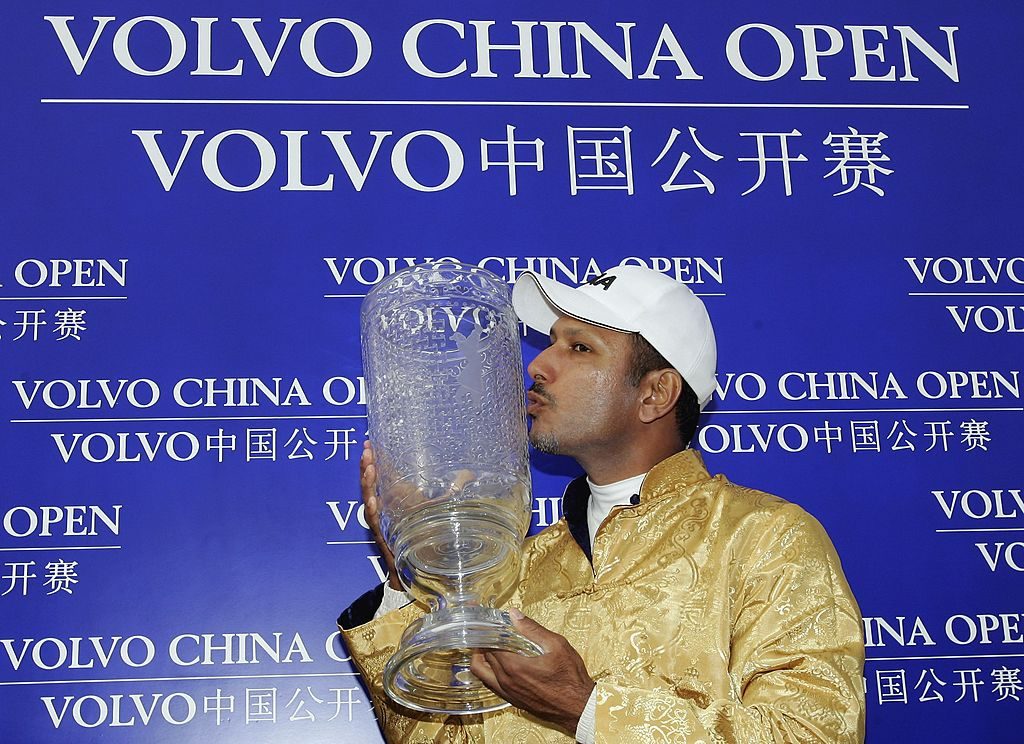 2nd May 2019 | Asian Tour
Singh at Volvo China Open brings back a flood of memories
With the Volvo China Open making its return to the Asian Tour schedule again this week, Swamy goes on a nostalgic drive back to the past when India's Jeev Milkha Singh won the event in 2006.
By V Krishnaswamy (@Swinging_Swamy)
Swamy is one of India's leading sports writers, who has covered over 20 Majors and 250 international golf tournaments.
Following Jeev Milkha Singh's fortunes at the 25th edition of the Volvo China Open's brought back a flood of memories about this great champion.
It was the summer of 2006 when Jeev ended a seven-year drought by winning the then US$ 1.8 million Volvo China Open by a single stroke over Gonzalo Fernandez-Castano of Spain. I was the only Indian journalist at the event.
Jeev had been winless since the 1999 Lexus International on Asian Tour. The event then did not count towards the World Rankings.
Jeev had been second seven times since then and he also had 23 top-10s in the period. But a win kept eluding him.
Back home in India, a new crop of stars had emerged – Gaurav Ghei and Jyoti Randhawa among them; and Arjun Atwal had returned from the US and was regularly playing in Asia from the mid-1990s.
Only a couple of years earlier, Rahil Gangjee had won a title in his rookie year in 2004 and in 2005, Shiv Kapur made big waves with his triumph at the Asian Tour's season-ending Volvo Masters of Asia in Thailand.
I had to fish out a report from my personal archives to recall what Jeev had told me after the win that week. He said, "I just can't explain this feeling, it's been a long seven years."
He added: "I've let so many tournaments go in the last few years and went in to today with reverse psychology, thinking that if I didn't win, it didn't matter."
Jeev started the final day one shot behind the leader, David Lynn. The Indian was tied for second with Prayad Marksaeng, while Fernandez-Castano and Paul Casey were tied fourth another shot behind.
Jeev started the final day with a bogey but got that shot back with a birdie soon after on the third hole.
He caught up with Lynn by the seventh hole and when the Englishman dropped a shot on nine, Jeev was the leader at the turn at 10-under. Lynn caught up again on 10, but his bogey on 13 was costly.
I still remember it was the birdie on the 14th at the Beijing Honghua International Golf Club that set Jeev on the road to victory. He was now two clear of the field and was consistent with pars over the next three holes. Meanwhile Lynn dropped shots on 13 and 15, but Fernandez-Castano came within a shot.
On the 18th the Spaniard needed a birdie to catch up with Jeev, who was behind him. His effort to get that extra birdie forced an errant drive off the 18th and ended with a bogey handing Jeev a two-shot cushion with one hole to play.
"When I saw him (Fernandez-Castano) bogey the 18th, I decided to play it safe and not even go for the flag," said Jeev, who bogeyed the 18th and still won by one at 10-under 278. Fernandez-Castano was second, Lynn was third and Casey was Tied-fourth.
When he finally got time to reflect on the win after his duties with press Conference, TV interviews, photos with staff and sponsors, Jeev got emotional and looked totally drained.
Who were the other Indians that day? Amandeep Johl finished T20th, Harmeet Kahlon was T-54th and Rahil Gangjee was T-60, while Shiv Kapur and Gaurav Ghei  had missed the cut. The next morning, all of us left for Shanghai for the next event, the Asian Open.
The ever-gracious Jeev got all the Indians together in Shanghai – and invited all the players and some local friends to dinner at an Indian restaurant and he made sure I was there.
At Shanghai, he gave another example of his sportsmanship, by calling a penalty on himself while taking a shot from a lake and finished tied-26th. But for that penalty, he may have been close to Top-10.
That Volvo China win also took him to the top of the Order of Merit, which he ended up winning. He had been 314th (thank you, www.owgr.com) the week before and he rose to 194th and kept climbing there on.
With the burden of winning now gone, Singh won three times more that year – the Volvo Masters of in Valderrama to complete a Volvo double and added two titles in successive weeks in Japan (Casio World Open and Golf Nippon JT Series).
Thee wins in a six-week stretch and one third  (Hong Kong Open) and 17th at HSBC Champions saw Jeev rising to 39th in the world and just as Christmas came around, the postman delivered the Masters invite to his home in Chandigarh.
When the last event of the 2006 season came around in Thailand, I was in Doha for the Asian Games, where India's budding amateur stars, Anirban Lahiri, Gaganjeet Bhullar, Chiragh Kumar and Joseph Chakola (who now manufactures golf apparel) were winning a team silver.
With his Order of Merit win assured, Jeev spoke to me to ask if I could come to Bangkok to celebrate the win. I missed the closing ceremony in Doha and landed in Bangkok on the third day of the event and had a great celebration over the weekend.
It does not stop there. When the Masters invite came in the mail, Jeev again called up to invite me (and another journalist friend, the Dubai-based Joy, who had also flown into Bangkok) to come to the Augusta National as it would be the first time an Indian would play at the Masters.
He ensured accommodation for us along with his family and it was the beginning of my love affair with the Masters, which I have not missed for a decade now.
Jeev has always been a great ambassador for Indian sport and golf. One would love to see him win yet again, and maybe in China this week, where at one stage he was three-under (actually the scoreboard showed four-under) but ended at one-under with a double on 18th at the Genzon Golf Club. There are three more days to go.
Come on, Jeev. Do it again.
*Singh opened his account at the 2019 Volvo China Open with a one-under-par 71 to trail the leaders by six shots in tied-69th place.