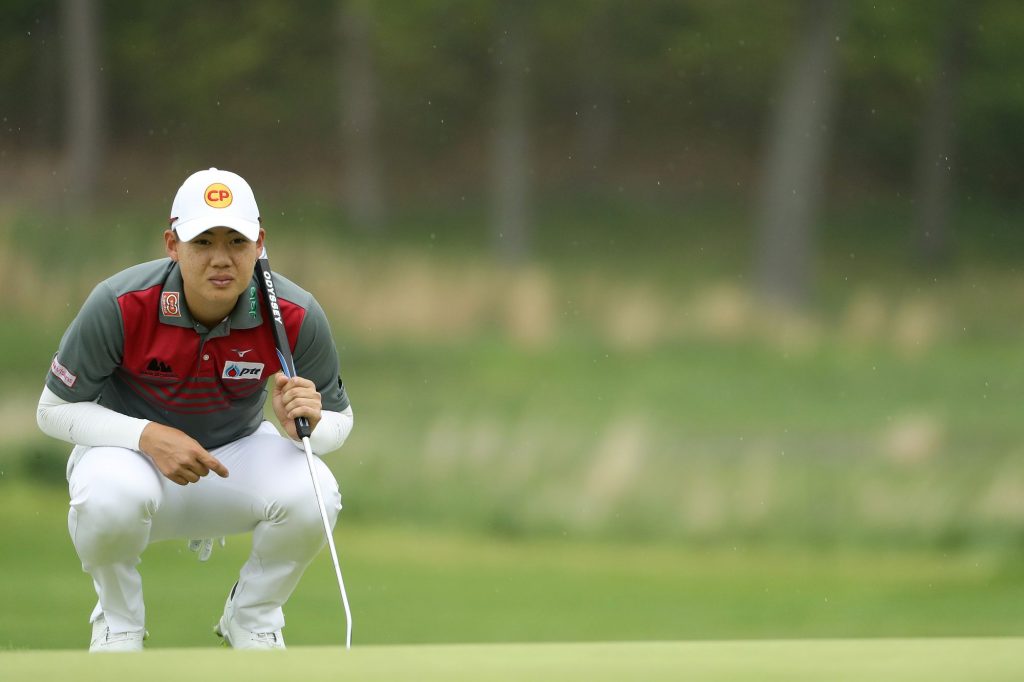 3rd June 2019 | Asian Tour
The season so far by the numbers
After nine events played and about a third of the way through the 2019 schedule, Olle Nordberg takes a look at some of the key statistics and see which players have been performing well throughout the first few months of the season.
By Olle Nordberg, Former Asian Tour and European Tour professional
*Note from the Author: In order to make the stats more valid we need a reasonable sample size, so for this exercise I have required eight rounds completed as a minimum for a player's data to count in the rankings.
In addition to the official Asian Tour stat categories, I have also added a combination-stat Total Driving (Driving Distance + Driving Accuracy) which is not listed on the website.
Driving Distance
That the old saying "drive for show and putt for dough" has lost at least some of its relevancy in the modern game is no secret, we can just look at the Official World Golf Rankings (OWGR) to see what kind of players are ranked at and near the top.
On the Asian Tour, the current Driving Distance leader is power player Kurt Kitayama who used his length off the tee to help him win last year's AfrAsia Bank Mauritius Open, which he followed up a few months later with a victory at the Oman Open on the European Tour in March.
There are also two more recent Asian Tour winners in the top-10 in this category: the current Habitat for Humanity Standings leader and 2016 Order of Merit champion Scott Hend, who by winning the Maybank Championship in March became the most successful international player on the Asian Tour with 10 victories, and Q-School graduate Zach Murray who won the 100th New Zealand Open in only his third start on the Asian Tour.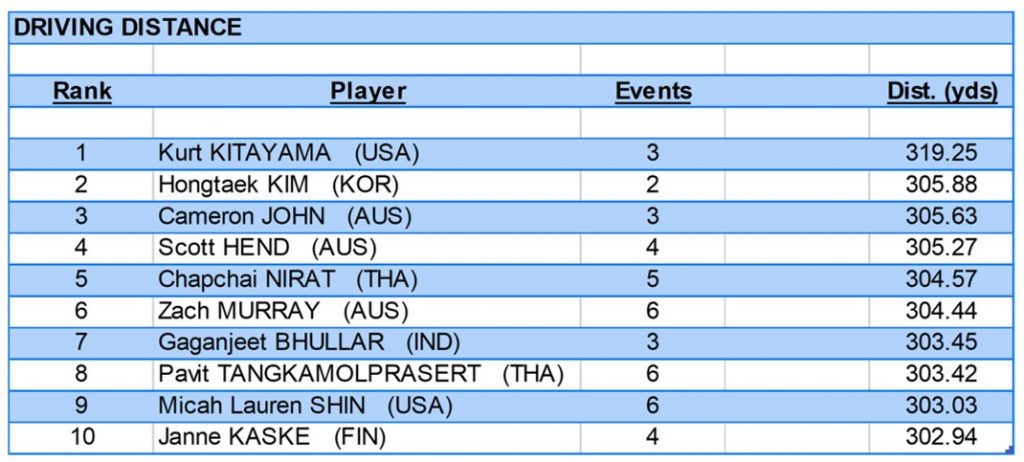 Driving Accuracy
Category leader Adilson Da Silva has not won yet in 2019, but he recorded his first ever Asian Tour victory last year in the Mercuries Taiwan Masters on a course that demands precision off the tee. His accuracy has been very impressive so far this season, only missing an average of roughly two fairways per round.
The closest anyone in the top-10 of this category has been to a win this season is Ajeetesh Sandhu finishing second in the Bangabandhu Cup Golf Open in Bangladesh, only one shot behind the winner Sadom Kaewkanjana.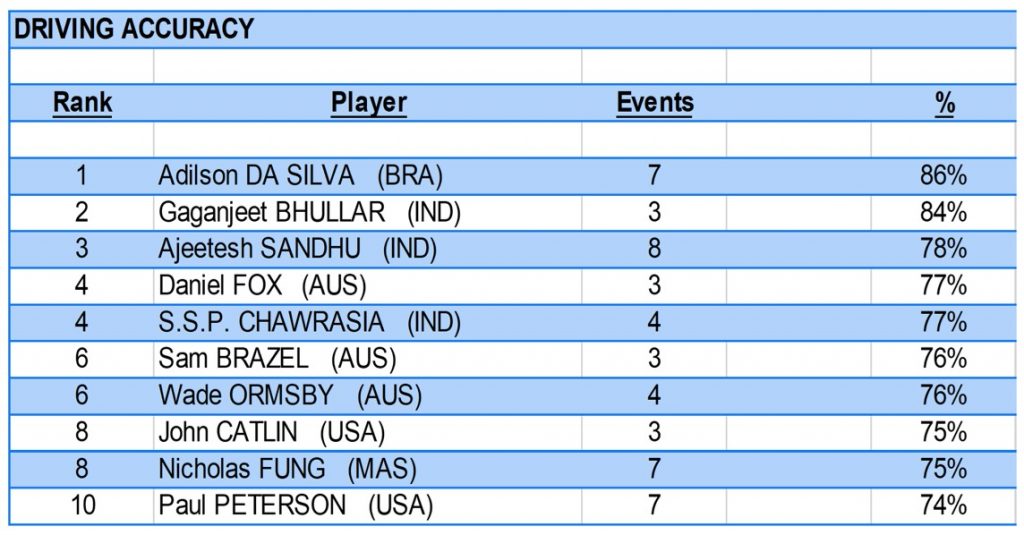 Total Driving
A combination-stat that is a very good measure of a player's over-all driving performance by combining Driving Distance and Accuracy.
The 2018 Fiji International champion Gaganjeet Bhullar has shown remarkable driving skills with both length and precision off the tee, ranking in the top-10 in both individual categories.
This list also includes Scott Hend, and a player who has been the most consistent high performer on the 2019 Asian Tour, Jazz Janewattananond.
Winning twice on the Asian Tour prior to this year, Jazz opened his season with a victory at the SMBC Singapore Open and followed it up with a fourth in the 100th New Zealand Open, third at the Maybank Championship, tied-fifth at Bangabandhu Cup and a tied-14th at the recent PGA Championship.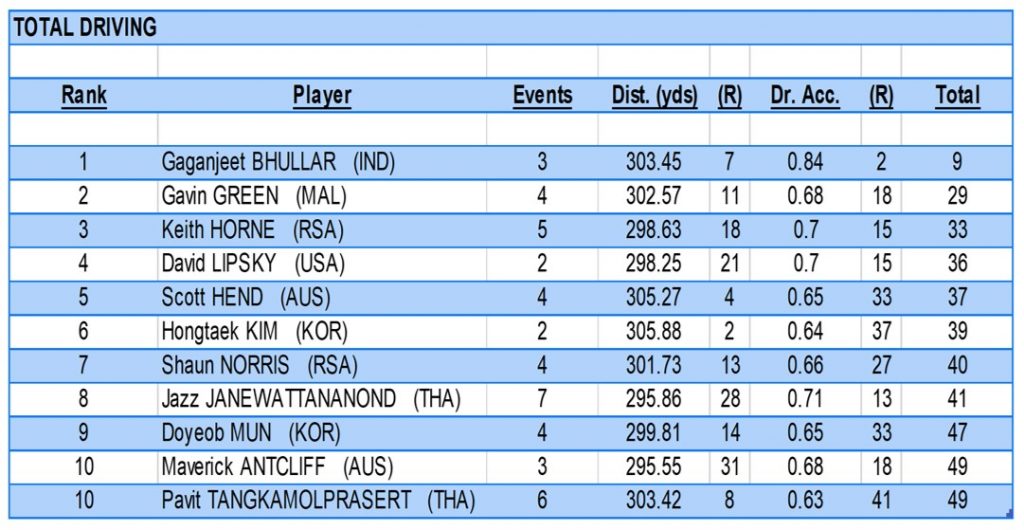 Greens in Regulation (GIR)
Hitting greens in regulation is of course very important for consistently shooting good scores, the more greens you hit the more putts for birdies you will have.
As mentioned above, category leader Jazz has had quite the start to the season and perhaps it's easy to see why when we consider his Total Driving stats in combination with his GIR percentage. Missing only four greens a round on average makes for a lot of birdie chances.
In addition to Jazz, five other players in these two categories overlap: Gaganjeet Bhullar, Scott Hend, Shaun Norris and Gavin Green. It should be safe to say that rankings in these two categories are closely related.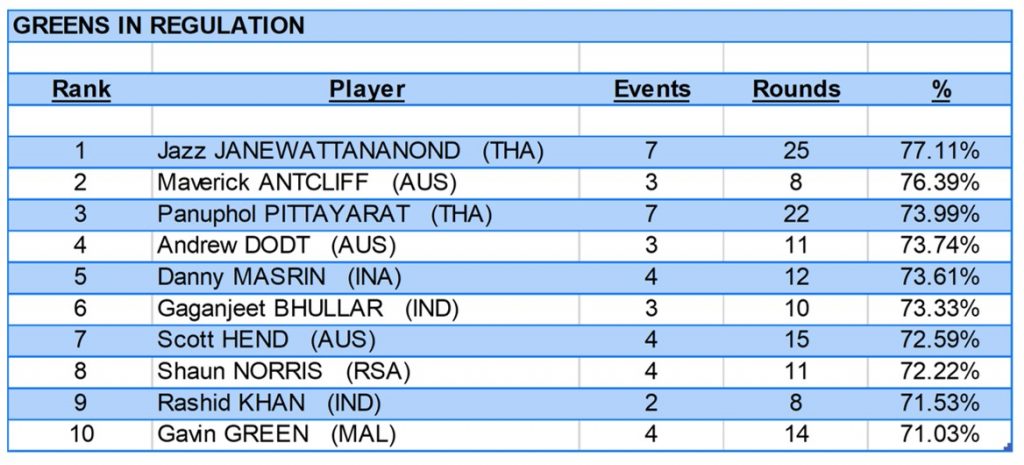 Scrambling
Getting it up-and-down when missing the green can be very important for maintaining momentum when playing well, or to minimize damage on a day when things are not going your way.
Current leader Rashid Khan has done this nearly three-quarters of the time this season, and it may be one of the reasons why he has recorded top-10 finishes in both his Asian Tour starts this season: a third-place finish in the Bangabandhu Cup Golf Open and a tied-10th in the Hero Indian Open.
Jazz is also ranked highly in this category, adding to his already solid over-all game this season.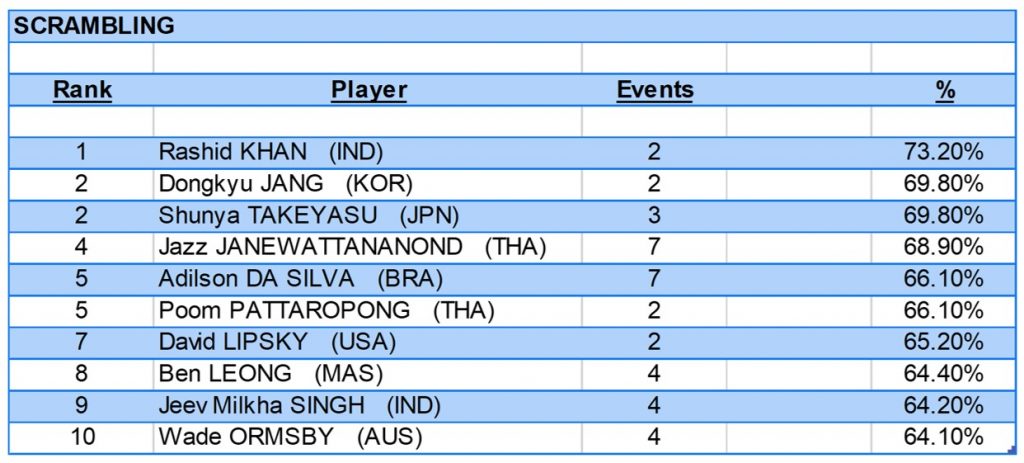 Putts per Green in Regulation
In my opinion a much better way of measuring putting performance than Putts per Round, since that number will likely look increasingly better the less greens a player hits in regulation.
The 2014 Order of Merit champion David Lipsky has posted some very solid putting stats in his two appearances this year, the Maybank Championship and the Volvo China Open, finishing tied-fifth in China and a tied-13th in Malaysia.
A close second is tour rookie Sadom Kaewkanjana who won the Bangabandhu Cup Golf Open in his first start after graduating from Q-School, a feat never accomplished before on the Asian Tour.
Fellow tournament winners Zach Murray and Scott Hend are also currently in the top-10, proving that they are not only powerful off the tee but have great touch on the greens as well.