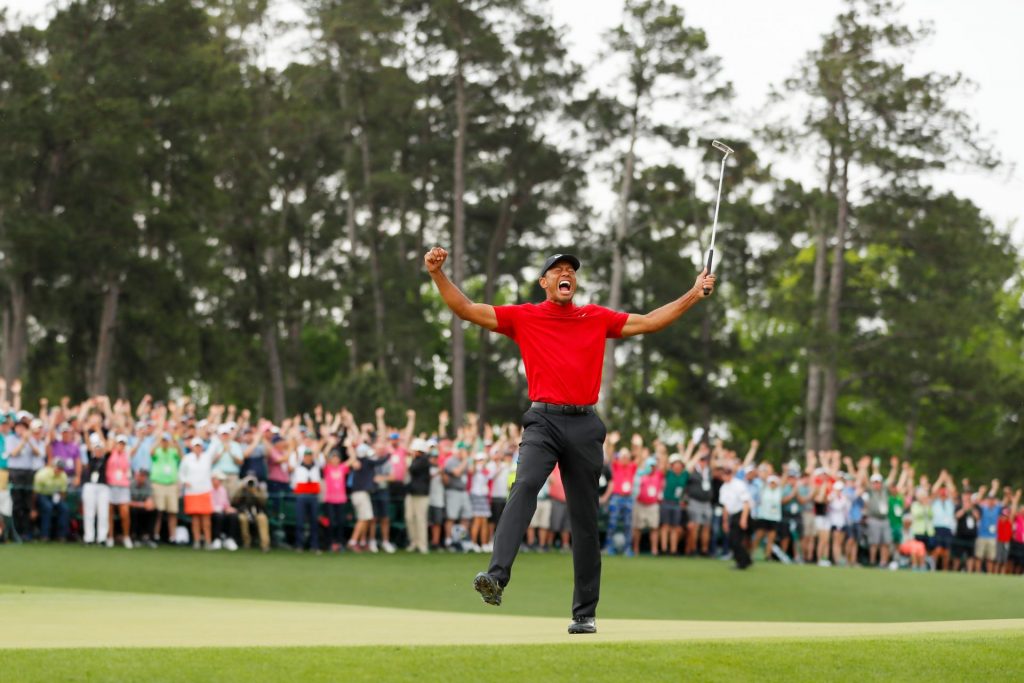 15th April 2019 | Asian Tour
Woods keeps date with history
By V. Krishnaswamy
Swamy is one of India's leading sports writers, who has covered over 20 Majors and 250 international golf tournaments.
Augusta, April 15: Tiger Woods scripted one of the finest comeback stories in sport as he ended an 11-year drought of golf Majors with a sensational win at the 83rd Masters. Time and again through the afternoon he had to keep his emotions in check. First it was on the golf course as he came to the 18th with a two-shot lead, and then as he made his way past the fans after the final putt. Then amidst cheers from fans, Woods, his eyes moist, hugged his children, son Charlie, daughter Sam, mother Kutilda; girlfriend, Erica Herman and others.
The Augusta National had brought forward the tee times and even made it threesomes from both tees. In the end, even the weather Gods chose to stay away lest they spoil the celebrations, where superlatives describing Woods' effort and performance seemed to have run out.
It was Woods' fifth Green Jacket and it came 14 years after the fourth one in 2005; it was the 15th Major, coming 11 years after 14th at the US Open in 2008; and it was also his 81st PGA Tour win, coming six months after his 80th at the Tour Championships. He was now one Green Jacket away from Jack Nicklaus; three Majors shy of Nicklaus' 18 and one PGA Tour win away from Sam Snead's 82.
The comeback, which began at the Hero World Challenge in December 2017 was now complete. Step by step he scaled the peak to win a Major. The next peak can only be No. 1 in the world and Nicklaus's record of 18 Majors.
Woods gets going on back nine
Starting the day two behind Molinari, Woods did not really get going till the back nine. It was not till the 15th that Woods got sole possession of the lead and once he did, the amazing front-runner he is, he did not let go.
Molinari's second trip to the water this time on the 15th, and the resultant double bogey was the final game changer as Woods birdied it for a three-shot swing.
Despite an earlier double bogey on the 12th at the Amen Corner, which dropped him from 13-under to 11-under, Molinari came back to 12-under with a birdie on 13th. He was still in the equation as was Xander Schauffele, who rose to 12-under-par with birdies on 13th and 14th.
After the three-foot birdie on 15th, Woods rose further to 14-under-par with a birdie on 16th, where he hit his tee shot to within four feet of the cup. On 17th he missed a nine-footer for birdie and then on 18th, he missed a 14-footer for par. In the end, neither mattered and he was through for a historic win.
He just needed a tap-in for bogey to card 70 and total 13-under-par, which was one shot better than Dustin Johnson (68), Xander Schauffele (68) and Brooks Koepka (70).
Molinari finished tied-sixth at 11-under-par in the company of Webb Simpson, Jason Day, and Tony Finau, who were all Tied-sixth.
Woods overcome by emotions
Over the past few years, the series of surgeries, four in all, had even raised doubts, whether Woods would even be able to play the game at all, let alone win. Slowly but steadily, he found his way back. First to survive a full round walking; then a full week without tiring out; and then contending before finally winning at East Lake. He also contended at the Open in July, where Francesco Molinari won, and then at the PGA where Brooks Koepka pushed him to second.
Despite all the emotions, Woods cracked a quip as Patrick Reed slipped the jacket over his shoulders, saying, "It fits."
Now with Masters in the bag, he sets out for the US PGA Championship at Bethpage Black and the US Open at Pebble Beach, where Woods he had success before. The 18 does not look too far now.
"To win again here is overwhelming just because of what has transpired over the last couple of years. It's unreal," admitted Woods as he won his first major after coming from behind on the final day.
"This tournament has meant so much to me over the years, coming here in '95 for the first time as amateur; winning in '97, and then coming full circle, 22 years later, to do it again.
"There were so many different scenarios that could have transpired on that back nine. There were so many guys that had a chance to win. The leaderboard was absolutely packed and everyone was playing well. You couldn't have had more drama than we all had out there, and now I know why I'm balding. This stuff is hard."
"This tournament has meant so much to me and my family, and to have everyone here, it's something I'll never, ever forget," he said. "My dad (Earl) shouldn't have come in '97. I mean, he had heart complications, and wasn't supposed to fly, but he flew and came. Gave me a putting lesson on Wednesday night, and the rest is history.
"My dad's no longer here, but my mom's here, 22 years later, and I happen to win the 
tournament; and then to have both Sam and Charlie here, they were there at the British Open last year when I had the lead on that back nine, and I made a few mistakes, cost myself a chance to win the Open title.
"I wasn't going to let that happen to them twice, and so for them to see what it's like to have their dad win a major championship, I hope that's something they will never forget."
Neither will all those who were at Augusta National on Sunday, April 14, 2019. It was an "I-was-there" moment.